2019 is the year of self care and where better to start than one of the UK's top spa hotels? Taken from the bastion of independent hotel reviews, here the Good Hotel Guide shares 10 of the best spa hotels for self care in 2019…
Chewton Glen, New Milton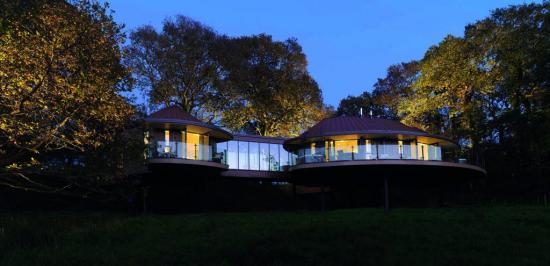 A five star country house hotel with a superb reputation that continues to keep Chewton Glen at the forefront of British hospitality after 50 years, it is also the home of one of the UK's most luxurious spa experiences. Surrounded by exceptional gardens, renowned for its food, and always pushing innovation with the likes of their treehouse suites that are quite literally in the treetops, the spa provides exceptional luxury and wellbeing. At its centre is a hydrotherapy spa pool under a painted sky. Then there are tennis courts, a dance studio, a gym, a swimming pool, a nail studio, aromatherapy saunas, crystal steam rooms and twelve individual treatment rooms offering a range of therapies. Bliss for couples, families or all to yourself.
The Nare, Cornwall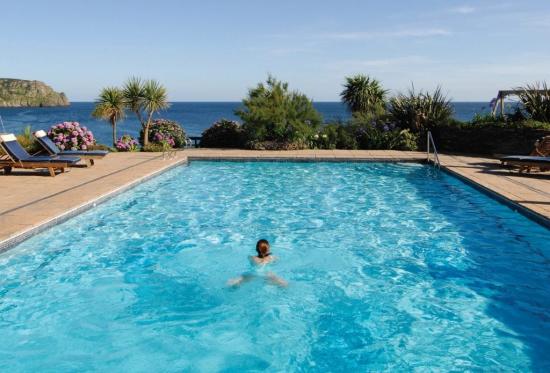 A sense of old fashioned excellence combined with 21st century expectation, this year The Nare won one of the Good Hotel Guide's coveted Cesar Awards. Sitting in pride of place on the Roseland Peninsula in Cornwall, it is family friendly, dog friendly and romantic. The perfect place to relax and unwind, its Carne Bay Spa is named for the beach it overlooks, offering Dermalogica treatments, indoor and outdoor pools and a hot tub. Guests also have access to two hotel boats and a classic car for that extra touch of luxury.
Cliveden House, Berkshire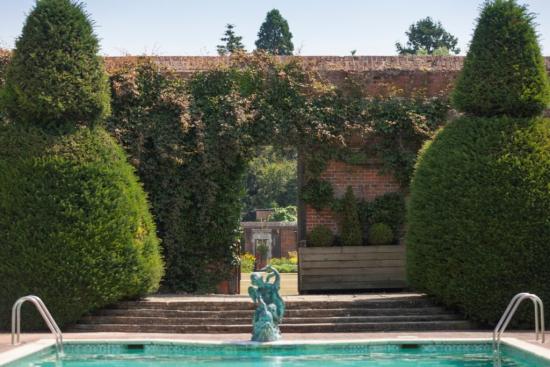 This year Cliveden House gained an extra publicity boost when it hosted Meghan Markle for the night before her wedding to Prince Harry, sparking a TV show and a new generation of devotees to its illustrious brand. The hotel, surrounded by National Trust grounds, is no stranger to society's finest however. Having hosted kings, queens, politicians, it is known for scandal as well as luxury with its pool playing a pivotal role in the Profumo Affair of the 1960s. That pool in the walled garden is still very much part of the leisure experience today, combined with spa treatments named after former resident Nancy Astor, an indoor pool, two outdoor hot tubs, a fitness studio, tennis courts and a Spa Kitchen for healthy lunches.
https://www.clivedenhouse.co.uk/
Seaham Hall, Co. Durham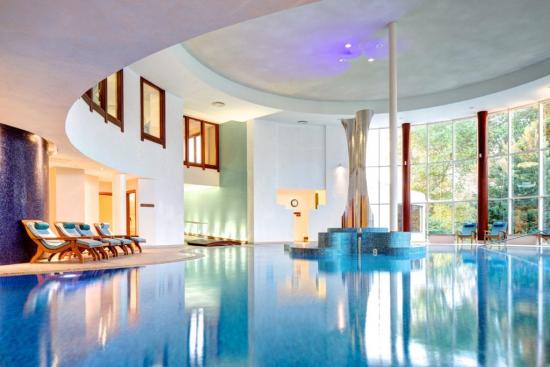 Perhaps one of the best fusions of luxury and wellbeing in the UK, Seaham Hall is a magnificent five star hotel that was the one time home of Lord Byron. Still very much a romantic destination, it has been sympathetically updated over the years so that now it is both exceptionally stylish and welcoming as well as grand. The Serenity Spa has all the facilities you could ask for, but it is its knowledge and ethos that really sets it apart. They put a phenomenal amount of training into their team and in the last couple of year sin particular have worked closely with the team at Made for Life Organics to train therapists in Cancer Touch treatments - adapting and applying treatments for anyone being treated for cancer.
The Royal Crescent Hotel and Spa, Bath
On one of the most impressive crescents in Bath, The Royal Crescent Hotel and Spa is a grand and utterly romantic hotel. Perfect for exploring the city and every inch an indulgent experience, this is all about pampering from the sheets you sleep in to the Taittinger Spa Garden. The award-winning Spa and Bath House is a boutique experience surrounded by impressive architecture. The 12-metre pool is flanked by gothic windows and Cotswold stone. Then there's a Vitality Pool with massage jets, Himalayan salt infused sauna toboost theimmune system, a herbal steam inhalation room, a fitness room with Power Plates and six treatment rooms offering Elemental Herbology treatments.
https://www.royalcrescent.co.uk/
The Elms, Worcestershire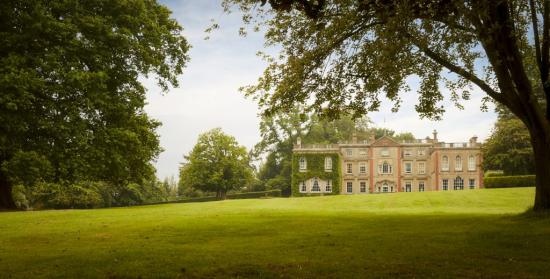 An impressive country house hotel in Worcestershire, The Elms has 23 bedrooms and an award winning spa within easy reach of Stratford-Upon-Avon. Tucked behind the Queen Anne manor house, the spa brings modern facilities to the historic property. The indoor pool flows to a pretty outdoor hydro pool, and there's a thermal suite for a sense of total relaxation and escapism. Another destination that's ideal for couples, it's a wellbeing treat worth considering for Valentine's Day!
https://www.theelmshotel.co.uk/
Fowey Hall, Cornwall
A family friendly hotel and part of the Luxury Family Hotels Collection, Fowey Hall in Cornwall overlooks the Fowey estuary and is a little bit of bliss for guests of all ages. The palatial property is the stuff of fairytales, and is rumoured to have been the model for Toad Hall in Kenneth Grahame's childhood classic, The Wind in the Willows. Children can run around the grounds and on the beach with plenty of activities, buckets and spades and an indoor pool as well as two hours of free childcare available for every day of your stay. Meanwhile, adults can sip fine wines, dine in splendour and relax in the spa complete with a hot tub with sea views, a sun deck with loungers and treatment rooms offering a beautiful array of face and body therapies.
https://www.foweyhallhotel.co.uk/
The Scarlet, Cornwall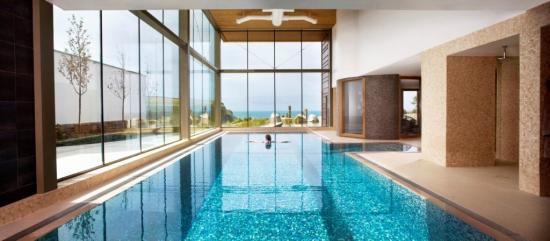 Very much a bucket list spa destination, The Scarlet in Cornwall is the kind of place to pop the question, but it's also the ultimate in mother/daughter spa destinations. Having made a name for itself for its eco credentials, it's all spectacular sea views and contemporary glass architecture. Cliff top hot tubs overlooking Mawgan Porth Beach, Ayurvedic inspired treatments, a rhassoul where you can slather yourself in mineral rich muds, and a relaxation room with cocoon-like pods hanging from the ceiling. It takes everything to the next level of spa experiences making it the perfect place to breathe in the fresh air and feels good as new.
https://www.scarlethotel.co.uk/
Lime Wood, Lyndhurst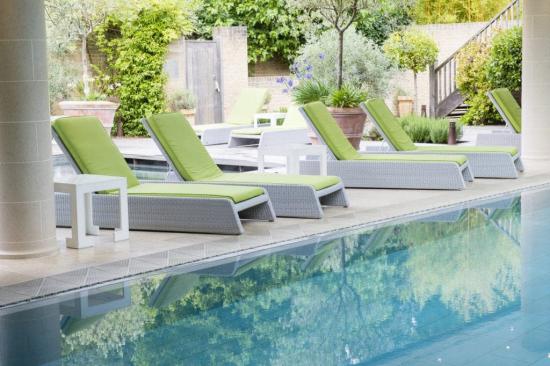 A famed five star hotel in the New Forest, Lime Wood is a luxury experience for anyone who visits. Food is decadent and excellent, created by the powerful team of Angela Hartnett and Luke Holder. Rooms and suites are second to none but there are also cottages within the extensive grounds to stay in for a little more privacy - perfect for families and groups of friends. Meanwhile, the Herb House Spa is built around the herb garden and has a rustic elegance to it. Complete with a sauna, hydro pool, mud house, outdoor hot pool, a rooftop gym and a 16 metre ozone treated indoor lap pool with glass doors overlooking the garden, they also offer yoga on the roof, beautiful treatments and feel-good food in their Raw & Cured food bar.
https://www.limewoodhotel.co.uk/
Sofitel London, St James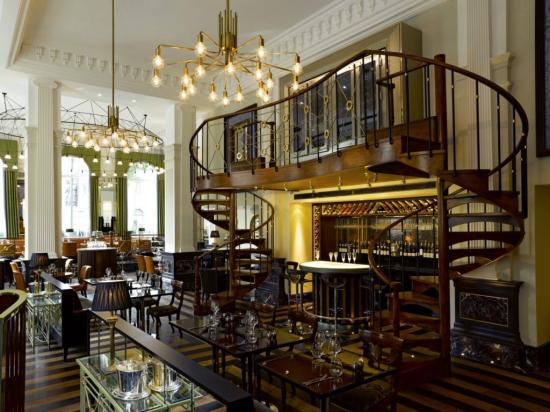 Located pretty much next door to St James' Palace in a former bank, everything about this spa hotel screams decadence. The Chanel inspired decor in the bar and sky high columns, the regularly changing art installations, the fine French cuisine at The Balcon. The five star hotel is also home to a small but perfectly formed spa. While fitness facilities including the gym are located elsewhere in the hotel, the spa is all about pampering and is certainly a romantic space for real quality time to yourself or with a partner. It's all about the treatments rather than facilities; high ceilings and majestic interiors make for a calm and quiet space. Choose from a dual treatment suite or the one with the private hot tub perhaps and indulge with some of the most decadent French brands, Carita and Cinq Mondes.