5 unexpected car cleaning hacks that are great for the environment
As a result of the ongoing climate crisis, as well as the COVID-19 pandemic, many people are making the switch to eco friendly products in order to do their bit. In fact, 61% of consumers have said that they now make more environmentally friendly, sustainable, or ethical purchases, according to a survey conducted by Accenture.
To get your car clean and sparkling, you might have a whole selection of soaps and polishes. But some household cleaners contain chemicals called volatile organic compounds, which can reduce air quality and contribute to air pollution (British Lung Foundation). Cutting down on the chemicals you use when cleaning your car is one way to reduce your overall impact and, luckily, there are a few eco-friendly alternatives that you could try to reduce your waste and help the planet.
Did you know that some everyday objects from around your home can double up as cleaning products for your car? The Lady spoke to the team at GSF Car Parts to find out you can save money and the environment by switching to these savvy cleaning hacks.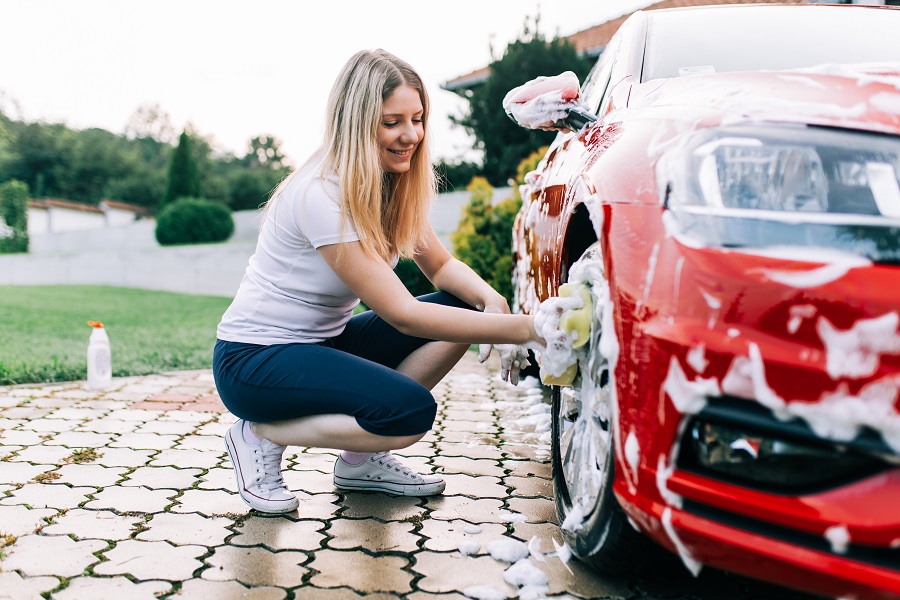 Clean your dashboard with olive oil
A polished dashboard can really make all the difference to your car's interior, but did you know that you might have an efficient dashboard cleaner in your kitchen cupboard? Olive oil is a great natural polish that will restore your interior's shine. As an added bonus, it can also condition the surface and help prevent it cracking in the sun.
Just give your dashboard a quick dusting to remove the top layer of dirt, then apply a small amount of olive oil to a cloth. You might want to test it on an inconspicuous area first to make sure you're happy with the finish and that there's no discolouration. If all is well, you can go over the whole dashboard and watch it return to its former glory.
Polish your headlights with toothpaste
If dull headlights are giving you problems, it might not be time to replace them just yet, because you might be able to restore them back to their original glory with a bit of toothpaste. Simply apply a small amount of your regular toothpaste to each headlight, give it a rub with a cloth, rinse it, and watch the glass return to its original sparkle.
Clean your car mats with baking soda
Your carpeted car mats can gather plenty of mud and grime from dirty shoes, but you don't need to spend ages trying to clean them by hand — or waste loads of water washing them. Simply sprinkle a little baking soda on each bit of carpet and give it a spritz with a little of water to make an environmentally friendly cleaner. After three hours, rub the mixture into the carpet and vacuum it up. You can even dilute a few drops of your favourite essential oil and spray it onto your carpet for an eco-friendly air freshener.
Remove insects with dryer sheets
When you're cleaning the exterior of your car, how can you get rid of those unsightly dead insects on the front? The longer you leave them, the harder they are to remove. But, instead of spending ages scrubbing them with abrasive chemicals, why not use a dryer sheet? Simply fill a spray bottle with a bit of warm water and spray it onto the dryer sheet. Using circular motions, rub the bugs and they should lift right off. Then, you can clean your car as normal.
Reuse old socks as dusters and polishing cloths
Have your favourite pairs of socks got a hole in them? Instead of sending them to landfill, why not recycle them as dusters and polishing cloths first? You can simply slip them over your hand, apply your polishing solution (or olive oil) and buff the area clean. Or turn them inside out and use them as a duster.
"We're all trying to do our bit for the planet, and every small change we can make can go a long way. By reusing products from around your home, you can cut down on your household waste and get your car sparkling clean at the same time.

There are so many innovative ways you can reuse ordinary objects. From polishing with olive oil to cleaning your headlights with toothpaste, you can easily get your car back to its former glory without stocking up on waxes and chemicals. Some of these eco-friendly hacks are also much more efficient, saving you time and money as well as helping the planet. Who know dryer sheets were so good at getting rid of dead bugs?"- Mark Barclay, Ecommerce Manager at GSF Car Parts
Looking to recruit a new housekeeper for your home? The Lady is the marketplace for domestic recruitment. For over 135 years The Lady has been the first and last stop for those looking for an exciting new position or much needed member of household staff. Let us help you find the perfect candidate, contact our friendly team today: theladyrecruits@lady.co.uk