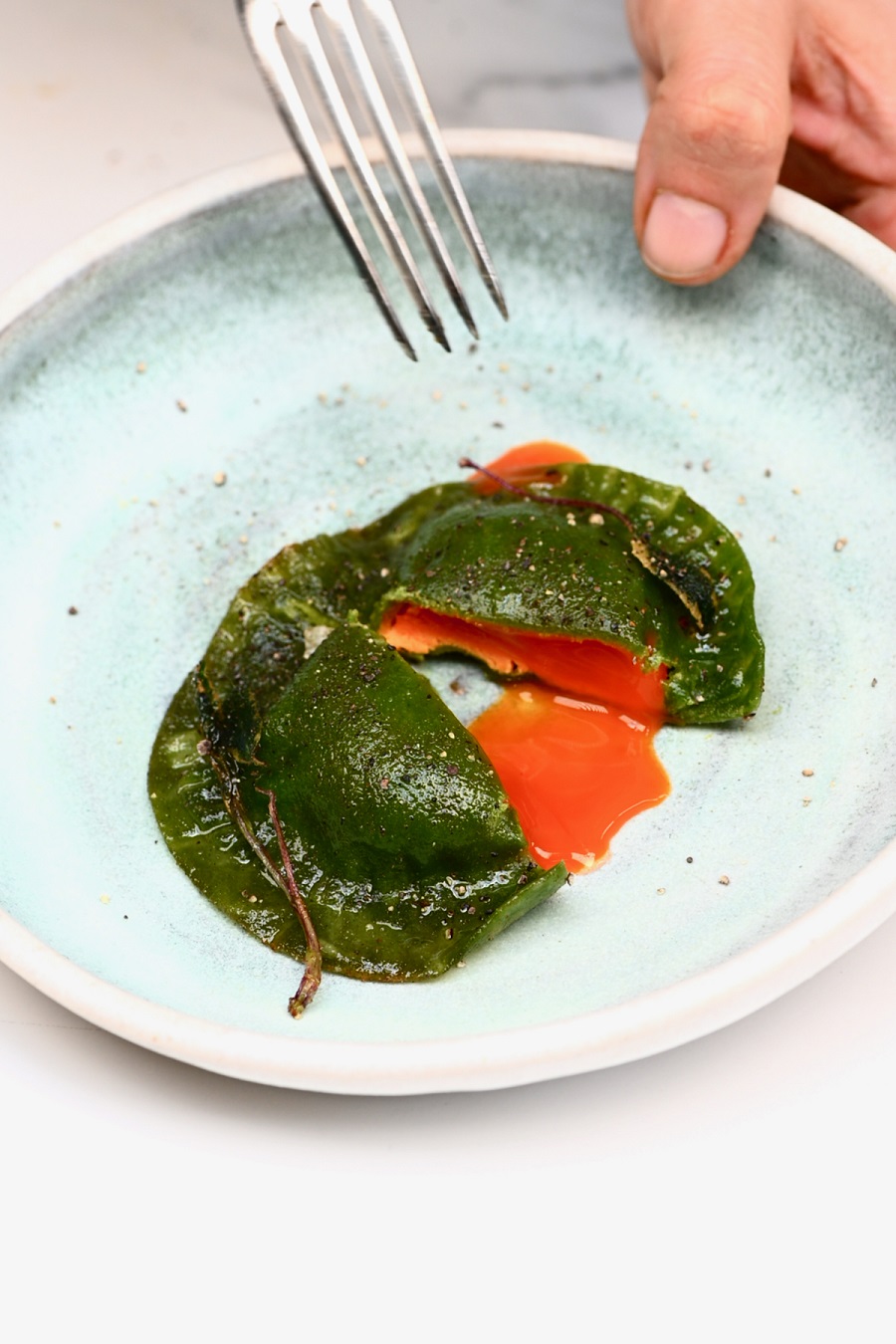 With a combination of fresh homemade pasta turned into ravioli bursting with egg yolk, this homemade egg yolk ravioli (aka raviolo al uovo) is a simple and decadent meal ready to impress.
PREP TIME: 45 MINUTES
COOK TIME: 5 MINUTES
Serves: 2
Ingredients for green pasta dough:
60ml spinach juice
100g 00 flour
1 tablespoon olive oil
¼ teaspoon salt
Ingredients:
140g spinach pasta dough
6 Clarence Court egg yolks
1 tablespoon butter
¼ teaspoon salt
¼ teaspoon pepper
1 garlic clove, crushed
Few sage leaves
Preparing the pasta dough:
You can make this from scratch just before serving the dish or prepare the dough the night before and store it covered in the refrigerator overnight.
Rinse the spinach leaves then blend with a little water into a smooth puree. Using a piece of muslin cloth squeeze out all the juice and put aside.
Add your flour in a mound onto a clean working surface and then create a well in the center and add the spinach juice and oil to it.
Using a fork, whisk from the center, slowly incorporating the flour into the spinach oil mixture to create a rough dough and then knead it with your hands until it is smooth and elastic.
If the dough is too wet and sticks to your hand, add a little more flour and knead until smooth. If it's too dry, add a little more liquid. But be patient because the dough can look a little dry, to begin with as it takes a while to absorb the moisture from the spinach juice – keep kneading and only right at the end of this step decide if you need a little extra flour or liquid.
Before using the dough allow it to rest for 20 minutes, wrapped tightly in cling film.
Once rested, it should be tender and easy to work with.
Taking the now rested dough, divide it into more manageable pieces and roll out the dough into thin sheets 1-2mm thick (this can be done by hand or use a pasta machine).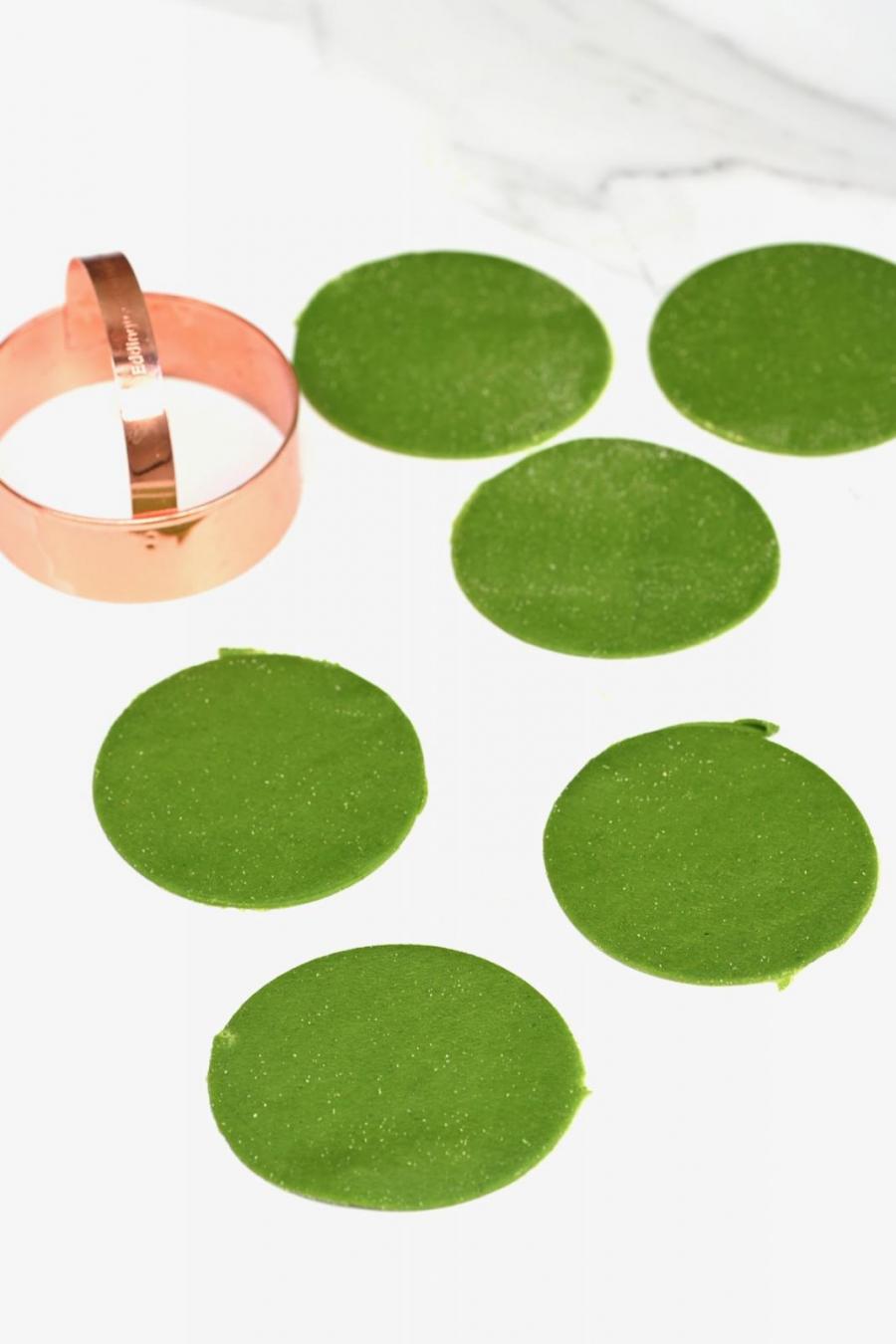 Method for the ravioli:
Firstly, you need to separate the egg yolks from the whites. There are several methods to do this so use your preferred method.
Once the pasta sheets are rolled out, use a round cutter (or ravioli stamp) around 8cm in diameter to cut out circles from the dough making sure the pasta is well floured so it doesn't stick.
Carefully use a spoon to add the egg yolks to the center of half the circles, and then use a pastry brush or your finger to brush a little water around the edges of the pasta circle before placing another sheet of the dough over it and using your fingers or a fork to seal the ravioli.
If any of the pasta sticks to the kitchen surface after you've sealed the ravioli, you can use a bench scraper or similar tool to lift it without damaging it.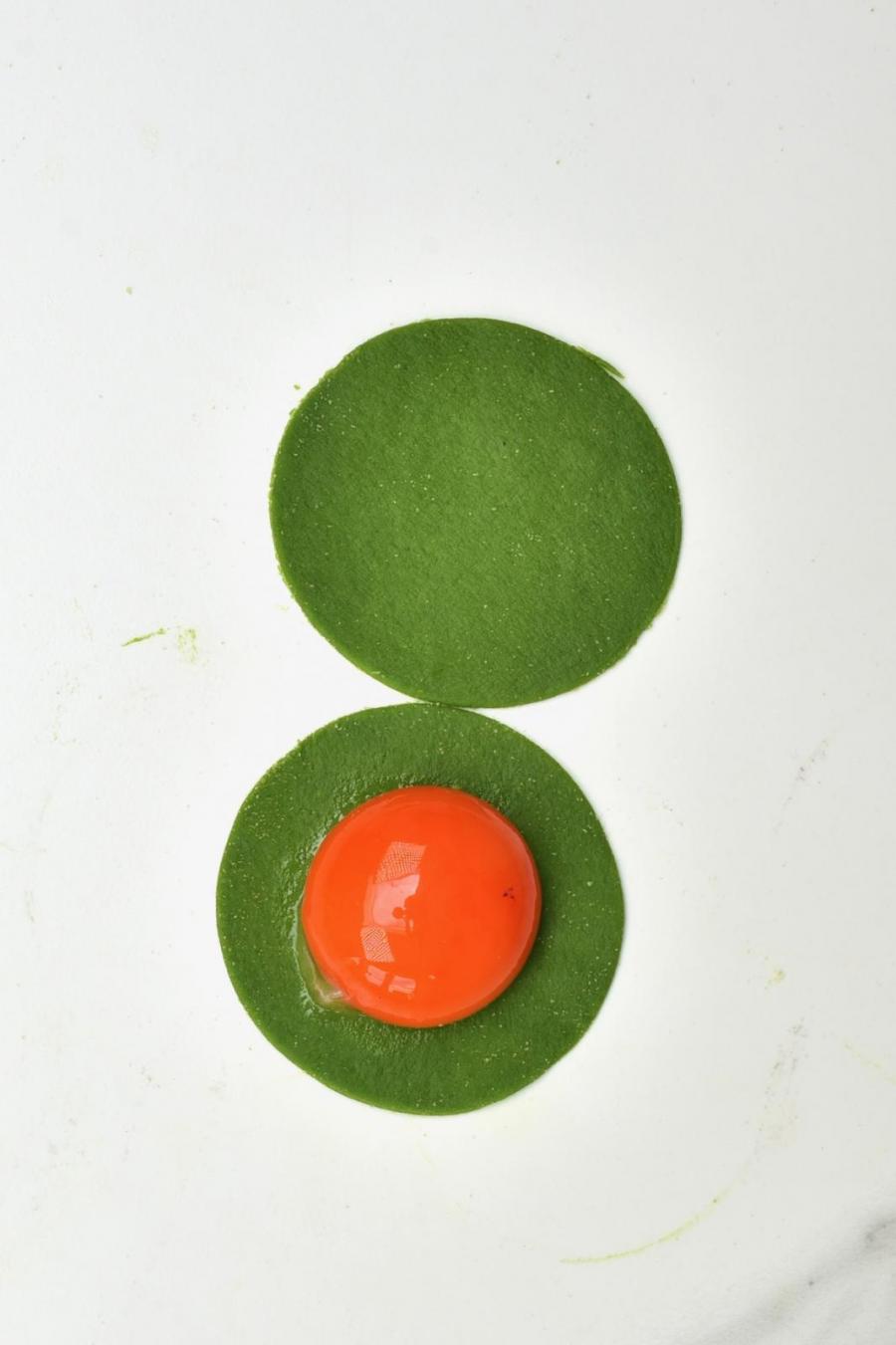 To cook the ravioli start by bringing a pot of salted water to a boil over medium-high heat. Gently drop the egg yolk ravioli into the water and allow them to cook for around 2-3 minutes. This should produce slightly al-dente pasta with yolks that are still fairly runny.
For the sage butter sauce melt the butter in a large pan and add the crushed garlic and sage, stirring well to sauté. Once the ravioli are boiled, transfer it to the pan allowing it to sizzle and crisp up and lightly brown just for a minute or so, then spoon some of the butter over the top, serve, and enjoy!
Once the ravioli is formed, you either need to cook them immediately or freeze them as otherwise, the pasta will become soggy from the yolk and can stick or tear. To freeze, lay the ravioli out on a baking sheet and freeze till solid, then transfer to a freezer-safe bag or container for up to 1 month.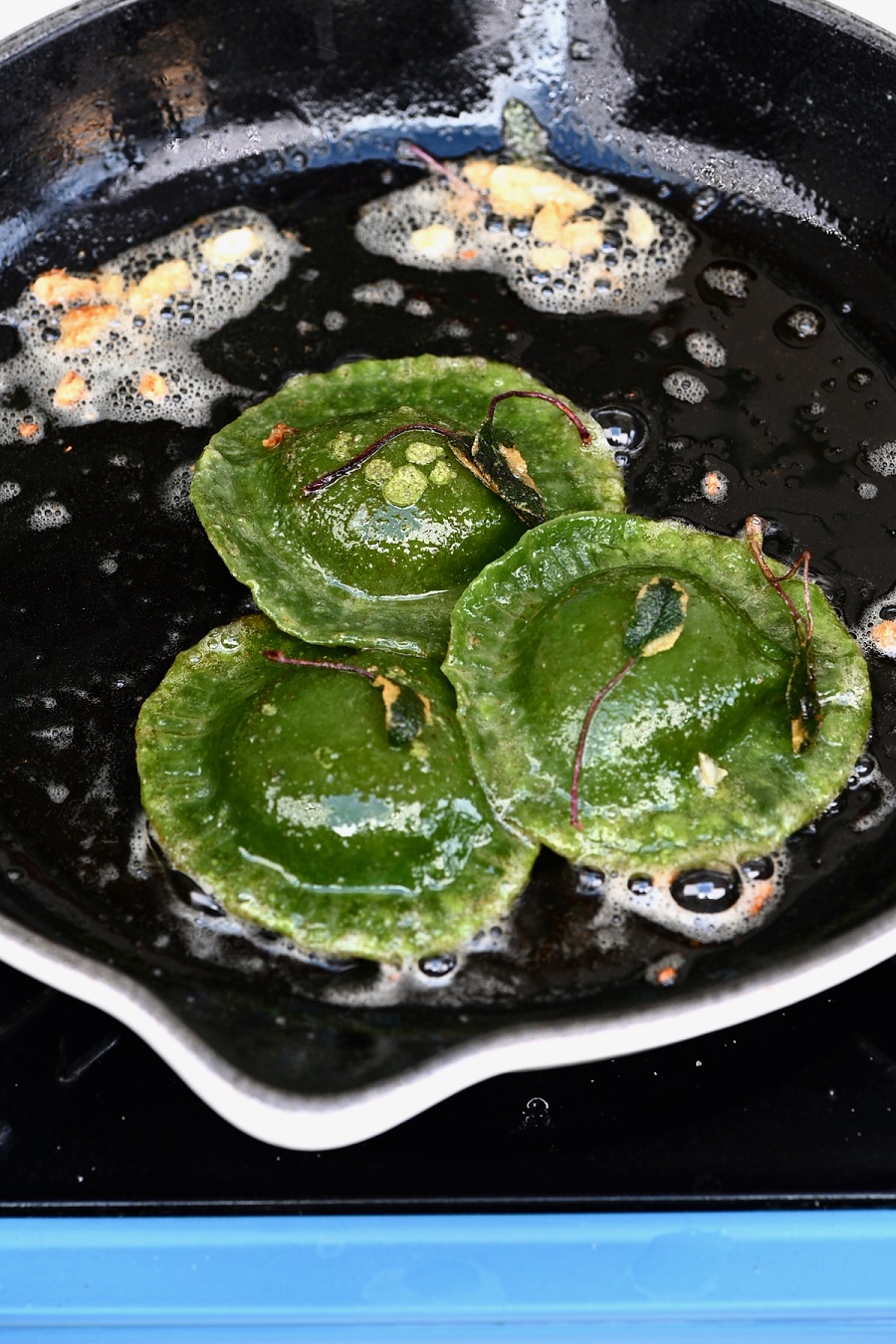 If you want to give this delicious recipe a try, make sure you snap a photo of your finished dish and tag us on socials @theladymagazine for the chance to be featured!