Art and Fish'n'Chips
People used to visit traditional seaside resorts for fish and chips and a chance to screech as they dipped their toes in the freezing-cold waves. For day-trippers and B&B weekenders alike, this was holidaying in England; nobody was expecting too much. But then there was the creeping advance of the 'cultural tourist'. Britain is now ranked fourth out of 50 nations for having an exciting contemporary cultural landscape and you're nowhere as a coastal destination without at least one large art gallery on your beach.
Whether by luck or judicious planning, the southeast has ended up with a string of landmark art hubs running from Margate's Turner Contemporary, Pallant House in Chichester, Hastings' very own Jerwood, the De La Warr Pavilion in Bexhill-on-Sea and the Towner in Eastbourne.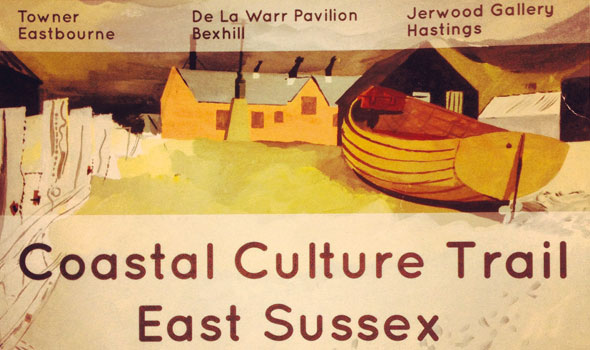 Quite what defines a 'cultural tourist' is beyond most of us, but there's a lot to be said (in a country where it rains a lot) for the added value of being able to take in some paintings followed by a cup of tea in a nice cafe. Look at the Tate St Ives.
The Jerwood isn't exactly up there with the Tate, but in its first year its beach location and sea views attracted over 65,000 visitors despite charging an £8 entrance – it's free on the first Tuesday afternoon of each month. In order to capitalise on their proximity, they've joined up with the Towner and the De La Warr to form the Coastal Culture Trail. A 20-mile bike or walk along the southeast coastline. Remarkable that no one thought of it before. Bikes can be hired at Bells Bicycles on George Street – it's downhill towards Bexhill with some inland diversions and a glorious trail past Pevensey Bay. If you can't face the strain on your calves, it makes for a leisurely weekend stroll, with an overnight stay along the route.

The Towner is a delight, with floor-to-ceiling views of the Devonshire Park grass tennis courts, used annually for pre-Wimbledon, and the Ravilious Room housing the largest body of works by the Sussex artist, Eric Ravilious. The trail ends at the De La Warr, a modernist masterpiece completed in 1935 and now refurbished into the ultimate arts complex with a rooftop terrace and the chance to see Joan Armatrading in the 1,000-seater auditorium later next month. Well worth getting on your bike for…
Next week: Brown shrimps