BEAUTIFUL & DAMNED
Her life was in tatters that spring of 1926, but her clothes were spic and span. Finances might be on the brink, her party-going days behind her, but London beauty Heather Firbank, an Edwardian equivalent of a fashionista, couldn't forget the remnants of her chic past. In trunk after trunk, spread across the attic of the Mayfair home she would soon leave for a cut-rate place in the country, reposed in glamorous array all the dresses, hats, gloves and shoes that had defined her existence for two decades. She'd kept everything, from feather fans and embroidered handbags to the grandest ball gowns and opera capes.
Heather had stayed abreast of each trend, buying lavishly from the best couturiers. Every item represented a happy memory: magnificent court fetes, gossipy garden parties, flirtatious dances, even an assignation or two, everything but the thrill of a wedding. Marital bliss had eluded Heather, and now that her inheritance was diminished, future chances of nabbing a husband were nil. Downsizing was critical, but she couldn't relinquish the huge stash of yesterday's frocks and frills. She had lovingly saved each article – for years, they had stood for dreams. And so, with her maid, Hallett, she opened one of the trunks, gently tucked in last season's finery, closed the lid and ordered the removers to place it, along with the other containers, in storage. She never saw her old clothes again.
Fortunately, after her death 30 years later, her stylish trove was discovered by her family, still neatly packed away, the lacy dresses and plumed hats as alluring as when their mistress last touched them. Silks and sequins agleam, redolent of the history of a remote era and the mysterious woman who once wrapped herself in its luxury, this extraordinary collection was donated by her family to the Victoria & Albert Museum.
Lady of Fashion
First offered in 1957, Heather's clothes were officially acquired by the V&A three years later, when the exhibition Lady Of Fashion unveiled the fascinating cache. Forming the nucleus of the museum's world-renowned collection of 20th-century dress, a rotation of items from Heather's wardrobe have been on permanent display in the V&A's fashion gallery for 53 years. 'Since its acquisition, the collection has been used extensively by the museum, and pieces have featured in numerous publications and exhibitions,' confirms Cassie Davies-Strodder, V&A fashion curator and co-author of London Society Fashion: The Wardrobe Of Heather Firbank, 1905- 1925. This tribute examines in lush detail Heather's remarkable apparel selections and her previously undocumented life of glitz and scandal.
Strodder, with the museum for six years, chose the Firbank collection as the subject for her dissertation at University of Brighton, from which she graduated with an art history BA in 2006. The book, released on 3 May, derives from this research, and with the aid of Jenny Lister, fellow V&A curator, and Lou Taylor, dress and textile history professor at the University of Brighton, she has delved deeper into Heather's belle epoch world to resurrect a tale of sexy, stylish adventure to rival any Downton Abbey plotline.
'During my research, I uncovered the story of Heather's life,' Strodder recalls, 'so I wanted to look again at the clothes to see what this new knowledge added to our understanding of her choices.'
There was plenty to explore. Tall and beautiful, Heather was the daughter of Sir Thomas Firbank (MP), a multimillionaire politician whose family had made its fortune in coal mining and railway construction. Her mother, Harriett Jane Garrett, a beauty in her own right, was a member of the aristocratic Annesley clan.
Far from shy, Heather made her way in fashionable society with a sense of audacity that led her into indiscreet affairs with an older – and much married – Army hero, a young French admirer, and according to one source, even the family's chauffeur.
Her beloved brother Ronald, an openly gay writer known for a series of ingeniously camp novels, bonded with his sister through a shared interest in fashion and gossip. Sadly, Ronald's erratic life, spent largely in Europe, involved drugs and alcohol, before an early death at the age of 40.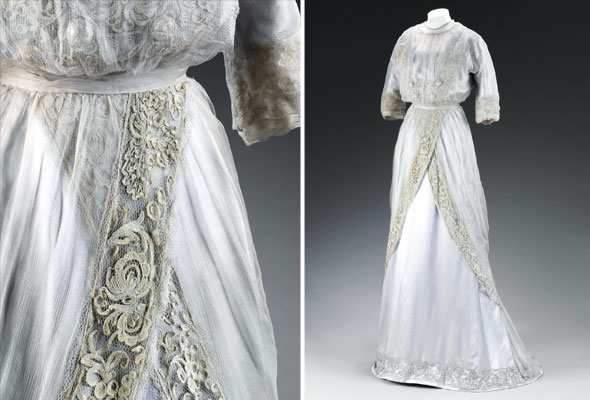 This tragedy might have precipitated Heather's descent into depression and seclusion. But she'd had a rough time of it already. After her father died in 1910, leaving his millions to his widow and children, Heather spent recklessly on her wardrobe. 'There are no signs she felt guilt over spending so much money on fashionable dress,' says Lou Taylor, who researched Heather's social milieu.
'I believe she felt it was her right, and it evidently gave her enormous pleasure.' Yet Heather's spendthrift ways ignited quarrels with her mother and Ronald, especially over the bills she racked up at her favourite couturier, Lucile, celebrated for the sheer lingerie and tea-gowns that brought a soupçon of sensuality to Edwardian fashion. Her fondness for Lucile reflected Heather's own provocative personality.
Letters in the Firbank archive, says Strodder, 'reveal that her most fashionable and daring clothing was worn when she was having a love affair'. Yet Heather eschewed conventional dating, entering relationships unsuitable for a young lady who hoped to marry well. Flings with her driver and a shadowy Frenchman, and a passionate liaison with Col William Kenyon Mitford, a distinguished military officer 30 years her senior, were to cause her unravelling.
'Their secret exchanges of love letters, carefully arranged using their private clubs in Mayfair as poste restante addresses, reveal the strict control under which society women were obliged to carry out their romantic lives before the First World War,' explains Taylor. 'Heather had to go through a series of complicated manoeuvres, but was soon discovered.'
Just as financial difficulties became grim, her mother died and, a few years later, her brother followed. By this time, in 1926, a reduced status was inevitable and Heather fled London. She kept what belongings she could, sold or gave away the rest, and prepared to move to the country to live in comparative isolation. But she could not part with her clothes, so the 24 trunks went into storage.
Inspirational Designs
Since her family's bequest to the V&A, Heather's clothes have amused and educated for half a century – and inspired Cecil Beaton's costumes for the 1964 film, My Fair Lady, starring Audrey Hepburn. More recently, the designer Susannah Buxton was influenced by them for her Emmy Award-winning costumes for Downton Abbey's first two seasons.
Parallels between storylines in the hit TV show and Heather's real life are inevitable. 'The phenomenal success of Downton Abbey has undeniably created an appetite for stories of wealthy women of this period,' says Strodder. 'Susannah Buxton took a great interest in Heather's clothing, and Susannah's fabulous creations have generated an appreciation for the creativity of fashion in the early 20th century, although I always argue that you cannot beat the real thing.'
Certainly her gowns are matchless evocations of a sumptuous era, and her personality is all over them. 'She boldly chose many heather-coloured fabrics to complement her name,' Taylor notes, 'and she even had a pretty heather logo printed on her notepaper to create a public persona for herself.' Heather also had a predilection for black, seen in a stunningly draped Lucile dinner dress, a kimono- like afternoon gown from Redfern and a pair of garters trimmed with tiny bouquets of purplish fruit.
'I felt we got to know Heather quite well,' Lister says. 'She was a strong personality, and she had really stylish, modern taste.' But Lister thinks the hats in the collection illustrate Heather's brave fashion choices best.
'I'm obsessed with a hat of black straw,' she says. 'It's trimmed with pale brown ostrich feathers and sprays of dried barley, dating to about 1910.'
Labelled 'Suzanne Talbot, Paris', the hat was from Woollands department store in London, which imported mainly from top French milliners. 'It's such an unlikely combination,' Lister says. 'The oats and feathers are apparently put together with no effort, and almost look like something you would sweep up from a dusty floor, but the effect is quietly magnificent.'
One of Strodder's favourite pieces is a cream afternoon gown that Heather bought from Lucile in 1913. 'As with many of Lucile's designs, the fine silk chiffon and lace look daringly like lingerie, while the fur trimming and giant silk bow at the back make a bold statement,' says Strodder.
'I hope readers will learn what it meant to be a fashionable woman in the 20th century, not only in terms of the time, money and effort that went into a fashionable appearance, but also with respect to just how important it was to be dressed "correctly". I hope that by putting the clothes in the context of Heather Firbank's life, they become meaningful and real.'
London Society Fashion 1905-1925: The Wardrobe Of Heather Firbank, is out on 3 May (V&A Publishing, £30). Randy Bryan Bigham contributes to Columbia University's Women Film Pioneers Project and is the author of Lucile: Her Life By Design.