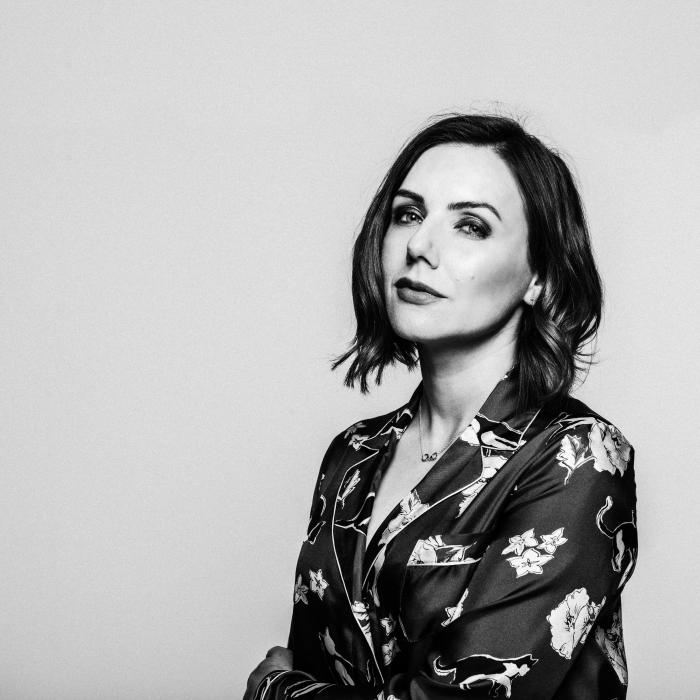 Sali Hughes is a prolific journalist, writer and broadcaster, commenting and advising across the platforms of magazine, newspaper and social media with her distinctively upfront and honest voice. Sali's refusal to compromise her integrity, her truthful and uninfluenced style has made her a nationally trusted household name, in particular when it comes to beauty, fashion and women's views and news. Sali's beauty column in The Guardian and her In The Bathroom series of interviews with fascinating people who are in the public eye (Caitlin Moran, Claudia Winkleman, Charlotte Tilbury, Bobbi Brown, Pearl Lowe, Lilly Allen, to name a few) have attracted millions of views, readers and subscribers.
Sali's first book, Pretty Honest, gives an accessible account of beauty advice and expertise built on over 20 years of industry experience and is the antithesis of the classic and often out-dated coffee table beauty book – a beauty guide for real women. Her second book, Pretty Iconic, looks at the influential products that have remained our top choices for decades.
In February 2018, Sali and Jo Jones, a leading beauty PR, set up Beauty Banks, a social enterprise launched to tackle Britain's hygiene poverty crisis. In the UK 37% of people go without hygiene or grooming essentials every day, and over 14 million are living below the poverty line. Beauty Banks receives unwanted, unopened health / hygiene products from the public and the beauty industry and then sends these on to the distributor charities for people to access.
How different do you think it is for young people to get into journalism now, compared to when you arrived in London as a teenager?
'I think it is incredibly difficult, for all sorts of reasons. There is no money in media anymore because nobody wants to pay for anything. There is an expectation that good journalism should be freely available – that having access to someone's years of experience and expertise is a given. When I was starting out as a freelance journalist I got paid around £650 for a feature, which remains the same fee now, for young journalists, over 20 years later. The trouble is the cost of living has shot up but freelance rates have not, which makes it very difficult for anyone starting out.'
What are your thoughts on the INSTA world of young beauty-vloggers and you-tubers whose style is the extreme full face of layered make-up?
'It's amazing that social media has given people such a great platform – it has democratised beauty, I admire it, even though it's often not my style. There are loads of really talented people out there and all you need to do to get started is a smart phone. Everyone becomes a content provider, it's exciting – these are real people with real skills. I just wish it was a bit different, the heavy contouring and so on. I think we've all seen what it looks like on YouTube, but in reality it doesn't look good. The point of beauty is that we don't all look the same or want to – the aim should be to feel our best and have fun with it, by creating lots of different looks.'
You are a trusted voice on all things beauty, how do you retain this fresh attitude in such an opinion-saturated industry?
'I'm a journalist who happens to write about beauty. I keep myself quite separate from all the beauty PR events and reviews. I'm on the outside, looking in. I couldn't give an unbiased opinion if I read all the other reviews and opinions on products.'
What is your failsafe skincare beauty regime?
'A good cream or oil cleanser – with a clean flannel, followed by an AHA toner and vitamin C serum (this is a great skin brightener and anti-oxidant), then a day cream. For base I usually wear Pure Radiance tinted moisturiser. I'm not bothered by wrinkles and don't have many but I hate dullness in my skin. Vitamin C and hyaluronic acid both boost the skin's natural defences and encourage a glow. A spritz of perfume - I've been wearing Chanel No 5 since I was 13, but I love Portrait of A Lady by Frederic Malle. My desert island beauty product would have to be a red lipstick – a pop of colour is always cheering.'