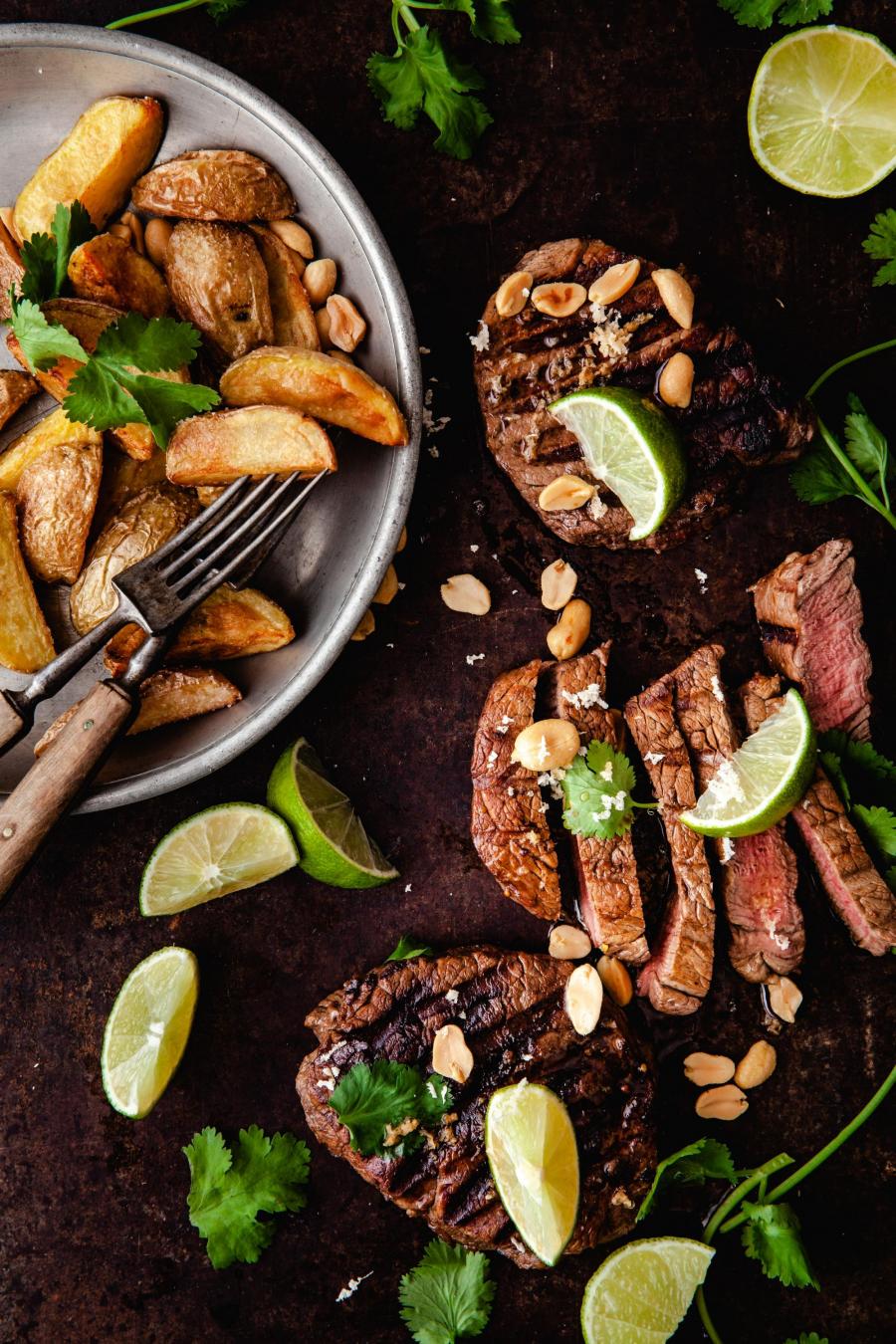 BEEF FILLET MARINATED IN SMOKED TEA AND HORSERADISH
1 litre smoked tea such as Lapsang Souchong
500g beef fillet, cut in to 4 steaks
Oil
Marinade:
2 tbsp wholegrain mustard
3 tbsp sugar
3 tbsp lime juice
Salt and pepper
3 tbsp grated horseradish – make it easy and use the Microplane®Master Series Coarse Grater
To serve:
Lime, cut in to wedges
Small bunch coriander, roughly chopped
Handful chopped peanuts (optional)
Potato wedges
Prepare the smoked tea and let it cool in a dish about 5cm deep
Put the ingredients for the marinade and 3tbsp water in a small saucepan and bring to the boil until the sugar dissolves
Grate the horseradish with the Microplane® Master Series Coarse Graterand mix in to the marinade to form a paste
Rub the paste on to each steak and place into the smoked tea
Let the steaks marinate for 2-4 hours or overnight – turning a few times
Remove the steaks from the marinade and pat dry with kitchen roll or a clean tea towel
Rub each side of the steak with oil and fry in a hot frying pan, griddle or BBQ until cooked to your liking
Let the steaks rest for about 5 mins
Serve with lime wedges, coriander, peanuts and potato wedges (also rather tasty with crusty bread)
Whilst the steaks do benefit from being left to marinate over night, prep time is just a few minutes as the Microplane®Master Series Coarse Grater makes light work of effortlessly and precisely grating the horseradish. The grater works equally well with all sorts of veg, fruit, chocolate and cheese. Non-slip rubber feet protect the worktop when grating while theelegant wooden handle and stainless-steel frame is comfortable to use.
Don't forget to rest the steaks after cooking to ensure they're moist, tender and juicy!