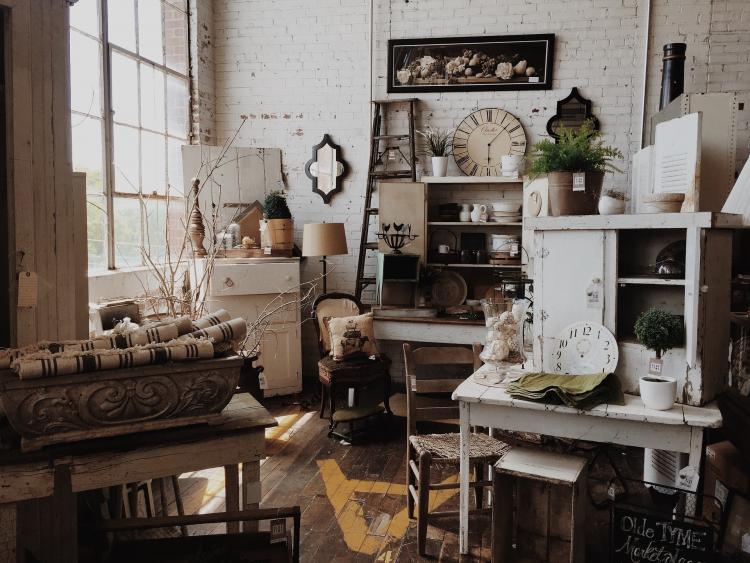 Shopping for vintage is exciting. It's the perfect way to add character and luxury to your home, at a great price. Whether you're searching for the latest designs, or looking for more classic pieces, there's no doubt that you'll be looking to get the most for your money, especially when it comes to quality. Fortunately, buying vintage is now easier than ever, especially with the rise of online vintage marketplaces, meaning higher chances of finding one-of-a-kind statement pieces for less. However, buying vintage is often a treasure hunt and requires a bit more than simply walking into a shop. Here's our beginners guide to buying vintage:
Do your research
The world of vintage can be quite overwhelming. There are endless choices of vintage items out there - from an elaborate French dresser from the 20th Century, to a retro bathtub from the 60's, and everything in between. You need to be able to distinguish between different time periods and know exactly what you're looking for. Cotswold Grey explain how you need to ask yourself: "What are you hoping to achieve? Do you want to add a touch of elegance? Do you hope to create a focal point? Once you know your outlook, it'll be much easier to incorporate a vintage piece into your existing style, as you'll create a clear idea of what you intend the room to look like." This will ensure that your home doesn't become a mish-mash of objects, furniture, and colours.
Do plenty of research and study the periods you like before you start your shopping spree. That way, you can understand the unique characteristics of items from that period. This will help you identify bargains, talk to dealers with confidence, and work out which styles will work best in your home. Interior designers and vintage dealers or shops are usually more than happy to share their knowledge and offer advice, so don't hesitate to ask for help it you're unsure.
Check the quality
Experts at The Spruce explain how "gently used furniture is always preferable to furniture that has obvious signs of wear and damage, vintage or not." Generally, case goods such as cabinets and dining room furniture, withstand time better than upholstered furniture. Make sure that you check the quality and condition of items carefully and find out whether any parts have been replaced or refurbished. That being said, don't let minor scratches or marks put you off an item you love, as surface scratches can usually be fixed fairly easily and cheaply.
Get to know vintage sellers
Shopping for vintage is a treasure hunt. The hardest part is usually finding items, and so enlist the help of local vintage sellers. Building relationships with vintage sellers is a great way to learn from their vast experience and get information on any new items that become available. Once they know you, local sellers may even be willing to find things for you especially, based upon your taste and budget.
The best places to buy vintage
There are plenty of different places to hunt for vintage items. Here are some of the best places to look:
Antique centres/fairs - There are numerous vintage fairs up and down the country. These are a great way to get involved in the vintage community, meet 1000's of sellers, and get advice from the most experienced people in the industry.
Vintage stores - You can see items in person and check the quality carefully before making a purchase. It is best to visit local vintage stores regularly, so that you can get to know the sellers and see new items as soon as they come in.
Auctions - These are exciting places to hunt for vintage and you have the opportunity to get a great bargain. However, make sure that you calculate the maximum amount you're willing to offer, consider any additional fees, and don't get swept up in the moment!
Online shops - Online vintage shops are a great place to start because you have access to hundreds of items and can browse at your comfort. Just make sure that any items have good quality photographs, and read the descriptions carefully. Also check the delivery and returns policy.
We hope this guide will help you find that one-of-a-kind piece for a great bargain - now all that's left is for you to dive into the exciting world of vintage!
By Emma Saunders