Best bee friendly plants: 5 beautiful ideas to try in your garden
By Melanie Griffiths, contributor at GardeningEtc.com
Using bee friendly plants and flowers in your garden to attract bees and other precious pollinators is the most important thing you can do to help wildlife. Over the last century, most natural wildflower meadows have been lost, so gardeners have an essential part to play in securing their future.
Many of us focus our gardening efforts on the summer months, but due to climate change, there are often bees actively seeking food well into autumn, and even winter. Aim to have something in bloom in every season to ensure a constant supply of pollen and nectar. Don't forget that bee-friendly plants are loved by other pollinators too, so by planting flowers to attract bees, you'll also be helping beneficial insects such as moths, hoverflies and butterflies, and in some cases birds and other small animals.
Lavender
Easy to grow and drought tolerant, with evergreen foliage and a heavenly scent, lavender is prized by pollinators and gardeners alike. Interestingly, bees are drawn to purple flowers, so a few lavender plants dotted around will turn your garden into a hive of activity.
Where to plant
Lavender is perfect for edging pathways or adding to flower borders and herb gardens, but also makes a striking, aromatic feature in large containers next to seating areas. It needs plenty of sun and fast-draining soil, and prefers less-fertile, drier soil. It won't flourish in heavy clay.
Care
Plant in warmer spring weather after the frosts have passed, then water once or twice a week to help it to bed in. This can soon be reduced down to only occasionally in hot weather, although container plants need more attention. Once the flowers are spent, you can prune the plant. It's fine to leave it until after winter. You can cut back lavender fairly hard, but you must retain some green growth as if you take it down to the woody stems, the plant is unlikely to rejuvenate.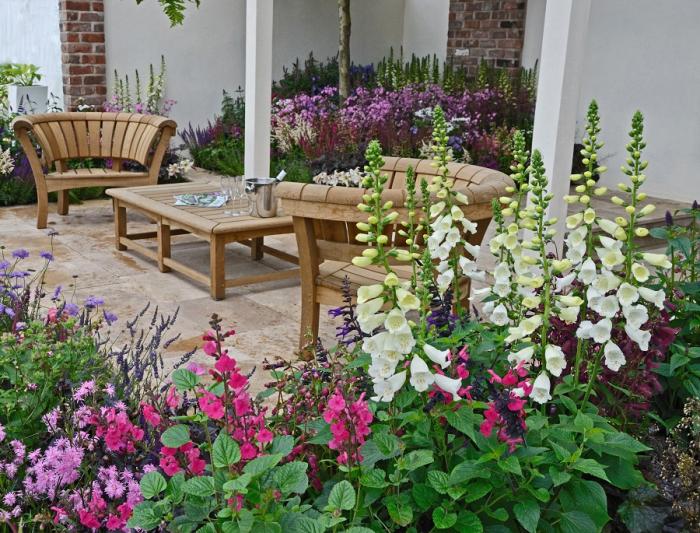 Foxgloves
Foxgloves herald the start of summer with bursts of tubular flowers, which make perfect hidey-holes for bees to gather nectar. They are easy to grow from seed, but they won't be ready to flower until the following year, so if you're after colour now then you'll need to invest in plants.
Where to plant
Foxgloves can grow up to two metres tall, depending on the variety, and so are useful for adding pops of colour in the middle or rear of borders. They prefer some shade and a rich, fertile soil, but will grow in most conditions. Though pollinators love them, foxgloves are poisonous to people and animals when ingested, so don't plant where pets are prone to nibbling.
Care
Water regularly, but not excessively as foxgloves don't like to be waterlogged. Due to their height, the flowers might need staking if they start to lean over. The common foxglove Digitalis purpurea is biennial and will self-seed if not deadheaded, but perennial varieties will come back year after year.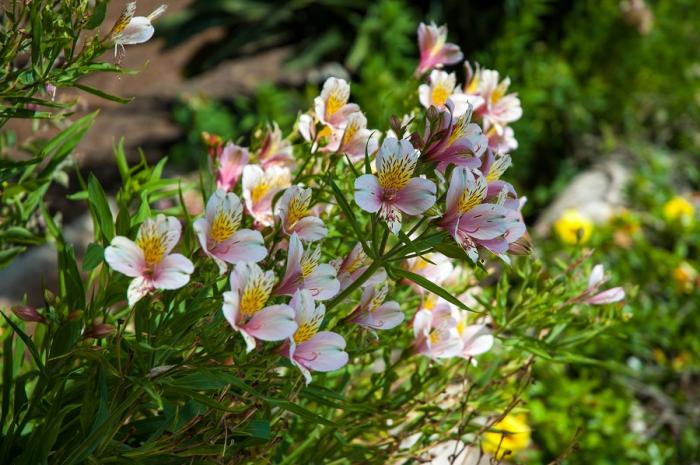 Alstroemeria
Originating from South America, alstroemerias (also known as Peruvian lilies) are hardy, easy to look after and produce the most stunning flowers year after year. Colours range from delicate whites and pinks through to hot oranges and reds, like this 'Indian Summer' variety. In addition to attracting beneficial insects, they have a long vase life as a cut flower, lasting up to three weeks. The plant can flower for months with regular dead-heading, so you'll be in constant supply of these exotic beauties all summer long.
Where to plant
While adding colour to borders, alstroemerias also make good container plants. They prefer fertile, free-draining soil, positioned in ideally full sun or partial shade.
Care
Though the plants are hardy, you will get more flowers with regular feeding and watering. Taller varieties will likely need staking. Keep picking the flowers and deadhead by pulling to encourage new blooms. You can propagate alstroemerias by dividing tubers in April.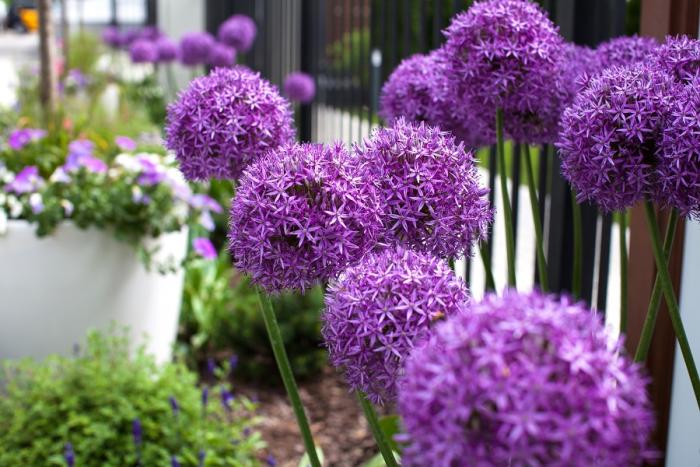 Alliums
With their large globes bursting with purple to white flowers, alliums are actually ornamental onions, and their foliage may give off a subtle aroma. Their long stems make them excellent cut flowers, and most varieties bloom in early summer. Though similar in form, there are hundreds of different allium varieties, offering myriad colours and sizes.
Alliums beautifully complement a variety of other plants, adding a sculptural contrast to blowsy roses and peonies. Either buy as bulbs to plant out in the autumn, or as spring plants.
Where to plant
Alliums are at their best popping up in the middle of planted areas, adding drama with their height and architectural heads. Smaller varieties are available that can be positioned at the front of borders, and many varieties are well suited to containers.
Care
Drought-tolerant and requiring little in the way of feeding, alliums are easy to care for, although container plants will need more regular watering. The bulbs can be left in the ground over winter, but can be divided once the plant has died back.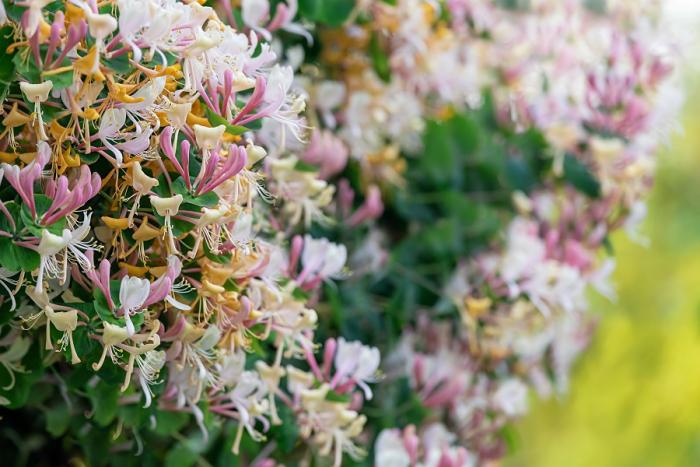 Honeysuckle
Adding vertical interest by creeping up walls in cottage gardens, many honeysuckles also exude a rich, heady scent that helps to entice pollinating bees. The plant flowers for months, and winds down in autumn with a profusion of berries, which will encourage birds to visit your garden.
Where to plant
Climbing honeysuckle likes its roots to be cool and its flowers in the sun, so a west- or south-west-facing fence or wall is ideal. It favors a rich, well-drained soil and does better in the ground than in a container.
Care
Honeysuckle only needs occasional watering in warm weather, and fertilising and mulching once a year. Early-flowering honeysuckle should be pruned after flowering, and late-flowering varieties in the spring. If the plant gets out of control, it can be cut right back in late winter.
However much or little space you have, you can make an impact, from containers and window boxes tumbling with flowers, to fragrant climbers scrambling up walls, and romantic patches of wildflowers. Start planting now, and soon your garden will be buzzing with bees, butterflies and all other creatures great and small.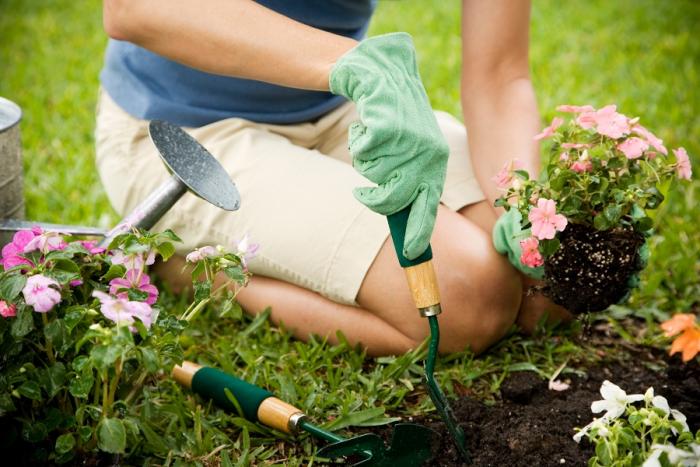 If you prefer leaving your garden in the hands of professionals, contact our specialist recruitment team today to find you the perfect candidate; from Housekeepers to Gardeners, Nannies to Carers, we source only the most exceptional candidates for your home. Contact our friendly team today: theladyrecruits@lady.co.uk