OUT NOW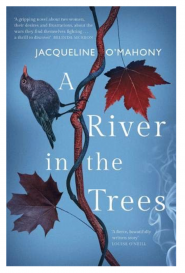 A RIVER IN THE TREES by Jacqueline O'Mahony (riverrun, £16.99)
Secrets and lies drive the plot of this saga, following two Irish women living one hundred years apart in rural Cork. In the present day, Ellen returns home to buy her old family farmhouse, a distraction from her unhappy marriage and recent stillbirth. Paralleled with this is the story of Hannah, an adolescent during the Irish War of Independence, who has a baby with an ally of Michael Collins and escapes to America.
The narrative is reminiscent of Kate Atkinson's bestselling Life After Life, with lyrical prose and observations that are both wry and witty, evoking a sense of time and place in modern and old Ireland. Identity and a sense of belonging are recurring themes. Past secrets, long forgotten, come to the fore, and local gossip has it that Ellen's ancestors were traitors to the Irish cause due to their sheltering Black and Tans, which cursed the family for generations to come. Cue strange and humourous Irish superstitions and eccentricities.
The historical detail is subtle and links the past with the present, ultimately revealing the connection between Ellen and Hannah, without relying on the clichés that often mar similar novels. A strong debut – O'Mahony is an exciting new voice in Irish literature.
Lyndsy Spence
THE TRUTHS AND TRIUMPHS OF GRACE ATHERTON by Anstey Harris (Simon & Schuster, £12.99)
Overcoming the adversity of complex relationships is at the core of this simple yet heartfelt tale of extramarital love in the age of social media. Grace is a confident, capable thirty-something who runs a quirky shop, making and mending string instruments. For eight years, she has been conducting a secret affair with David, a married father living in France. They enjoy dates around Europe, have the same interests, and one day, Grace hopes, he will leave his wife… But life is rarely that straightforward, and when they become embroiled in an incident on the Paris metro, their world unravels.
Set in the classical music world, the book is scattered with priceless nuggets of information – for example, did you know that the cello is one of the few instruments with the vocal range of a human, or that its full name is actually 'violoncello'?
Grace's journey captures the challenges of modern living in a light-hearted but captivating way, sensitively melding together emotion, classical music and the challenges, digital and otherwise, of contemporary living.
Elizabeth Fitzherbert
---
PAPERBACKS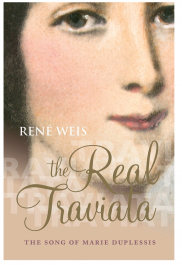 THE REAL TRAVIATA: THE SONG OF MARIE DUPLESSIS by René Weis (OUP, £12.99)
La Traviata is one of the most famous operas of all time – and the most reliably tear-jerking, with a surprisingly wide appeal (think of that scene in Pretty Woman). The meteoric rise and tragic fall of a beautiful young courtesan, the forbidden love, the deathbed reunion: perfect material for opera's heightened emotional register. But what about the real woman behind the story? This compelling biography charts the extraordinary life of Marie Duplessis: escaping poverty and abuse in Normandy, she took Paris by storm to become the darling of fashionable society. The grandest of the grandes horizontales, she rose above the potentially tawdry nature of her position: after her death, Théophile Gautier called her a princess, and she is immortalised in the opera, and in Alexandre Dumas's novel, La Dame aux Camélias. Impeccably researched and astutely observed, Weis's book sifts through facts and myth, and conjures up the texture of life in 19th-century Paris, with its many flâneurs, boulevards and cafés. Bravo.
Juanita Coulson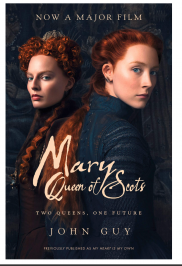 MARY QUEEN OF SCOTS by John Guy (Fourth Estate, £8.99)
Reissued to coincide with the film starring Saoirse Ronan and Margot Robbie, this biography explores the complex, dangerous relationship between the charismatic Mary and her cousin Queen Elizabeth I. Crowned Queen of Scotland at nine months old, and Queen of France at 16, Mary ruled one of the 'most fractious courts in Europe' (which would even make our Brexit-riven government look tranquil). Despite her intelligence, Mary was manipulated by bullying men, three of whom she married. But Guy believes her marriage to Lord Darnley politically motivated: the alliance strengthened her claim to the English throne. At 25, Mary was imprisoned until her execution 19 years later, after an attempted coup made her a threat. Although scholarly, this highly entertaining read is as thrilling as any detective story.
RW
---
COFFEE TABLE BOOK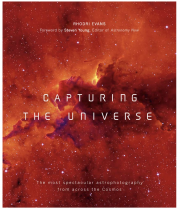 CAPTURING THE UNIVERSE by Rhodri Evans (Andre Deutsch Ltd, £20)
The latest generation of telescopes, landers and probes are bringing us increasingly vivid and detailed images of space: some of the finest are showcased here. Take poor, downgraded Pluto – no longer a Solar System planet but reclassified as a Kuiper Belt object – revealed in its true colours for the first time since its discovery in 1930. The picture, taken by the New Horizons probe in 2015, was produced using a combination of blue, red and infrared imaging, to display a surface swirled by patterns and hues hitherto unknown. What looks like bright blue jewels scattered on green-rose marble turn out to be baby stars and dust clouds in the Monkey Head Nebula, north of Orion (courtesy of NASA's Spitzer Telescope). The accompanying text gives just the right level of detail to pique the general reader's interest. Bogged down by drudgery? Open this book and reignite your sense of wonder. JC