Book reviews: 1 April
OUT NOW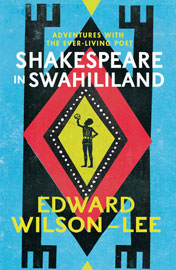 SHAKESPEARE IN SWAHILILAND by Edward Wilson-Lee (William Collins, £20; offer price, £17)
This year is the 400th anniversary of the Bard's death, and his achievements are being celebrated on a global scale. I thought nothing could surprise me about the impact of England's greatest cultural figure, but this fascinating, readable book about his influence in East Africa certainly did.
Wilson-Lee's evocative, humanist history covers a lengthy period. We go from the Victorian explorers who read their Shakespeare in tents to the newly liberated slaves who studied his texts translated into Swahili; from amateur performances by the Indian migrants who built East Africa's railway to the Bard's impact on the region in the present day.
The real strength of this book lies in the first-hand research undertaken by someone who loves East Africa as much as he does Shakespeare, and the wide range of people he has spoken to. Theatre directors, writers, politicians, academics, businessmen, teachers, soldiers and aid workers all help reveal this still-evolving story of the man who was 'not of an age, but for all time'.
Steve Barfield
---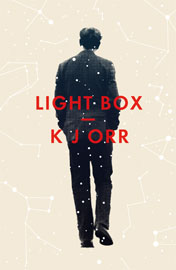 LIGHT BOX by KJ Orr (Daunt Books, £9.99; offer price, £9.49)
The short stories in this debut collection take in some exotic locations – New York, Tokyo, Siberia – while the light box of the title is installed in the home of a US astronaut trying to regulate his circadian rhythms, disrupted by space travel.
Despite this, though, the writing here is never showy, and Orr has a gift for taking the reader deep into the still, intensely private places at the centre of a life. In Disappearances, for example, a retired Argentinian plastic surgeon reflects on the women he has known and whom he cannot help but see as the sum of their parts. But even as he scrutinises the unlovely features of the waitress who habitually serves him, the reader is aware of her transfiguration in his eyes, of how she comes to seem not beautiful, but real. In Still Life, meanwhile, a father connects with his depressed daughter in a new way, made possible due to her becalmed and silent state.
Having won praise from masters of the form including Tessa Hadley, Orr is a name to watch.
Stephanie Cross
---
BOOK OF THE WEEK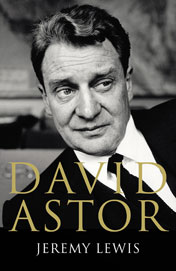 A Fleet Street giant DAVID ASTOR by Jeremy Lewis (Jonathan Cape, £25; offer price, £21.50)
Tall, elegant and softly spoken, David Astor seemed to be the quintessential English gent – but his parents were rich Americans. Despite being 'very average academically' at Eton, he had an extraordinary career. When he took over The Observer, he doubled its circulation in a decade, inventing the popular weekly profile, later copied by The Sunday Times.
A dynamic editor, he published George Orwell and Arthur Koestler, and hired Vita Sackville-West to write the gardening column. Kenneth Tynan did theatre reviews and spy Kim Philby covered the Middle East until he defected to Russia – turning The Observer into compulsory reading for British intellectuals.
Astor remembered growing up at Cliveden with dozens of staff and subsequently regarded any house with 'fewer than 16 bedrooms' as a 'cottage'. His 'overpowering' mother was Nancy Astor, the first woman MP.
This beautifully written, authorised biography tells us little about Astor's private life, although it touches on a premarital affair with a black nightclub singer called Elisabeth Welch (a London equivalent of Josephine Baker). While the man himself remains elusive, Lewis brilliantly evokes the golden age of a long-vanished Fleet Street, where everyone smoked, drank themselves comatose and still wrote electric copy.
Rebecca Wallersteiner
---
COFFEE TABLE BOOK
KIMONO: The Art And Evolution Of Japanese Fashion edited by Anna Jackson (Thames & Hudson, £50; offer price, £42)


This book is not about fashion in the Western sense of the word. A kimono never follows the shape of a woman's body, but is rather a cloak-like garment with a flat shape at the back to display family social status and wealth. The many kimonos illustrated here in fine detail span a period of 300 years, and form part of the Khalili Collection at the Victoria & Albert Museum. Through the centuries, the most accomplished artists have used the finest materials to make wearable works of art that are sublimely stylish, a joy to behold and an inspiration to fabric designers worldwide.
Hugh St Clair
---
PAPERBACKS

THE BRILLIANT & FOREVER by Kevin MacNeil (Polygon, £9.99; offer price, £9.49)
Small-island life and the literary scene come under the microscope in this quirky satirical novel. The setting is an unnamed island where 'everyone – human and alpaca alike – wants to be a writer': an opening line as disconcerting and inviting as it gets.
At the literary festival of the title, the highlight of the island's cultural calendar, contestants vie for glory and risk opprobrium with their storytelling efforts. As three friends – a man, a woman and an erudite alpaca called Archie – vie for the prize, friendships and loyalty must be weighed against fame. Ethnic tensions are explored too: there is even a rift within the oppressed alpacas, between the southern and northern types. By turns hilarious, mordant, heart-warming and heartbreaking, this is a true one-off that will leave an indelible impression.
Juanita Coulson
THE BOY WHO COULD SEE DEATH by Salley Vickers (Penguin, £8.99; offer price, £8.49)
The uncanny is never far from the seemingly ordinary surface in novelist Vickers's second short-story collection. It opens with The Churchyard, where an unearthly visitor consoles a woman after a break-up. Moored as the narrative is in minutely observed domestic detail, the other-worldly dimension comes as a jolt – this deft trickery sets the tone for what's to come. The ordinary boy in the title story has a remarkable gift that becomes a curse. Elsewhere, the strange disappearance of a driverless train heralds a shake-up of the world order.
If there is a flaw, it is one of overabundance – the novelist's wideangle lens is in evidence. Some stories overdose on eccentricities, crowds of beguiling characters, narrative paths that branch out in myriad directions. But this can be forgiven, adding as it does to their strange, feverish charm. JC
DESPITE THE FALLING SNOW by Shamim Sarif (Metro Books, £7.99; offer price, £7.49)
It is 40 years since Alexander defected from post-Stalinist Russia – he has buried his fears and broken memories. But with the arrival of two women in his life, the past will not stay buried for long. One is determined to find out what happened to Alexander's mysterious wife, Katya, while the other longs to open his guarded heart. Flitting between 1950s Moscow and modern-day America, Sarif explores the world of espionage and betrayal, concocting a gripping thriller as well as a compelling love story.
Helena Gumley- Mason
---
THE LADY'S RECIPE READS
Mum's the word: great cookery books for expectant or busy mothers. By Juanita Coulson
ANNABEL KARMEL'S BUSY MUM'S COOKBOOK by Annabel Karmel (Ebury Press, £20; offer price, £17)
These days, when we are all under pressure to 'juggle' – demanding jobs, busy social lives, the school run and putting healthy food on the table – this practical cookbook is a godsend. Busy mothers who want to feed their families well, while not wishing to spend every spare moment tethered to the cooker, will appreciate the 20-minute recipes and brilliant time-saving tips. From roast vegetable galette to a super-speedy rocky road, these are child-friendly dishes that don't compromise on flavour. Refreshingly, the emphasis is on good food made easy, not on some impossibly glamorous, overstyled lifestyle.
BLOOMING DELICIOUS Recipes For Glowing Health From Preconception To Post-baby by Sophie Wright (Vermilion, £18.99; offer price, £16.99)
No blue cheese, no oysters, no raw or runny eggs and certainly no alcohol – the list of things pregnant women are not allowed to consume grows ever-longer, with the resulting risk of culinary ennui. To the rescue comes chef Sophie Wright, who during her own pregnancy set out to explore ways of cooking that combine optimum nutritional properties with exciting flavours. She has enlisted nutritional therapist Henrietta Norton to ensure the recipes deliver maximum health benefits. Attractive and ingenious, the dishes are good enough to share with visiting friends and may well become staples of your repertoire long after delivery.
Tweet us your recipe reads @TheLadyMagazine using #ladyrecipereads
---
The Lady Bookshop
Order by phone 0843-060 0035 Calls cost 7p per minute, plus your telephone company's access charge.
Online
www.theladybookshop.com
By post Send your cheque, payable to The Lady Bookshop, to: The Lady Bookshop, PO Box 69, Helston TR13 OTP