OUT NOW
THE SECRETS WE KEPT by Lara Prescott (Hutchinson, £12.99) 
Lara Prescott's absorbing take on the Cold War spy thriller was tipped as one of last year's hottest debuts – and it doesn't disappoint. At its centre is the incredible true story of how Boris Pasternak's Doctor Zhivago (a novel no Russian publisher would touch), was secretly distributed behind the Iron Curtain by the CIA, who viewed it as a powerful weapon in the propaganda war.
Prescott – who was named after Pasternak's heroine – focuses on three characters: the author's mistress, Olga; experienced American spy Sally; and new recruit Irina. However, she skilfully brings in other perspectives and voices too, most notably those of the women of the CIA typing pool, who serve as a chorus throughout.
This book is packed with striking details – the right way to order a Tom Collins; the number of grams of bread permitted to prisoners in the gulag. And, as Prescott's spies know only too well, it's the details on which everything hinges.
Sweeping and ambitious, it is easy to imagine how this multi-stranded novel could have been baggy or unwieldy in lesser hands. In fact, it is a tautly written masterclass in blending fiction and fact.
Stephanie Cross
NAZI WIVES: The Women at the Top of Hitler's Germany by James Wyllie (The History Press, £20)
The subject matter of this book is so controversial, and the Nazi regime so rightly and universally reviled, it can be easy to forget that the wives of the party's leading members began their lives as ordinary women. A group biography, it focuses on Carin and Emmy Goering, Magda Goebbels, Margarete Himmler, Lina Heydrich, Gerda Bormann and Ilse Hess.
The women's relatable domestic worries of weight-gain, unruly children and household chores point to their human side – but what attracted them to the evil world of the Third Reich?
Drawing on archived material and historical context, Wyllie writes that many had ordinary childhoods, raised in comfortable surroundings which declined after the First World War, and some were associated with caring occupations: Margarete was a homeopathic nurse and Lina a schoolteacher. Or take Carin, for instance – a wayward girl from an Anglo-Irish dynasty who was drawn to mysticism. Wyllie's depiction makes her almost likeable and, given her untimely death in 1931 – before the Nazis seized power – she escaped being associated with their worst evils.
Sometimes there is even a comic side to their life: rows between Margarete and Lina at the SS Wives' tea parties, and feuds that played out backstage at Nazi rallies.
But make no mistake, this is no whitewashed history – the seemingly innocuous domesticity is sharply contrasted with the sinister and unrepentant aspect of their life: the events which led to the Final Solution and how, for the wives, this was the ultimate achievement of their husbands' power. An unsettling read, it is both fascinating and chilling.
Lyndsy Spence
PAPERBACKS
WHEN DEATH TAKES SOMETHING FROM YOU GIVE IT BACK by Naja Marie Aidt, translated by Denise Newman (Quercus, £8.99)
Prompted by the death of her 25-year-old son, Denmark's Aidt has written a multi-layered meditation on mourning and memory, blending prose and poetry, diary entries, and literary references from Plato to CS Lewis.
Fragmented and episodic, like grief itself, her book tests the limits of language in dealing with loss. A book about death that pulses with life.
PAPER AVALANCHE by Lisa Williamson (David Fickling Books, £7.99)
The young daughter of a compulsive hoarder goes to the greatest lengths to protecther troubled mother, hiding from friends, from social services, from life itself… until a new pupil arrives at her school.
As a close-up of dysfunctional family life and having to grow up too fast, this novel packs an emotional punch, but is also a life-affirming tale about the transformative power of friendship.
HEARTTHROBS: A History of Women and Desire by Carol Dyhouse (OUP, £12.99)
A refreshing change from the norm, this is a story of men as seen through the eyes of women: a wide-ranging social history of female fantasies. It is at once scholarly, humorous and utterly gripping.
Moving effortlessly between literature, art, television, film and popular culture, Dyhouse explores dishy figures ranging from regency rakes to rock stars.
Juanita Coulson
---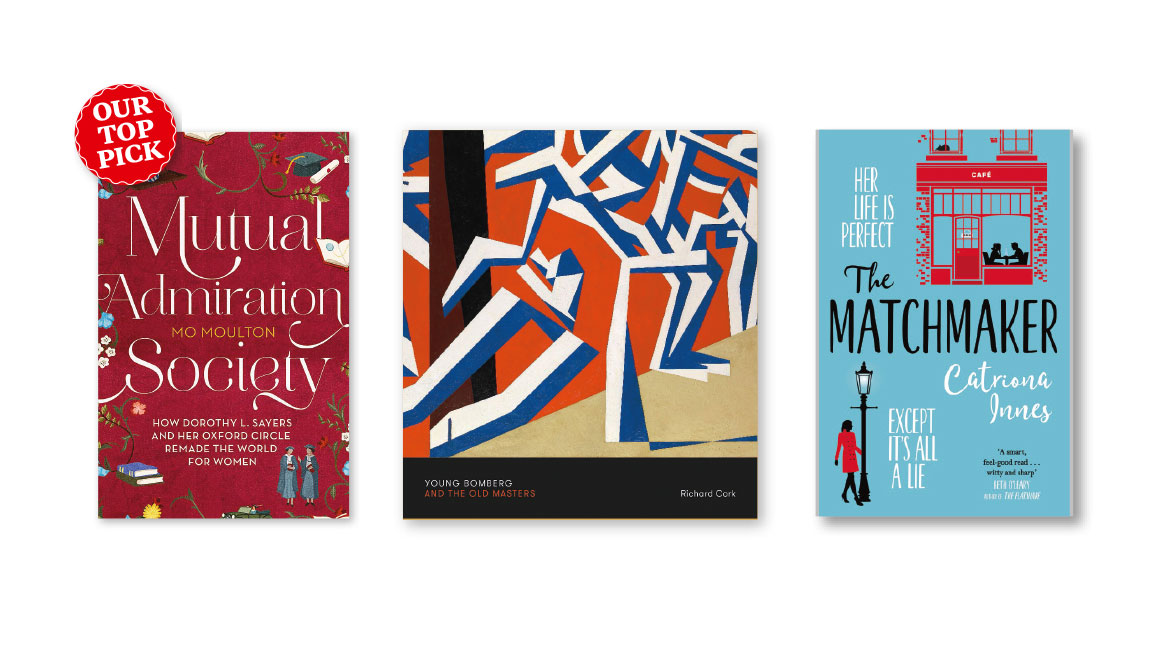 OUR TOP PICK
MUTUAL ADMIRATION SOCIETY: How Dorothy L Sayers and her Oxford Circle Remade the World for Women by Mo Moulton (Corsair, £20)
Written with humour and insight, this is the fascinating group biography of Dorothy Sayers and five friends, who formed a writing group at Somerville College Oxford in 1912, 'The Mutual Admiration Society'. Huddled around the fire in their student rooms, 'they gathered to read aloud their literary efforts and to receive and deliver criticism,' writes Moulton. I particularly enjoyed reading about how the girls would invent and act out grisly ghost stories, sharing the Edwardian passion for the macabre and eerie.
All from middle-class households, the students were chaperoned, required to dress for dinner and turn their lights out by 11pm. These brilliant women attended lectures and sat exams, but were barred from receiving degrees. 'Serious and a little weird,' Sayers read French Literature and would later gain fame as the creator of Lord Peter Wimsey, the aristocratic detective in her crime novels. Her closest friend, Muriel St Clare Byrne, became an author of popular Tudor histories. Charis Barnett, by contrast, became a pioneer of women's reproductive rights. Dorothy Rowe taught English and founded an 'exp[erimental' theatre in Bournemouth.
This fine celebration of female friendship and early feminism reflects how far we have travelled since the post-Edwardian era.
Rebecca Wallersteiner
COFFEE TABLE BOOK
YOUNG BOMBERG AND THE OLD MASTERS by Richard Cork (National Gallery Company Ltd, £14.95) 
Accompanying the National Gallery's exhibition (until 1 March), this lavishly illustrated book by Richard Cork explores the intense connections between Bomberg's radical early paintings of the early 20th century and works by old masters such as Botticelli and Titian.
Although Bomberg did not taste success in his life, he is recognised today as a great painter and teacher – students Frank Auerbach and Leon Kossoff have expressed their debt to him. One of 11 children of Polish-Jewish immigrant parents, Bomberg grew up in Whitechapel, with an inexhaustible hunger to draw.
Supported by John Singer Sargent, he gained a place at the Slade School, where he drew an elegant self-portrait influenced by Botticelli's Portrait of a Young Man (1480-85). 'Almost forgotten when he died in 1957,' aged 66, Bomberg is now celebrated 'as one of the most adventurous artists of his generation', writes Cork. A visual feast for art lovers.
RW
ALSO ON THE SHELF
THE MATCH MAKER by Catriona Innes (Trapeze, £8.99)
Caitlin has a thriving start-up which has revolutionised the dating world, celebrities queue for her services and she flies the flag for love with her perfect marriage… but what lurks behind this polished façade? A rom-com with an edge to chase away the January blues.
JC