Book Reviews : 14 July
FICTION

THE MINISTRY OF UTMOST HAPPINESS by Arundhati Roy (Hamish Hamilton, £18.99)
The long-awaited second novel by the author of The God of Small Things is a multi-stranded narrative with characters who are broken by life but mended by love.


A STATE OF FREEDOM by Neel Mukherjee (Chatto & Windus, £16.99)
Migration and the quest for a different life are explored through the interconnecting lives of five characters in contemporary India.
THE LIE OF THE LAND by Amanda Craig (Little, Brown, £16.99)

A couple who can't afford to divorce let out their London home and move to the country in this portrait of a failing marriage.
THE SUNSHINE SISTERS by Jane Green (Macmillan, £14.99)
If you like Jane Green's column, you'll love her latest tale. An ageing Hollywood actress with an incurable disease summons her estranged adult daughters to face home truths – and the most difficult of decisions.
THE WHITE HARE by Michael Fishwick (Zephyr, £10.99)
Moving to a rural village, a friendship and a hare bring opportunities to a troubled teenager after his mother's death. Magical realism meets incisive social critique.
---
BIOGRAPHY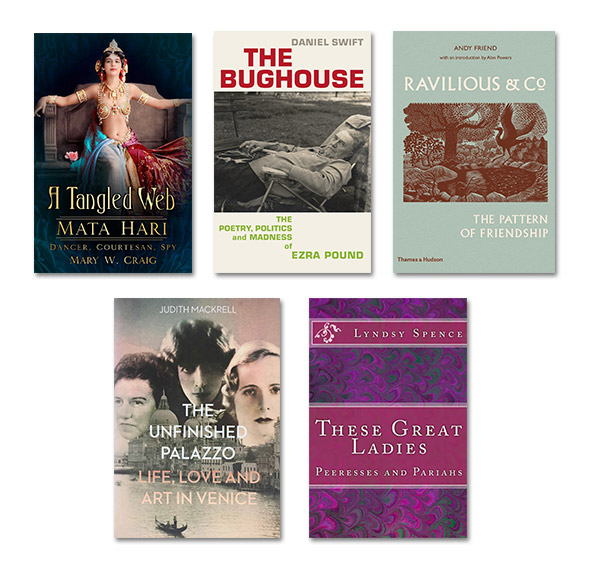 A TANGLED WEB: Mata Hari, Dancer, Courtesan, Spy by Mary W Craig (The History Press, £20)
This new life of Mata Hari draws on previously unreleased files from MI5 to offer a compelling picture of the spy, 100 years after her execution.
THE UNFINISHED PALAZZO: Life, Love and Art in Venice by Judith Mackrell (Thames & Hudson, £19.95)
A glittering, gossipy romp through the eccentricities of the Marchesa Casati, Doris Castlerosse and Peggy Guggenheim.
THESE GREAT LADIES: Peeresses and Pariahs by Lyndsy Spence (The Mitford Society, £9.99)
A sparkling cocktail of micro-biographies featuring dazzling society ladies with a whiff of scandal: from Mariga Guinness and Irene Curzon to Lady Massereene and the Duchess of Argyll. Recline by the pool in a sequinned kaftan and enjoy.
THE BUGHOUSE by Daniel Swift (Harvill Secker, £25) American poet Ezra Pound (1885-1972)
proves an elusive but fascinating subject in this non-linear, impressionistic biography, drawing on observations of his visitors while he held court for fellow poets from a psychiatric hospital ward.
RAVILIOUS AND CO: The Pattern of Friendship by Andy Friend and Alan Powers (Thames & Hudson, £24.95)
An insightful look at a star of mid-twentieth-century art in the context of his wider circle of artists, friends and lovers, among them Edward Bawden and Tirzah Garwood. Gorgeously illustrated with the artist's wood engravings and watercolours.
---
ROMANCE

MOUNT! by Jilly Cooper (Corgi, £7.99)
Jilly Cooper has inspired endless jokes about steamy encounters in horseboxes. Alas, the reality is rarely that exciting, so let's escape again to the world of Rupert Campbell-Black. The horses go racing, not just our pulses!
PRACTICE MAKES PERFECT by Penny Parkes (Simon & Schuster, £7.99)
Parkes's upbeat tale of dishy doctors and their love lives in a model Cotswold practice is a cheering antidote to NHS cuts and long waiting lists.
THE LITTLE THEATRE BY THE SEA by Rosanna Ley (Quercus, £7.99)
A month's house-sitting brings job opportunities, self-discovery and love. Set in Dorset and Sardinia, holiday romance at its most evocative and escapist.
---
CRIME & THRILLERS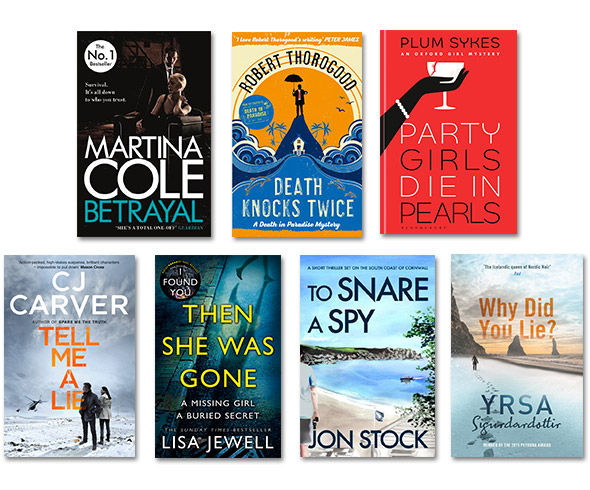 CRIME & THRILLERS BETRAYAL by Martina Cole (Headline, £7.99)
Aiden O'Hara feels invincible with his partner's support. But can he trust those closest to him? This tale of family secrets and survival is bound to keep you glued to your deckchair.
DEATH KNOCKS TWICE by Robert Thorogood (HQ, £7.99)
To the Caribbean with DI Poole, who is rescued from the ennui of his new posting by a death: a vagrant's body is written off as suicide, but our man is not convinced. Paperback out on 27 July.
PARTY GIRLS DIE IN PEARLS: An Oxford Girl Mystery by Plum Sykes (Bloomsbury, £14.99)
Crime with a dash of high fashion, society and style, this story is set in the city of dreaming spires, with a backdrop of Pimm's, punting and ballgowns – and a geeky student-turned-sleuth. Deadly chic.
WHY DID YOU LIE? by Yrsa Sigurdardottir (Hodder Paperbacks, £8.99)
The Old Norse concept of retributive justice is a brilliant plot device: see the Icelandic sagas. It also fuels this atmospheric novel. A suicidal journalist, four strangers sheltering from a storm, a couple returning from a house swap: they all lied. Will they pay the price? Nordic noir with a twist.
THEN SHE WAS GONE by Lisa Jewell (Century, £12.99)
A missing daughter, a mother who ten years later has not given up on finding her, a new lover, a web of secrets… This is a cleverly constructed plot that delivers edge-of-your-seat suspense.
TELL ME A LIE by CJ Carver (Zaffre, £7.99)
Amnesia-struck agent Dan Forrester and gutsy PC Lucy Davies face a Russian oligarch, a gruesome murder – and danger closer to home.
TO SNARE A SPY by Jon Stock (The Nare Hotel Co. Ltd, £14.99)
A spy-fiction-obsessed schoolboy on his holidays is plunged into real-life espionage when he finds the Foreign Secretary is staying in the same Cornish hotel. Book into The Nare, where the story is set, for the total experience. Available at:
www.tosnareaspy.com


---
MEMOIR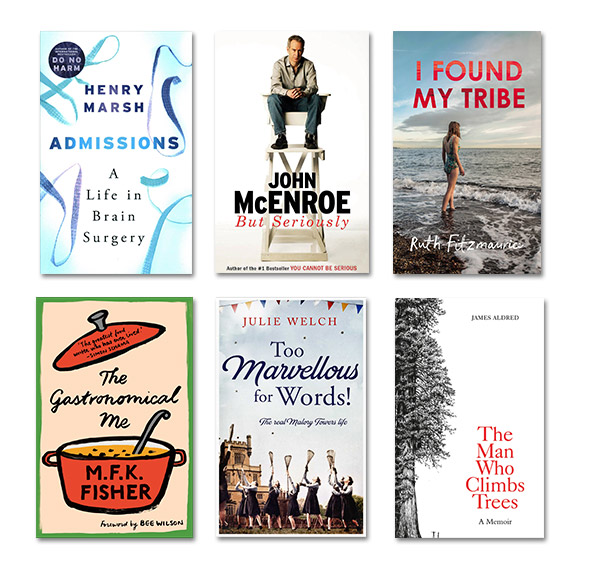 TOO MARVELLOUS FOR WORDS by Julie Welch (Simon & Schuster, £14.99)
Welch looks back on her time at girls' boarding school Felixstowe College in the 1960s. Malory Towers for grown-ups.
THE MAN WHO CLIMBS TREES by James Aldred (WH Allen, £16.99)
Aldred is a professional tree climber, cameraman and adventurer. Here, he writes with wonder about his encounters with trees around the world. Out 24 August.
THE GASTRONOMICAL ME by M.F.K. Fisher (Daunt Books, £9.99)
This reissue of the 1943 memoir of American food and travel writer Mary Frances Kennedy Fisher (1908-1992) is an eloquent meditation on hunger, life and death.
BUT SERIOUSLY: An Autobiography by John McEnroe (W&N, £20)
The 'superbrat' writes about his reinvention from talented but bad-tempered tennis player to a respected Wimbledon commentator.
I FOUND MY TRIBE by Olivia Fitzmaurice (Chatto & Windus, £14.99)
Fitzmaurice took up sea swimming in her native Co. Wicklow, Ireland, when her husband was diagnosed with motor neurone disease. Heart-wrenching and life-affirming.
ADMISSIONS by Henry Marsh (Weidenfeld & Nicolson, £16.99)
The neurosurgeon delivers searing honesty and plain speaking in matters of life and death as he looks back at his remarkable career spanning four decades.