OUT NOW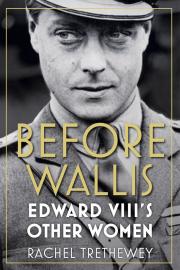 BEFORE WALLIS: EDWARD VIII'S OTHER WOMEN by Rachel Trethewey (The History Press, £20)
lthough much has been written about Edward VIII's obsession with Wallis Simpson and his abdication in 1936 to marry her, the other women in his life have become biographical footnotes. With access to private papers and unpublished letters between Edward and Queen Mary, this biography tells the story of three women with whom Edward was in love before Wallis.
The first was Lady Rosemary Leveson-Gower, who met him in 1917 while working as a nurse for the Red Cross, and was rejected by his mother Queen Mary as a suitable wife due to insanity running in her family. It paved the way for his future romances with his mistresses, Freda Dudley Ward and Thelma Furness, their married status a protective measure against heartbreak.
Freda and Thelma were a combination of what he found attractive in Wallis. Freda indulged his boyishness and he referred to her as 'my very own darling beloved little mummie', whereas American heiress Thelma, who introduced him to Wallis, symbolised his rebellion against the establishment.
The narrative not only chronicles the women's lives and their parts in royal history, but also examines the social rules they were expected to obey. A thought-provoking biography that endeavours to make sense of the Edward and Wallis scandal.
Lyndsy Spence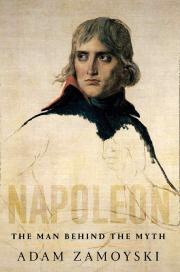 NAPOLEON: THE MAN BEHIND the Myth by Adam Zamoyski (William Collins, £30)
War hero, emperor, dictator and, some might say, megalomaniac, Napoléon Bonaparte (1769-1821) was a controversial character who left a complex legacy. Zamoyski takes on the almost impossible task of demystifying this legendary figure. 'Although he did exhibit some extraordinary qualities, he was, in many ways, a very ordinary man,' he notes.
This scholarly study works on one level but fails rather significantly on another. Starting with Napoleon's humble beginnings, born in Corsica – one of the poorest regions in Europe – into a world at war, the book charts his swift rise from boy soldier (he was sent to a military academy aged nine) to army general, commander and then ruler of France from 1804 to 1814, until public opinion turned and he became a pariah.
Documented in detail are battles, dates, locations and the time of day key events took place, as well as the occasional interesting revelation about his personal relationships. However, there is not enough character assessment of the man himself, nor exploration into his psyche, which readers might expect.
A somewhat dry and disappointing account of a powerful and charismatic figure.
Elizabeth Fitzherbert
---
PAPERBACKS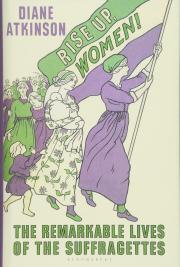 RISE UP WOMEN! THE REMARKABLE LIVES OF THE SUFFRAGETTES by Dr Diane Atkinson (Bloomsbury, £12.99)
Just over a century ago came one of the most extraordinary events in British history: the struggle of women for the vote. Historian Diane Atkinson captivates us with her account of women from all social classes who formed the suffragette movement, often leading to imprisonment and even death.
It is filled with powerful images: a banner made with the embroidered autographs of 80 suffragettes who had been on hunger strike and were force-fed; a poster declaring 'Let Them Starve', cementing in our minds the view of those in opposition. This is a chronicle of protests, marches, civil disobedience, arrests and police brutality.
Atkinson's extensive knowledge is evident in her impressive account of how the campaign was won, and in the harrowing details of these women's lives, leaving a firm message about the importance of using our vote.
Patricia Merrick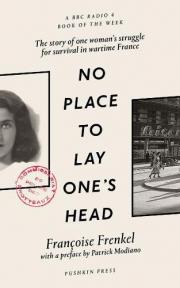 NO PLACE TO LAY ONE'S HEAD by Françoise Frenkel (Pushkin Press, £9.99)
Like Irene Némirovsky's Suite Francaise, this heartrending memoir describes the struggle of a cultured Polish-Jewish woman to stay alive in Nazi-occupied France. Unlike Némirovsky, who died during the war and whose novel later found worldwide acclaim, Frenkel survived, but her book was forgotten for 70 years.
In 1921, Frenkel opened Berlin's first French bookshop. It was a big success, attracting artists, poets, diplomats and celebrities, including Colette and André Gide. In 1939, her dream ended after the Nazis smashed Jewish shops on Kristallnacht. Frenkel fled to France, then Switzerland, and little is known about her subsequently: none of her letters or photographs survived.
This is an important and haunting book – fragmentary, disturbing and dark, yet delicately and lightly written.
Rebecca Wallersteiner
---
COFFEE TABLE BOOK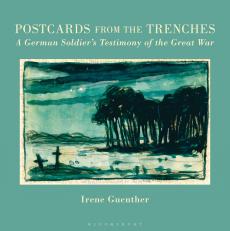 THE TRENCHES: A GERMAN SOLDIER'S TESTIMONY OF THE GREAT WAR by Irene Guenther (Bloomsbury, £30)
German artist Otto Schubert was drafted in to fight on the Western Front in the First World War. His postcards, sketched energetically on the battlefield and in the trenches, are a revelation.
Painted daily, mostly in watercolour, and addressed to his sweetheart, whom he eventually married, they are testament to a striking talent whose work vividly depicts his war experiences, including the destruction and desolation. From life in the trenches to gruesome scenes of death and devastation, the images are bold, moving and profound – and beautifully crafted. Words are often emblazoned around the images in scratchy handwriting.
Dedicated 'To all the lives lost in the volcano of war' this is a fitting tribute to a mighty talent.
EF