OUT NOW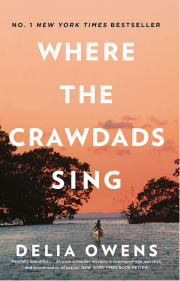 WHERE THE CRAWDADS SING by Delia Owens (Corsair, £14.99)
Set in the desolate marshlands off the North Carolina coast, this lyrically written, subtle and heartfelt book is at once a murder mystery, a romance and a haunting coming-of-age story. Owens explores the natural world, which she obviously knows intimately – 'lush, rounded forests', 'briny marsh', 'undulating grasses' and 'oak lagoons' – through the eyes of a sensitive child.
Abandoned by her parents and her siblings when she was six, resourceful Kaya has survived for years, alone in the marsh, observing nature and foraging for food, befriending 'herons', 'gulls' and 'fireflies'. Rather like Manon, in Pagnol's Manon des Sources, the local villagers are suspicious of her and spitefully nickname her 'swamp rat'. As she grows up, Kaya begins to long for companionship and love and befriends two local boys: steady Tate, who teaches her to read, and handsome womaniser Chase Andrews. When Chase is found murdered, 'half submerged in a swamp', Kaya becomes the sheriff's main suspect.
It's easy to see why this beautiful novel has enjoyed a lengthy run on The New York Times Bestseller list. Unsettling and tinged with sadness, yet astonishingly fresh, powerful and mesmerising – with a surprising ending that will haunt you. I couldn't put it down.
Rebecca Wallersteiner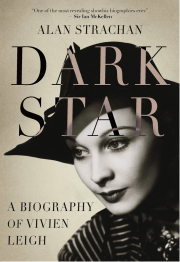 DARK STAR: THE UNTOLD STORY OF VIVIEN LEIGH by Alan Strachan (IB Tauris, £25)
This new biography of the actress draws on her personal letters and diaries, and interviews with colleagues and friends, to explore her dual personality. Although Strachan details Leigh's film and stage work, particularly her iconic portrayals of Scarlett O'Hara and Blanche Dubois, his analysis of her career runs in parallel with an account of her personal life, spent in the shadow of manic depression and tuberculosis, which eventually killed her.
Much has been written about Leigh's marriage to Sir Laurence Olivier, but Strachan veers away from romantic trivialities to explore their respective backgrounds and personalities, to chronicle what drew them together and tore them apart. Strachan reinforces that acting and Olivier were Leigh's two great loves, but he does not shirk from writing of Olivier's insecurities and jealousy of her stardom (she made a greater impression in films) and how it inspired his criticism of her stage-work and his cruelty by casting younger women in roles intended for her. This he uses as a catalyst to justify Leigh's adultery with Peter Finch, and Olivier's affairs with young women such as Claire Bloom and Dorothy Tutin, who resembled Leigh and who idolised him.
Exploring themes of mental illness and professional rivalry, along with personal anecdotes and film analysis, this is a well-written biography of a much-loved star. Strachan achieves that rare thing of exposing his subject whilst maintaining their integrity. Leigh, who was fiercely private, would have been proud of this book.
Lyndsy Spence
---
PAPERBACKS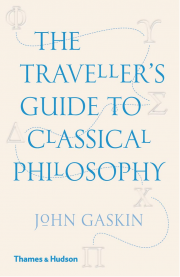 THE TRAVELLER'S GUIDE TO CLASSICAL PHILOSOPHY by John Gaskin (Thames & Hudson, £8.99)
According to legend as captured in medieval texts, Brutus was said to have escaped the defeat of Troy to found the kingdom of Britain. Similarly, every European civilisation worth its salt has culturally appropriated a conflict that occurred in Asia Minor around 1250 BC, to build and legitimise its own identity. The first to do so were the Greeks: Homer's Iliad gave a poetical consciousness to Hellenic thought that still dominates Western philosophy. Gaskin gives a fast-paced, fact-packed tour of Greek philosophy from Thales to Plato and beyond. Delivered in the manner of a cruise ship lecture, iconic and irreverent descriptions of Hellenic life and thinking are juxtaposed. Something to get you in touch with your inner Stoic or Epicurean.
Stephen Coulson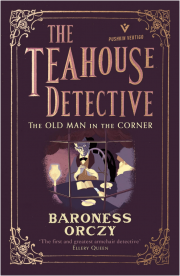 THE OLD MAN IN THE CORNER: THE TEAHOUSE DETECTIVE by Baroness Orczy (Pushkin, £8.99)
Sherlock Holmes's foggy, Edwardian London is the setting for Baroness Orczy's gripping detective story collection. Polly Burton from The Evening Observer meets an eccentric, elderly gentleman in an ABC teashop, and helps him unravel the murders of a medical student and a strangled gambler, a father's forged will and a 'mysterious death on the underground' that have baffled the police. Orczy beautifully evokes an era when middle-class households had servants and there was thick smog, trams, music halls, dances and time for tea. Skilfully written, spine-tingling and full of entertaining, slippery 'blackguards': highly recommended for armchair sleuths and fans of Orczy's better-known Scarlet Pimpernel novels. Ideal fireside reading. RW
---
COFFEE TABLE BOOK
ROBERT DOISNEAU'S MUSICIANS by Robert Doisneau and Clémentine Deroudille (Flammarion, £30)
Published to coincide with an exhibition of French photographer Robert Doisneau's (1912-94) work in Paris, this book pays homage to his artistry with more than a hundred black-and-white images. Encouraged to take photographs after his stepbrother was given a camera he never used, Doisneau's famous images of musicians in and around Paris from the 1950s to the late 1980s are joyful and revelatory. They include images of Edith Piaf, Chantal Goya and Maria Callas, and are all naturally expressive. Interested in preserving 'instants of joy', Doisneau always sought out the humanity of his subjects. 'I'm monolingual,' he once said. 'I always have to talk to the people I'm photographing. Before or after.' Black-and-white photography has never seemed so bright.
Elizabeth Fitzherbert