Book Reviews: 21 July
OUT NOW
RISING TIDEFALLINGS TAR by Philip Hoare (Fourth Estate, £16.99)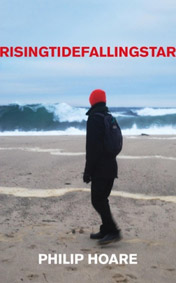 Water, as you might have noticed, is the element du jour: a tide of swimming memoirs has recently washed up in bookshops. Hoare's latest stands apart from these books for several reasons. His interest in the sea is not a fad but a passion that borders on obsession, and the grace and lyricism of his prose is matched by an astonishingly rich range of reference and association. Here, the currents of Hoare's interests lead him to reflect on figures from Virginia Woolf to Wilfred Owen, Herman Melville to Henry Thoreau. Fragments of memoir also break the surface.
He travels from Cape Cod to Bantry Bay, from Bass Rock in the North Sea to the Azores, but there is no real overarching quest except, perhaps, to illustrate that 'by the water, terror and beauty go hand in hand'. As such, this book never suffers from the contrivance that afflicts some nature writing, but flows with ease from subject to subject and genre to genre. The result is unique and mesmerising.
Stephanie Cross
---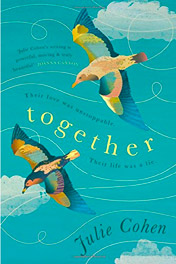 TOGETHER by Julie Cohen (Orion, £12.99)
This novel begins, not quite conventionally, at the end. Robbie and Emily are a seemingly happy married couple. But one day, Robbie wakes up as usual and goes about his daily routine before making a dramatic decision. When Emily finds a devastating letter from him, we embark on a journey into their past. We go back to 1962 – and to the secrets the couple have tried so hard to protect.
As we move through five decades, more intrigue is uncovered. And just as Robbie's actions begin to make sense, Emily finds that further mysteries rear their head. The question is: will any of them ever be solved? This is not your typical romantic novel, but it is certainly a resonant story about the enduring power of love down the decades. It is a perfect read for fans of One Day by David Nicholls. While you will not exactly be rolling around with laughter, you will remember it long after you have put it down.
Helena Gumley-Mason
---
BOOK OF THE WEEK
The road most travelled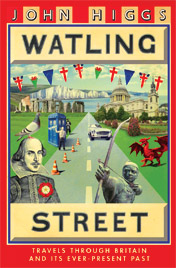 WATLING STREET: Travels Through Britain and Its Ever-Present Past by John Higgs (Weidenfeld & Nicolson, £18.99)

Of the thousands who make their way along the A2, A5 and M6 toll road every day, how many think it extraordinary? Likely very few, but they are all following one of the country's most ancient routes. A forest path older than recorded history, which became a track and then a road, straightened by the Romans and named in the Dark Ages, Watling Street runs from the White Cliffs of Dover to Anglesey, through Canterbury, London, St Albans, Bosworth Field and Snowdonia.
Higgs guides us along this ancestral artery, introducing colourful characters historical, mythical and fictional (and some that inhabit the borderlands between). This is a road of ghosts and dragons, heroes and highwaymen, witches and queens – and with a peerless eye for the quirky, Higgs weaves into his tale such personalities as John Constable, a poet possessed by the spirit of a medieval prostitute, and Tommy Flowers, inspired Bletchley Park codebreaker and inventor of the modern computer, who was ignored for his workingclass roots and still largely uncelebrated.
In these divisive times, when British identity is so much discussed, Watling Street is a rich and relevant work, making a compelling case that our truest heritage is simply the spirituality of the land and the vast, vibrant patchwork of our individual stories.
Richard Tarrant
---
COFFEE TABLE BOOK
AS KINGFISHERS CATCH FIRE: Birds and Books by Alex Preston and Neil Gower (Corsair, £25)
This is neither a memoir nor an anthology but an enchanting blend of the two. Each of its 21 chapters focuses on a single bird, from the peregrine to the peacock, the skylark to the snow goose, and in each the novelist Alex Preston weaves together his own birdwatching experience with some of the finest avian-inspired literature.
There are authors you might expect to find – Keats, Ted Hughes – and others you might not: 'A gull, up close, looks surprisingly stuffed' begins Seagulls, a poem by John Updike. Illustrations by the acclaimed graphic artist Neil Gower add vivid colour and verve, while dainty miniature line drawings ensure there is beauty even in the margins of this handsome book. SC
---
PAPERBACKS


SUSPICI ON: An Inspector Barlach Mystery by Friedrich Dürrenmatt (Pushkin Vertigo, £4.99)
The Swiss writer Friedrich Dürrenmatt is best known for the mordant wit and searing social critique of his plays. Those qualities are also present in this concise and polished thriller, first published in 1956, which is just as much about incisive characterisation and fundamental questions of moral responsibility, good and evil, as it is about murder and mystery – although the latter abound, too. The elderly Inspector Barlach is convalescing after surgery when a photograph he sees in Life magazine piques his curiosity: a concentration camp doctor operating on a prisoner without anaesthetic. Barlach will go to terrifying lengths to uncover the Nazi doctor's true identity and whereabouts. Nail-biting suspense, well-deployed irony and punchy dialogue make this a noir mini-masterpiece. Juanita Coulson
MY COUS IN RACHEL by Daphne du Maurier (Virago Modern Classics, £8.99)
Reissued to coincide with the film adaptation starring Rachel Weisz, Daphne du Maurier's 1951 novel feels more resonant than ever. Like her 1938 masterpiece Rebecca, My Cousin Rachel is a romantic thriller exploring female sexuality and the claustrophobia of marriage. Beautiful widow Rachel patiently watches men, weaves her spell and then destroys them. Orphaned as a baby, Philip Ashley is brought up by his kind older cousin, Ambrose. A confirmed bachelor, Ambrose travels to Florence where he becomes infatuated and marries Rachel – but dies soon after. A suspicious Philip decides to investigate, and finds himself drawn to the older, mysterious woman. A haunting novel with sinister twists and an unexpected end. Rebecca Wallersteiner

THE HIMALAYAN SUMMER by Louise Brown (Headline Review, £8.99)
An expert on India, Brown has drawn on her knowledge of the country to write a heartbreaking story set during the Raj. Ellie is trapped in an unhappy marriage to an English aristocrat, but her unhappiness intensifies when an earthquake strikes and she must make a heart-wrenching choice: she can save only one of her twin children. When she returns for her other child's body, she discovers it is missing and goes to extremes to find it. Drawing the reader into the exotic landscapes of India, Nepal and Tibet, this sweeping saga is a compelling read. Lyndsy Spence
---
THE LADY'S RECIPE READS
Explore the exotic flavours of the East with two brilliant new books. By Juanita Coulson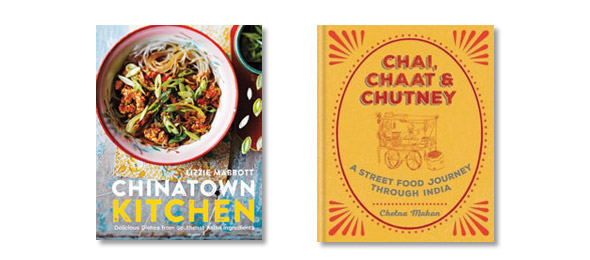 CHAI, CHAAT & CHUTNEY: A Street Food Journey Through India by Chetna Makan (Mitchell Beazley, £20))

Chetna Makan has travelled the length and breadth of India, exploring the ingredients, flavours and traditions of different regions. Inspired by India's vibrant street-food scene, she brings us recipes that can be recreated easily at home. With the same charm and accessibility of her first book, The Cardamom Trail, her latest is an exciting culinary journey: each dish comes with notes about its origins and traditions. Spice up your barbecue with corn on the cob with lime and chilli, or tuck into carrot halwa, a pudding from northern India. Colourful images of Indian food stalls make this an inviting travelogue as much as a cookbook.
CHINATOWN KITCHEN: Delicious Dishes From Southeast Asian Ingredients by Lizzie Mabbott (Mitchell Beazley, £14.99)
Southeast Asian food is having a moment – you can barely move in London's restaurants without bumping into kimchi. But when it comes to making any of these dishes at home, it can be daunting when there are 77 types of noodles and lots of unfamiliar ingredients. Food blogger Lizzie Mabbott moved from Hong Kong to the UK in her teens, so she is well placed to demystify the cuisine, and does so with gusto in her first book. Her blog, Hollow Legs: Lizzie Eats London, is also great for inspiration. Her recipes take a broad sweep of the region, from Japan to Vietnam, and range from the traditional to the innovative: kimchi toasted cheese sandwich, anyone?
Tweet us your recipe reads @TheLadyMagazine using #ladyrecipereads