Book Reviews: 21 November
OUT NOW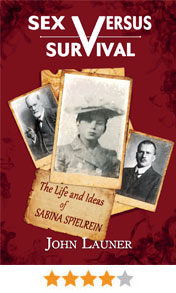 SEX VERSUS SURVIVAL: The Life and Ideas of Sabina Spielrein by John Launer (Gerald Duckworth & Co, £20; offer price, £17)
Born in Russia in 1885, Sabina Spielrein's extraordinary life was dramatised in the film A Dangerous Method. But her journey from abused child and disturbed patient to distinguished psychoanalyst is, sadly, best known for her love affair with Carl Jung, her psychiatrist and later mentor.
This is the first biography to focus on Spielrein's ideas, their enduring influence and their role in the rift between Jung and Freud.
Before long, Jung began to see her as a liability – as a highly respected figure in the early days of psychoanalysis, he knew he had crossed the boundaries of professionalism. Freud, his idol and mentor, encouraged him to end the relationship. Sabina poured her energy into studying, enrolling in medical school in Zurich and eventually becoming one of the first female psychoanalysts.
Launer's well researched book is a tribute to a remarkable woman who, by analysing her own experience of abuse, went on to make a difference to others as a leading child psychologist. Although rejected by Jung and Freud, her ideas proved influential – some are still widely used today.
Just when she may have been at peace with herself at last, we learn of her tragic death: she was shot by the Nazis in 1942. This memorable book finally gives her the recognition she deserves.
Patricia Marie
---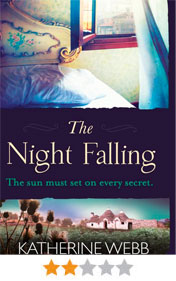 THE NIGHT FALLING by Katherine Webb (Orion, £16.99; offer price, £14.99)
Set in southern Italy in 1921, the plot of this lacklustre novel revolves around a onceimpoverished Italian, Leandro Cardetta, who returns from America with his ex-showgirl wife Marcie, having made his fortune.
Several plot twists attempt to redeem the author's laboured prose, but by the end of the novel, Webb, while imploring us to care about her characters and their secrets, fails to provoke empathy.
A stifling read.
Lyndsy Spence
---
BOOK OF THE WEEK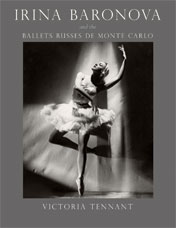 A dazzling dancer IRINA BARONOVA AND THE BALLETS RUSSES DE MONTE CARLO by Victoria Tennant (University of Chicago Press, £38.50; o"ffer price, £32.50)
Written by Baronova's daughter, this lavishly illustrated book depicts the life of one of ballet's most glamorous stars, Irina Baronova (1919-2008), whose outstanding talent and beauty led her to become prima ballerina of the Ballets Russes and later New York's Ballet Theatre.
Starting from Baronova's aristocratic St Petersburg origins, Tennant traces the arc of her mother's life with an understanding and insight only a daughter can have. When her mother died in 2008, Tennant was faced with the mammoth task of sorting through more than 2,000 photographs as well as letters, press clippings and posters going back to 1915. Taking the photographs as her starting point, Tennant structures each chapter as a narrative of ballet and world events, interspersed with excerpts from Baronova's own writing.
The result is an intoxicating glimpse into a lost age, taking in the volatile world of the Russian Revolution and two world wars that formed the backdrop to ballet at the time.
With stunning photographs of Baronova and her fellow dancers on and off‡ stage as they toured the world in the 1930s and 1940s, this superb book reveals just how fraught but exhilarating that was.
Gillian Spickernell
---
COFFEE TABLE BOOK
GIFTWRAPPED by Jane Means (Jacqui Small, £20; offer price, £16)

An important part of giving or receiving a gift is the beauty of its wrapping: a pretty parcel with an elegantly tied ribbon enhances – and even sometimes surpasses – the pleasure derived from its contents. This beautiful book by florist-turned-professional giftwrapper Jane Means is full of stylish ideas, often using inexpensive materials, like foliage, buttons and berries, to striking effect.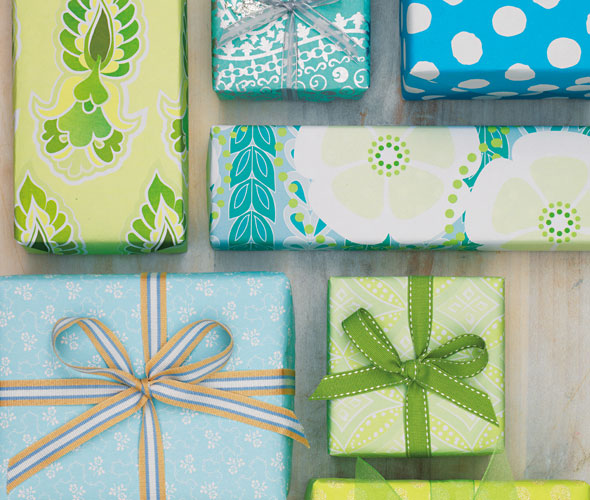 With sections for special occasions, ladies, gents and children, easy-to-follow instructions and a comprehensive stockist list, it will ensure your gifts stand out under the tree this Christmas.
Juanita Coulson
---
PAPERBACKS

THE GOOD CHILDREN by Roopa Farooki (Tinder Press, £7.99; offer price, £7.59)
Starting in 1940s Lahore, this absorbing family saga spans several decades and continents, driven by the perspectives of the four children.
Disciplined to become 'good children' by their manipulative mother, their futures are respectably mapped out: Sully and Jakie are to become doctors overseas while their beautiful sisters, Mae and Lana, must stay behind to marry. But away from their mother's critical eye, they are bound to stray from the ideal she has created for them, resulting in divorce or unsuitably in love.
As they grow old and have families of their own, the cultural scars of their childhood run deep and are everpresent in their lifedefining actions. Few times have I been so utterly absorbed and transported by a book as much as by this one. Farooki has skilfully crafted her characters with such love, you cannot help but love them too.
Lilly Cox
THE WINTER GHOSTS by Kate Mosse (Orion, £7.99; offer price, £7.59)
In a bookshop in 1933, Freddie Watson, armed with a mysterious document, recounts the events that happened to him nearly five years previously in a secluded French village. At that point he had not begun to come to terms with the death of his elder brother George in the Great War.
Kate Mosse explores every corner of a scene visually, depicting emotions through landscape: 1920s southwest France appears in all its worn beauty. The element of ghostliness is vivid yet more melancholy than eerie, playing a vital role Freddie's fight against his own demons. His fraternal mourning is briefly expressed but we are powerfully conscious of it throughout.
Memory is paramount in this arresting novel, as people learn to cope with dark secrets from the past, but at the same time, never forget.
Philippa Williams
THE BEAR by Claire Cameron (Vintage Books, £7.99; offer price, £7.59)
On a camping holiday in Canada, two children are separated from their parents by a nightmarish tragedy. Narrated by five-year old Anna – fending for herself in the wilderness and looking after her toddler brother Stick – this story will have you on the edge of your seat one minute, and crying with laughter the next. Based on real-life events, this book is unforgettable.
Helena Gumley- Mason
---
ALSO ON THE SHELF
HOW TO BE PRETTY THOUGH PLAIN by Mrs Humphrey (British Library Publishing, £7.99; offer price, £7.59)
This straight-talking beauty bible from 1899 shows that our preoccupation with looks predates celebrity culture. Still-current commonsense tips, like the importance of sleep and exercise, sit alongside quirkier Edwardian practices. Egg yolk as conditioner, anyone?
JC
---
3 BEST BOOKS: FOR TEENAGERS

THE FAULT IN OUR STARS by John Green
THE CATCHER IN THE RYE by JD Salinger
THE LORD OF THE RINGS by JRR Tolkien
---
AUDIO BOOK OF THE WEEK
THE BONE CLOCKS by David Mitchell (Whole Story Audio Books, £35.74; offer price, £32.17)
Spectacularly ambitious and over-the-top, Mitchell's new novel takes us into the life of teen runaway Holly Sykes. Temporal jumps, genre breaches and 'shadowy figures' in the background make this a thrilling experience.
Martyn Colebrook
---
THOUGHTFUL GIFTS FOR BOOK LOVERS
Illuminating ideas on what to give the discerning reader who has everything. By Juanita Coulson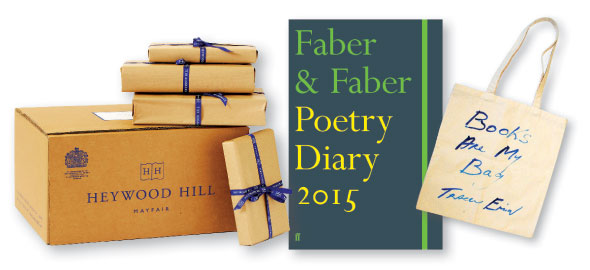 Heywood Hill, the independent Mayfair bookshop where Nancy Mitford famously once worked, has a fantastic range of gift services, from a subscription for A Year In Books (£350) to a whole bespoke library. My favourite is The Literary Lady gift box (£225), a selection of recently published fiction and women's biographies, including Irène Némirovsky's Fires Of Autumn and the new Schiaparelli biography by Meryle Secrest. Elegantly giftwrapped with the shop's distinctive blue ribbon, its parcels come with a handwritten note on an illustrated postcard. You can order by phone or online but a visit to the smart Georgian townhouse is always a treat in itself: 020-7629 0647,
www.heywoodhill.com
Poetic souls need to get organised, too, and Faber & Faber has the perfect present. Their Poetry Diary 2015 (£12.99) is a smart week-to-view diary with a poem or illustration from vintage covers for each week of the year. A handy A5 size (big enough for your desk, small enough for your handbag), it is clothbound in dark green or lemon yellow, with the publisher's signature cover design and the same striking colour scheme as Seamus Heaney's poetry collection, District And Circle.
If, like me, you like to read on the go but have still not embraced the Kindle (I hang my head in shame), a sturdy but stylish bookbag is always well received. Books Are My Bag, a nationwide campaign to celebrate bookshops, has a limited-edition bag designed by Tracey Emin (£20). It is available from good bookshops and online:
www.booksaremybag.com
---
THE LADY BOOKSHOP
Order by phone 0843-060 0035
Online
www.theladybookshop.com
By post Send your cheque, payable to The Lady Bookshop, to: The Lady Bookshop, PO Box 69, Helston TR13 OTP