Book Reviews: 24 October
OUT NOW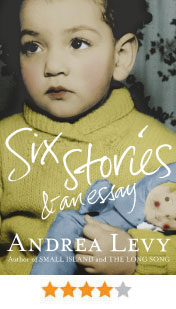 SIX STORIES AND AN ESSAY by Andrea Levy (Tinder Press, £12.99; offer price, £11.69)
The award-winning author of Small Island revisits themes of immigration, belonging and identity in this collection of short stories from throughout her career – including one written this year to mark the centenary of the First World War.
Opening with an essay on how, through writing, she reconnected with her Caribbean heritage and discovered its value, the stories go on to explore the immigrant or second generation British experience, the sting of discrimination and the nuanced meanings of skin colour in Britain and within black communities. From a young idealistic woman on the boat to the Mother Country to a Kazakh refugee's precarious London existence, these are tales of broken and rebuilt lives that expose prejudice and selfishness, but also celebrate courage and solidarity.
Levy's incisive but compassionate voice immerses the reader in her characters' worlds.
Juanita Coulson
---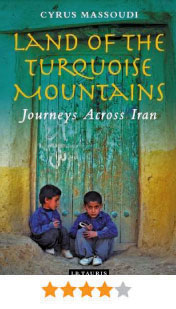 LAND OF THE TURQUOISE MOUNTAINS by Cyrus Massoudi (IB Tauris, £17.99; offer price, £16.19)
In his mid-20s, Britishborn Massoudi spent three years exploring Iran, the country his parents were forced to flee after the 1979 revolution. This debut travelogue, written with a maturity that belies Massoudi's relatively tender years, sheds much-needed light upon a land of contrasts and outright contradictions.
Just as its landscape encompasses snowcapped peaks and parched deserts, there is a place in the Iranian psyche for such apparently conflicting traits as piety and hedonism, hospitality and brutality, poetry and propaganda.
This insightful account of the richness and complexity that lies behind the apparent ultra-conservatism exposes the 'public face' of Iran as little more than a veneer – as such, it is essential reading for anyone seeking to understand one of the world's most enigmatic nations.
Richard Tarrant
---
BOOK OF THE WEEK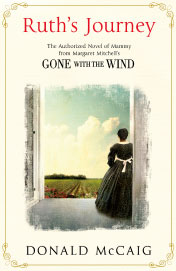 Mammy dearest RUTH'S JOURNEY by Donald McCaig (Simon & Schuster, £16.99; oƒffer price, £14.99)
Drawing on Margaret Mitchell's much-loved American classic, Gone With The Wind, Donald McCaig has spun a back story for one of its irrepressible characters: the put-upon but ever upbeat housekeeper, Mammy.
Set on the Caribbean island of Saint Dominigue – an island in the throes of revolution – the story begins with a senseless attack that leaves only one survivor: an infant girl. The child falls into the hands of two French émigrés, Henri and Solange Fournier, who name her Ruth and take her to the bustling American city of Savannah.
What follows is the sweeping tale of Ruth's life, shaped by her strong-willed mistress, the racism of the South and the characters she meets along the way. We learn of a free black man with whom she falls in love, the lives of Solange and her children, and the shabbily genteel O'Hara family and their daughter Scarlett. There are also shocking secrets, and further mysteries unravel when we learn of Ruth's ties to Rhett Butler's family in Charleston.
Ruth's Journey is as much a stand-alone historical novel as it is a prequel, and through McCaig's vivid imagination, knowledge of the earlier part of the 19th century and brilliant narrative, readers will become as attached to Mammy as they did to Scarlett all those years ago.
Lyndsy Spence
---
COFFEE TABLE BOOK
CULTURES CROSSED: John Frederick Lewis And The Art Of Orientalism by Emily M Weeks (Yale University Press, £40; offer price, £36)

John Frederick Lewis (1804- 1876) was one of the most prominent British orientalist painters of the 19th century. From desert encampments to mosques and reclining beauties in a Turkish harem, his nuanced and vibrant pictures are enticing windows into an exotic world.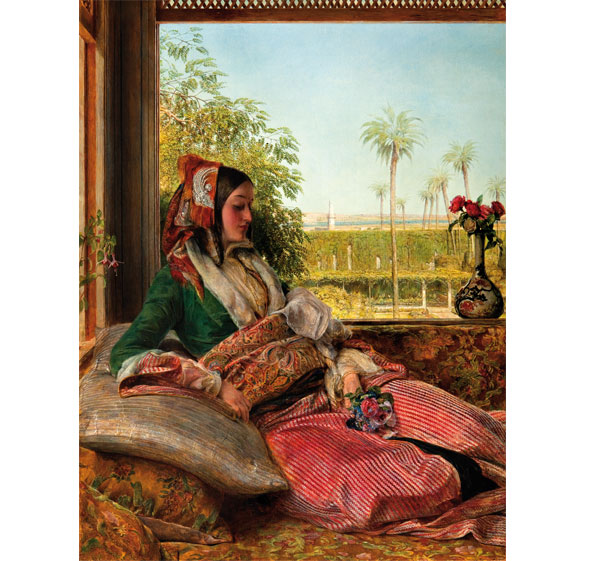 This is the first critical work devoted to the artist, a reinterpretation of his oeuvre based on new findings and post-colonial theory. While the scholarly text may prove quite taxing to the general reader, the delightful images can be enjoyed in their own right.
JC
---
PAPERBACKS

TIPS FOR MEANIES: Thrifty Wisdom From The Oldie by Jane Thynne (Square Peg, £6.99; offer price, £6.64)
Thynne shares her frugal guidelines to run a tight ship at home: she suggests replacing shop-bought cleaning products with multi-use everyday miracles, and storing silver in sealed plastic sandwich bags to save polishing time. And to test if an egg has gone off, place it in a jug of water (only if it is floating at the very top is it considered off ). A practical and amusing ode to thrift.
Jaz Elizabeth Crocker
ONE LAST DANCE by Judith Lennox (Headline Review, £7.99; offer price, £7.59)
As elderly Esme Reddaway prepares for a family gathering, she reminisces about her life. Back in 1917, her sister Camilla's fiancé was on leave from the Western Front and, having promised to rebuild his ancestral home, Rosindell, for his bride, he is jilted. Angry and vengeful, he marries Esme, who has been secretly in love with him for years. But the revelation of a shocking secret will tear her life apart.
Fans of Downton Abbey will love this gripping tale of sibling rivalry, betrayal and forgiveness.
LS
---
AND ONE SET IN THE LADY...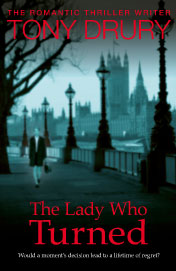 THE LADY WHO TURNED by Tony Drury (City Publishing, £7.99; offer price, £7.59)
When a novel featuring The Lady landed on my desk, my curiosity was piqued. But those hoping for a glimpse of refined life behind the hallowed doors of Bedford Street might be in for a shock.
Opening with a psychopathic murderer gloating lustfully over the body of his prostitute victim, this graphic and gritty thriller is not for the faint-hearted (there were several passages where I simply had to look away).
An ageing financier with a Margaret Thatcher obsession is called in to save The Lady from the clutches of a Romanian gangster – and in the process falls in love with the magazine's attractive young editrix.
A disturbed doctor with a personal vendetta issues cryptic threats using the Ladygram and letters cut out from the magazine.
Meanwhile, the glamorous head of sales plays a key (if risqué) role in foiling the crook's attempted takeover. With all the familiar tropes of contemporary crime fiction (including a hard-as-nails female cop who has an emotional Achilles heel), the multistranded narrative moves at a galloping, enjoyable pace.
Despite some frankly unpleasant scenes, the book was dirtily addictive. I binge-read it in one weekend – and was left with a guilty feeling. A sizzling page-turner – but perhaps not one to give your elderly aunt for Christmas.
JC
---
ALSO ON THE SHELF
PARFUMS: A CATALOGUE OF REMEMBERED SMELLS by Philippe Claudel, translated by Euan Cameron (MacLehose, £12.99; offer price, £10.99)
Claudel's charming and intimate memoir explores the scents that prompt spirals of memories to unfold. Evocatively described journeys across France are intertwined with scents such as campfi res, lime trees and coff ee roasting. Beautiful and poignant.
JEC
---
3 GREAT BOOKS: ABOUT GHOSTS

The Turn Of The Screw by Henry James
The Little Stranger by Sarah Waters
The Ghost Stories Of Edith Wharton by Edith Wharton
---
AUDIO BOOK OF THE WEEK
TALES FROM THE DEAD OF NIGHT: Thirteen Classic Ghost Stories by multiple authors (Whole Story Audiobooks, £20.41)
Get in a suitably spooky mood for Halloween with these spine-tingling, exquisitely crafted horror stories by great writers, including Edith Wharton, Ruth Rendell and Saki.
JC
---
DEBO'S LITERARY LEGACY
The Dowager Duchess of Devonshire, who died last month, was a talented and prolific author, says Rebecca Wallersteiner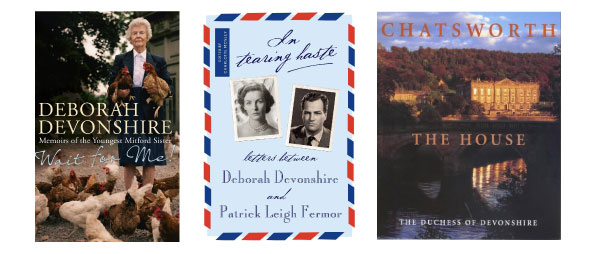 Despite claiming that she never read anything apart from Beatrix Potter and Fancy Fowl magazine, 'Debo' was the author of several books, all in her down-to-earth style and sparkling with quick wit. Like her sister Nancy Mitford, she wrote vividly about their childhood pets, their beloved Nanny Blor and various (often vile) governesses.
In her memoir
Wait For Me! (John Murray, £9.99; offer price, £9.49)
, she poignantly portrayed her marriage to Andrew Cavendish and his later struggle with alcoholism while she battled to maintain Chatsworth and cope with the deaths of three of their children. She also described the challenges of running a large house and garden as a financially viable business.
As a writer, she was a natural storyteller, with a keen eye for people's eccentricities.
Chatsworth: The House (Frances Lincoln, £35; off er price, £30)
is full of amusing stories of earlier dukes and duchesses.
Her business skills and literary talent helped preserve the house for future generations. Debo's books sold well and, together with Chatsworth Farm Shop and the Children's Farmyard, which she developed and oversaw, contributed to the restoration and upkeep of the estate.
In Tearing Haste (John Murray, £9.99; offer price, £9.49)
features her lively correspondence with the writer and adventurer Patrick Leigh Fermor, a lifelong friend. He thought that Debo was a 'closet reader', who sneaked in books the way alcoholics sneak whisky. We will never know if he was right.
---
THE LADY BOOKSHOP
Order by phone 0843-060 0035
Online
www.theladybookshop.com
By post Send your cheque, payable to The Lady Bookshop, to: The Lady Bookshop, PO Box 69, Helston TR13 OTP