Book Reviews: 26 September
OUT NOW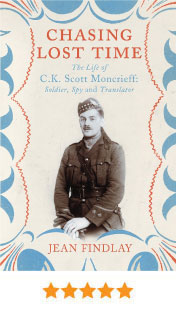 CHASING LOST TIME by Jean Findlay (Chatto & Windus, £25; offer price, £22)
In 1929, the entire first edition of Robert Graves's Goodbye To All That was pulped, after a libel suit by Wilfred Owen's family over insinuations that Owen had been seduced by the writer Charles Scott Moncrieff .
Jean Findlay, Scott Moncrieff 's great-greatniece and biographer, claims she was unaware of his private life until she discovered a trove of explicit letters exchanged between him and Vyvyan Holland, Oscar Wilde's son. It is fortunate that she decided to record his life. Best remembered for his idiomatic translation of Proust, he was also a decorated soldier, poet and agent for British intelligence in 1920s fascist Italy. Findlay's biography is detailed and sympathetic, but it is a shame she was unable to explore in greater detail his intelligence work or his poetry. A colourful treatment of a colourful life.
Stephen Coulson
---
THE TEMPORARY BRIDE: A Memoir Of Love And Food In Iran by Jennifer Klinec (Virago, £13.99; offer price, £12.59)

Klinec's research for her cookery school takes her to Iran, where, donning the mandatory veil, she teams up with a local housewife to learn about Persian cuisine. She soon fi nds herself immersed in the colourful opera of Iranian family life – and plunged into a controversial romance.
The flavours and rituals of Persian cooking, the family's rhythms and routines, life under an oppressive regime – all is acutely observed. Although no rose-tinted vision, it does shine a light on aspects of Iran we don't see in the news – the warm hospitality, the poetic wit in everyday language. A moving meditation on love across cultures and the evocative power of food.
Juanita Coulson
---
THE MAN WHO WALKED AWAY by Maud Casey (Bloomsbury, £16.99; offer price, £14.99)
In 19th-century Bordeaux, a young man, Albert, is admitted to an asylum, having spent seven years walking the length and breadth of Europe in an ecstatic trance.
Describing the effect of Albert's arrival on his doctor and fellow patients, Casey's third novel is a technical tour de force – the language of 'madness' is rendered with beauty, empathy and, above all, music.
Perhaps deliberately, the entire book recalls a fugue – Albert himself becomes known as 'le fugueur' (loss of identity and flight from one's usual environment being at the heart of his malaise). Not a word is wasted and characters are shaped with a gossamer touch. In its earliest days, psychiatry was considered medicine for the soul – a fitting description for this fine book.
Richard Tarrant
---
BOOK OF THE WEEK
Impeccable judgement
THE CHILDREN ACT by Ian McEwan (Jonathan Cape, £16.99; offer price, £14.99)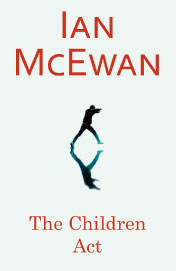 How long should a book be? Well, about as long as this one, according to its author. Unfolding in Ian McEwan's characteristically polished prose, The Children Act is an eye-catchingly topical tale in which even the tiniest hint of  ab has been pared off – indeed, it's the kind of thing that McEwan's discerning protagonist would no doubt appreciate herself.
Fifty-nine-year-old Fiona Maye is a High Court judge in the Family Division. Her Gray's Inn home is furnished with a Renoir lithograph (admittedly of iffy provenance), she is an accomplished amateur pianist and she soothes her discontentment with Scotch (Talisker, naturally). Her verdicts are unfailingly 'elegant' and kindness is a watchword in her work, but her husband, favouring passion over compassion, has left her for a 20-something. Meanwhile, childless Fiona must rule on the fate of a critically ill adolescent, Adam, whose Jehovah's Witness parents are contesting his treatment.
McEwan's execution is as stylish as ever – so much so that quibbling seems plain rude. But The Children Act is ultimately a little too elegant, too hermetically sealed, for its powerful denouement to be truly  ooring, and in the case of the frankly unbelievable Adam – a frail, poetry-writing Romantic beauty – a little more  ab (or at least grotty, spotty teenage reality) might have been advisable. But it's all impeccably crafted, and the subject matter couldn't be more compelling.
Stephanie Cross
---
COFFEE TABLE BOOK
THE DRESS: ŒŽŽ100 IDEAS THAT CHANGED FASHION FOREVER by Marnie Fogg (Goodman, £30; offer price, £26)
Few garments are as good a barometer of changes in fashion and society than the dress, encapsulating as it does not only shape and colour, but a whole narrative about its wearer, her aspirations and her dreams.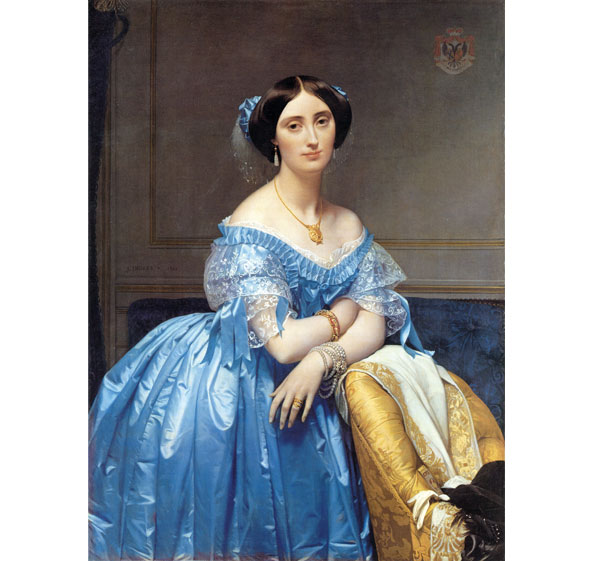 This beautifully produced book looks at key developments in fashion (and, therefore, social) history through the iconic designs that epitomised them. From corsets to crinolines and tutus to equestrian dress, it also traces the genealogy of fashion ideas, from their origins to their latest incarnations on today's catwalks. An intelligent way of looking at beautiful clothes in context.
JC
---
PAPERBACKS

SIX AGAINST THE YARD by members of The Detection Club (HarperCollins, £7.99; offer price, £7.59)
Six authors from the golden age of crime fiction attempt to construct the perfect murder; their efforts are then commented upon, and rebutted by, the lofty figure of Superintendent Cornish of Scotland Yard.
Despite today's police scandals, one still feels, as a potential criminal, relieved that the likes of the superintendent are no longer around. The reader applauds each author's ingenuity, but then Cornish weighs in, with leaps and bounds of his imagination, to refute the 'perfection' of the murder.
His rather solemn essays reinterpret the cop's 'gut instinct' and, although the stories are a pleasure to read, his interpretations leave the reader with an uneasy feeling that the 1920s and 1930s were filled with miscarriages of justice based on the complacency of the police force.
Victoria Clark
LA FEMME DE GILLES by Madeleine Bourdouxhe (Daunt Books, £9.99; offer price, £9.49)
This stylish reissue of the Belgian author's 1937 debut novel comes with a new afterword by translator Faith Evans.
Set against the backdrop of the rural-industrial townships of 1930s Belgium, this slim but emotionally piercing novel brims with longing and suspense. A compassionate narrator delves into the inner worlds of pregnant housewife Elisa and her factory-worker husband Gilles, as their lives are thrown into turmoil. With all the markers of a classic tragedy, it tells a familiar story: domestic bliss and passion are lost to the desperate lows of uncertainty and infidelity. With clarity and psychological insight, Bourdouxhe offers an intelligent exploration of love, loss and survival.
Anna Savva
---
ALSO ON THE SHELF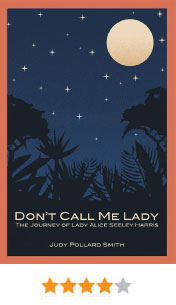 DON'T CALL ME LADY: The Journey Of Lady Alice Seeley Harris by Judy Pollard Smith (Abbott Press, £12.99; offer price, £11.69)
A partly fictionalised, meticulously researched biography of a little-known but extraordinary Victorian woman – a pioneer photographer whose work documenting colonial atrocities in the Congo helped bring down the Belgian King Leopold. Lyrical and inspiring.
JC
---
3 GREAT BOOKS: ABOUT POETS

LETTERS TO A YOUNG POET by Rainer Maria Rilke
THE THREE LIVES OF DYLAN THOMAS by Hilly Janes
LIFE LESSONS FROM BYRON by Matthew Bevis
---
THE LADY BOOKSHOP
Order by phone 0843-060 0035
Online
www.theladybookshop.com
By post Send your cheque, payable to The Lady Bookshop, to: The Lady Bookshop, PO Box 69, Helston TR13 OTP