Book Reviews: 28 November
OUT NOW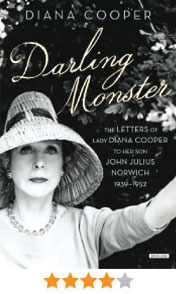 DARLING MONSTER: The Letters Of Lady Diana Cooper To Her Son John Julius Norwich 1939-1952, edited by John Julius Norwich (Overlook Press, £10.99; offer price, £9.89)
Aristocrat, actress and socialite, Lady Diana Cooper knew everyone who was anyone. When she married rising politician Duff Cooper they became a golden couple. Beginning with the outbreak of the Second World War, her letters are filled with delicious indiscretions and witty anecdotes, providing snippets of unusual insight into the lives of royalty, film stars and politicians. She writes about Churchill working in bed and his 'alarming' alcohol consumption, the present Queen's 'abominable' education and dining with the Duke and Duchess of Windsor, with Wallis in 'the stiff est Persian black and gold kaftan' and 'very fine diamonds worn negligently'.
Among her many distinguished admirers, Lady Diana numbered Evelyn Waugh and Rasputin's future murderer, Felix Youssoupoff, who sang Russian songs to her.
Her letters are fascinating, though a bit rambling at times. They reveal a vulnerable, intelligent and selfmocking character behind the surface glitz photographed by Cecil Beaton. She writes to her teenage son more like a lover than a parent. And as well as being a great beauty and a talented writer, she was terrific fun.
Rebecca Wallersteiner
---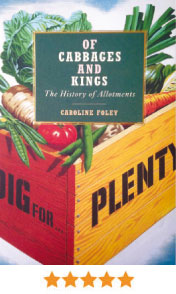 OF CABBAGES AND KINGS: The History Of Allotments by Caroline Foley (Frances Lincoln, £20; offer price, £18)
As I look out over the patchwork of cultivated plots stretching as far as my eye can see that make up my own particular allotment, I can't fail to be aware of the battles that have been fought to achieve this tranquil result across the English countryside.
As Foley so eloquently writes, 'Yet, if a strip on the commons had not been a matter of life and death for the medieval serf we would not be enjoying [allotments] today.'
There are fascinating details: in 1942 half the population took part in growing food, contributing 70 per cent of vegetables to the nation's diet, while only a mere 10,000 plots out of more than a million were held in the name of women.
Foley's book adds flesh to the bones of this strand of social history, taking us from medieval Britain, when the majority of the population owned nothing, to present-day allotments which, quite apart from fruit and vegetables, allow space for flowers, wildlife, conservation and just… fun! A must for the bookshelf of any fervent allotmenteer.
VG Lee
---
BOOK OF THE WEEK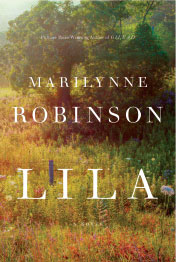 Bleak and beautiful
LILA by Marilynne Robinson (Virago, £16.99; offer price, £14.99)
It doesn't happen often: a book that stops you in your tracks with the precise, piercing beauty of its language, a distinctive, visceral voice. Robinson revisits the setting and characters of her Pulitzer Prize-winning novel Gilead, this time from the perspective of Lila, an orphaned and homeless woman.
The extreme neglect of Lila's infancy, her years on the road 'just trying to get by', her tentative forays into love, stability and religion – all is captured in meditative, insightful prose that mirrors Lila's changing emotional landscape.
After years of itinerant labour and stripped-tothe- bone poverty, Lila arrives in the small Iowa town of Gilead and meets local preacher John Ames, a widower who has also lost his children. Two bruised souls reaching for each other cautiously, they eventually marry – but love cannot so easily wash away a lifetime's sediment of pain: 'When you're scalded, touch hurts, it makes no di" erence if it's kindly meant.'
Religion, Calvinist theology in particular, is central to the narrative – a bold move, but deftly handled. Along with a profound exploration of loneliness, loss and faith, we are shown every fold and crevice of the characters' psyche in this intimist novel of rare, blistering beauty, where even the bleakest lives are shot through with luminous moments of grace.
Juanita Coulson
---
COFFEE TABLE BOOK
BENJAMIN-CONSTANT: Marvels And Mirages Of Orientalism edited by Nathalie Bondil (Yale University Press, £40; offer price, £36)

Although little known today, Jean-Joseph Benjamin- Constant was famous in late 19th-century France as a leading orientalist painter and society portraitist, as well as for his decorative murals in prominent public buildings. With a rich colour palette, his vibrant images are peopled with languid odalisques and threatening Moors.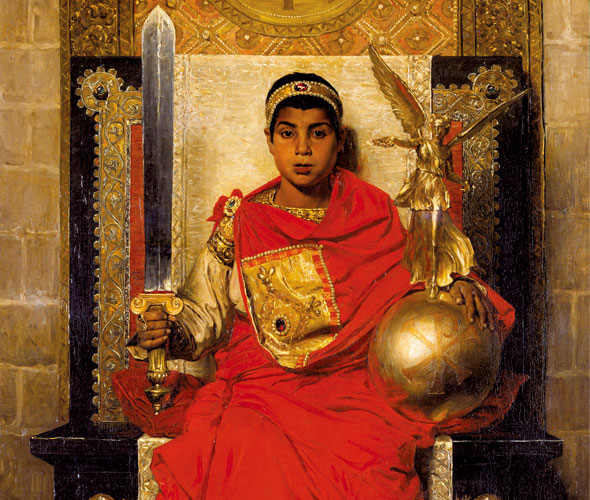 As opulent as its subject matter, this beautiful book is the first full study of the artist, drawing on new and unpublished research and exploring his influence through interviews with contemporary female artists of Moroccan heritage.
JC
---
PAPERBACKS

BLACK SHEEP by Susan Hill (Vintage Books, £7.99; offer price, £7.59)
Growing up in the coal-mining village of Mount of Zeal, brother and sister Ted and Rose Howker long for a life beyond its narrow confi nes and the futures mapped out for them.
With echoes of Hardy and DH Lawrence, Hill captures the close, cramped atmosphere of a mining community, with its blend of solidarity and entrenched hierarchies and prejudices. Her characters come under the microscope, physically and emotionally, and are crafted with such tenderness, their unfortunate endings have a particularly brutal force.
JC
A LITTLE IN LOVE by Susan Fletcher (Chicken House, £6.99; offer price, £6.64)
In this charming retelling of Les Misérables from Eponine's point of view, a tale of unrequited love is set against the backdrop of rural France and a Paris in political turmoil.
Eponine's acute pain upon discovering that Marius loves Cosette is made even more vivid by her determination to atone for her previous wrongdoings.
Although the narrative is simple, it is peppered with intricate details of the characters, which will make you feel true compassion or absolute revulsion – and the ending will leave you breathless.
Rebecca Maxted
DEAR READER by Paul Fournel, translated by David Bellos (Pushkin Press, £10; offer price, £9.50)
When Robert Dubois, a distinguished oldschool publisher, is presented with an e-reader, the cosy certainties of his life are called into question. He regards the gadget with deep suspicion: a poor substitute for his much-loved manuscripts and books. Between lavish literary lunches and hours of solitary reading, Dubois reflects on the passing of the old ways and the confl ict between the printed and electronic word. A wry but affectionate look at today's publishing world.
JC
---
ALSO ON THE SHELF
SO, ANYWAY… by John Cleese (Random House, £20; offer price, £16)
In this much-awaited memoir, the comedy legend tells of his journey from his adolescence in Weston-super- Mare to his prime position as a national treasure. Featuring pictures from his Monty Python years, this is required reading for his fans.
Jaz Elizabeth Crocker
---
3 GREAT BOOKS: FOR TWENTYSOMETHINGS

SELF-HELP by Lorrie Moore
THE SUN ALSO RISES by Ernest Hemingway
SIDDHARTHA by Hermann Hesse