Book Reviews: 7 July
OUT NOW
FASTING AND FEASTING: The Life of Visionary Food Writer Patience Gray by Adam Federman (Chelsea Green Publishing, £23)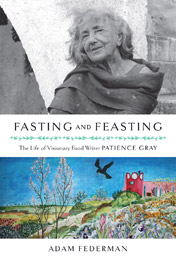 Writer Patience Gray (1917-2005) is best remembered for her visionary cookbooks Plats du Jour (1957) and Honey From a Weed (1986), which were far ahead of their time, extolling eating locally, seasonally and foraging long before they became mainstream. She was also the first women's page editor of the Observer, a jewellery maker, textile designer, single mother and partner of the Belgian sculptor Norman Mommens, whom she eventually married. This elegantly written first biography tells the story of her life 100 years after her birth.
Born to privileged parents in Surrey, who hid their Jewish ancestry, Gray rebelled against their oppressive rigidity and materialism. For more than 30 years, she lived in a remote, impoverished area of Puglia, in southernmost Italy, in a crumbling farmhouse without electricity or a telephone, 'sharing her workplace with a large, black snake'. People who met her described her as a 'modern-day witch'. 'This aura of secrecy was enhanced by her interest in astrology and mysticism and her vast folkloric knowledge of edible plants and mushrooms,' writes Federman.
Despite the occasional overlong account, this compelling, well- researched book triumphantly brings this farsighted, eccentric woman back to life. She may have escaped her family, but Gray passionately embraced the jewish obsession with food. Cookery fans are sure to devour this brilliant biography.
Rebecca Wallersteiner
---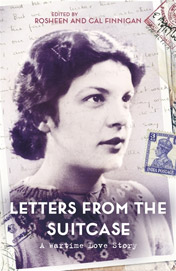 LETTERS FROM THE SUITCASE: A Wartime Love Story edited by Rosheen and Cal Finnigan (Tinder Press, £18.99)
This collection of letters between young lovers was discovered by Rosheen Finnigan, their daughter. Born shortly before her father's death, and with no memory of him, Finnigan, together with her husband, has constructed a vivid portrait of the couple during the second world war.
Their correspondence encapsulates the period's politics and the private drama of their lives. Mary was 21 when she met the 19-year-old David at a house party in London. She was from Dublin and he was the privately educated son of Christian scientists. Sharing a disgust for Fascism and Nazism, they joined the Communist Party.
Finnigan shows the intensity of her parents' feelings for one another, as well as the disapproval they faced from their families and the social taboos they ignored, such as co-habiting before marriage and crossing the class divide. The letters tell a moving love story, but also give a glimpse of social history at home and abroad. Told from the point of view of two young people with their finger on the pulse of life, it is an exhilarating read. Lyndsy Spence
---
BOOK OF THE WEEK
Uncle Joe's weatherman
STALIN'S METEOROLOGIST: One Man's Untold Story of Love, Life and Death by Olivier Rolin, translated by Ros Schwarz (Harvill Secker, £16.99)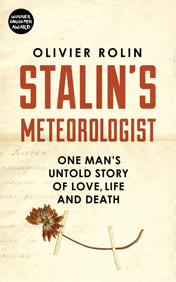 This outstanding book captures both the beauty and resilience of human nature, while also documenting its most heinous side. Winner of the English PEN award, it is immaculately researched and written.
It tells the gripping story of Alexey Wangenheim, meteorologist to the Russian dictator. A loyal communist, he established the Soviet Union's Hydrometeorological Service and regularly represented his country abroad. However, nothing could save him when he was arrested on trumped-up charges of counter-revolutionary activity, and shipped to a gulag on the Solovetsky Islands, where he remained until his tragic death.
Battling extreme weather and anxiety, he was kept going only by the love of his family. 'You are my life. Strength of mind will help us overcome the pain of separation,' he writes to his wife. Keen to educate his young daughter, he sends home exquisite drawings of nature and skyscapes – these are featured in the book.
The author, who came across the story by accident, writes compassionately and with insight. His subject is a quiet man 'dedicated to the peaceful observation of nature, who was crushed by the fury of history'. Intensely moving at times, this is a stirring account of life in extreme circumstances which haunts the subconscious long after the final page. Elizabeth Fitzherbert
---
COFFEE TABLE BOOK
HOW THEY DECORATED: Inspiration From Great Women of the Twentieth Century by P. Gaye Tapp and Charlotte Moss (Rizzoli, £40)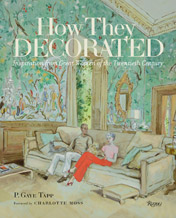 Focusing on 16 iconic women and divided into four sections, this stylish book looks at how these elegant and affluent individuals decorated their homes. From Irish designer Sybil Connolly, Anglophile Fleur Cowles, and Truman capote's 'swans' Babe Paley and Bunny Mellon to the European aristocracy, their aesthetic tastes are examined to offer a glimpse of their personalities and the techniques they used.
The influential touch of famous interior decorators is also apparent, most notably Syrie Maugham's trend for white rooms, and their keen eye for upholstery, art and antiques. Gloria Vanderbilt said: 'decorating is autobiography' and Tapp, who has effortlessly curated a historical guide as well as a visual treat, proves this to be true. A delightful piece of armchair travel for lovers of great interiors. LS
---
PAPERBACKS


OUR SUMMER TOGETHER by Fanny Blake (Orion, £7.99)
Blake's latest offering tells the story of Caro, a middle-aged wife, mother to her adult children and daughter to her frail mother. Her world is turned upside down when her husband leaves her for another woman and everything she has built is in danger of crumbling. But then Caro has a chance encounter with a younger man and everything changes. It is a refreshing take on love in the autumn years. In the wake of Deborah Moggach's The Best Exotic Marigold Hotel (and its hugely popular film adaptation), the appetite and need for stories about love and relationships in later life has never been greater. A gorgeous, if slightly indulgent, summer read. Helena Gumley-Mason
INSIDE VOGUE : My Diary of Vogue's 100th Year by Alexandra Shulman (Penguin, £9.99)
High fashion rubs shoulders with domestic disasters and emotional honesty in this engaging memoir that challenges preconceptions about glossy magazine editors. The editor of British Vogue for 25 years until stepping down in April, Shulman kept a diary throughout the magazine's centenary year in 2016. She is a force to be reckoned with: just reading about her stamina, dedication and packed schedule made me want to lie down. But this is no devil wearing Prada: one minute she is partying with designers, the next she's battling with an uncooperative boiler, worrying about her son or doing the shopping. Her account of life at the helm of an influential fashion bible is tempered with warmth and humour: she can be 'self- obsessed', but also self- deprecating. A fascinating glimpse into the fashion world from one of its leading players. Juanita Coulson