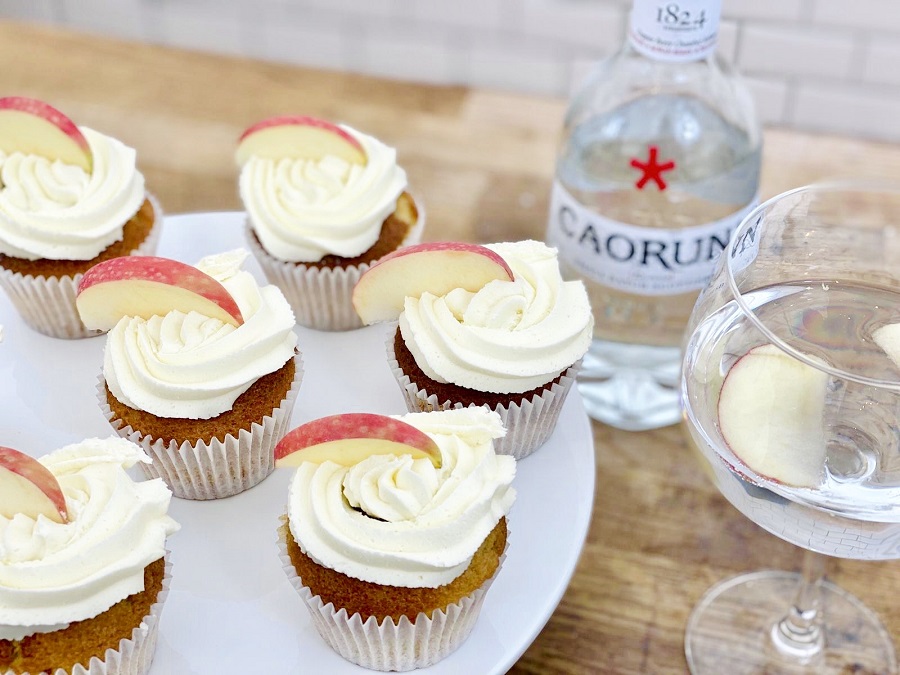 In celebration of Afternoon Tea Week (10th-16th August), The Big Bakes- the UK's leading experiential baking company- are encouraging bakers across the UK to get baking at home and have released new exciting recipes for Afternoon Tea Week including these divine Caorunn Gin, Gin & Tonic Cupcakes.
The Big Bakes X Caorunn - Gin & Tonic Cupcakes
For the cupcakes:
240g Plain Flour
1 tbsp Baking Powder
¼ tsp Salt
260g Caster Sugar
80g Butter
180ml Milk
45ml (3 tbsp) Gin
½ tsp Vanilla Essence
2 large Eggs
For the syrup:
60g Caster Sugar
60ml (4 tbsp) Tonic Water
30ml (2 tbsp) Gin
For the Buttercream:
500g Icing Sugar
160g Softened Unsalted Butter
15ml (1 tbsp) Milk
Lemons, limes or apples etc for garnish.

Method:
Preheat oven to 190c. Mix butter and sugar together on a medium speed in your stand mixer or electric mixer if you have one (or you can just use a wooden spoon) until pale and fluffy. Add the eggs one at a time and mix. Once combined, add the flour, baking powder and salt in. Add the milk a bit at a time and mix in between making sure to scrape down the sides.Then add the gin and mix until fully combined.
Put the mixture into each case ⅔ full. Once all filled, put in the oven for 18 - 22 minutes or until they spring back when lightly touched.
When they are baking you can make your syrup. Place caster sugar and tonic water in your saucepan and simmer on a medium heat gently stirring until the sugar dissolves. Once dissolved, continue to mix and put on a high heat for 1 minute so the liquid boils and turns into more of a syrup, then take off the heat and leave to cool for 5 minutes. Then add the gin and stir. Leave to one side until the cupcakes come out the oven.
Once cupcakes have baked, leave them in their tin for 10 - 15 minutes and then place on a cooling rack. When they are still warm, use a cake skewer or fork to gently puncture the top of each cake several times. Use a pastry brush to drizzle the syrup over the cakes so it soaks into them.
Once the cupcakes are cool, make your buttercream. Place icing sugar and butter in your mixer again and mix together on a very low speed with either the whisk or paddle attachment. You can switch the mixer off and use your hands or a spatula to rub the butter pieces into the icing sugar in the bowl to get it started if it is taking a while.Then add 2-4 tsp of your syrup (to taste) into the butter and icing sugar and then add a little bit of milk at a time and mix on a medium speed after each addition. You can add any liquid, fine zest or powder flavours or colours at this point.Then mix on a high speed for around 6-8 minutes or until the buttercream is light and fluffy.
Smooth the buttercream on the cupcakes with a spatula or palette knife or you can use a piping bag and nozzle to decorate your cakes. You can then top with any garnish you would like, Caorunn Gin suggests serving their G&Ts with a slice of a Pink Lady apple, so we've used that on ours, but you could also use lime, lemon or even decorative paper straws.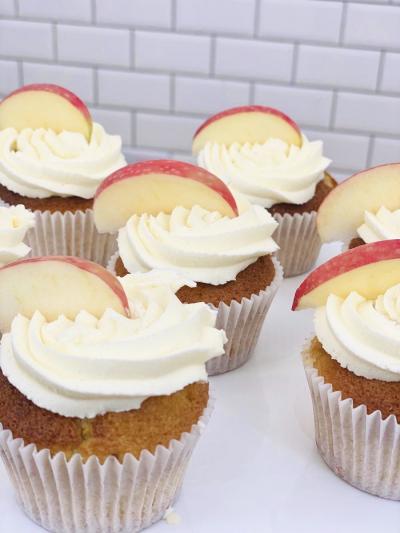 Rather leave the cooking to the experts? Contact our specialist recruitment team today to find you the perfect candidate; from Housekeepers to Gardeners, Nannies to Carers, we source only the most exceptional candidates for your home.
Contact our friendly team today: theladyrecruits@lady.co.uk