We talk to Sarah Haywood, author of The Cactus, a brilliantly comic novel about the flawed, controlling and utterly endearing Susan, who, while engaging in a family feud with her feckless brother, embarks unwittingly on a journey of personal enlightenment.
How did you begin writing? Was it something you had always wanted to do?
I've wanted to be a writer for as long as I can remember. When I was a girl, I was inspired by books like Little Women, Anne of Green Gablesand The Little House on the Prairieseries - books where the main character either wants to be, or becomes, a writer. I even set up a sort-of writers' workshop with my sister and best friend when I was about ten years old. I ended up studying law at university and worked as an investigator of complaints about lawyers. It was only when my younger son started primary school that I decided to give writing a serious shot. Although I'd kept diaries over the years, writing fiction had fallen by the wayside. Initially, I signed up for a one-year Open University Creative Writing course, which in turn gave me the confidence to apply for an MA in Creative Writing at Manchester Metropolitan University. I deliberately chose a course that required the completion of a full-length novel, and The Cactuswas the outcome.
What is your daily routine as a writer like and how do you stick to it?
I have two sons, aged 11 and 15, so my working day – like that of many parents who work flexibly – is bookended by school runs. I find it difficult to write in the afternoons once the boys are home, although I do if I have a deadline looming. I tend to set myself a target of the number of words I want to write in a particular week and, if I don't hit it, I'll continue at the weekend. I'm not comfortable working in very public places, such as cafés, but neither do I like working in complete silence. I do most of my writing either in my office at home (actually a spare bedroom) with an app running that plays muted coffee-shop sounds; or in a corner of my local university library, which is only a few minutes' walk away.
When you set out to write this book did you form the plot first or did the story come to you as you wrote it?
When I started writing The Cactus, I had the basic framework of the novel. I knew I wanted to follow eight months of my main character's (Susan's) pregnancy, from the onset of morning sickness to the birth of her child. I also knew that I wanted to follow the progress of a family dispute, from the discovery of a will to the resolution of the conflict. Within that framework, I wanted to show the way that Susan changes as a result of those two experiences. The finer details of the plot emerged as I was writing.
How did you determine the protagonist's voice - she is so convincingly tricky but charming – had you someone in mind, or did you create her 'organically'?
Female protagonists are much more likely than male protagonists to be 'nice' or 'sympathetic' from the outset, although I'm pleased to see that that's changing. I wanted to create a character that the reader would grow to understand and care about as they got to know her. She isn't based on one particular person but contains elements of friends and family members - possibly with a bit of myself mixed in there too. Once I started writing, Susan's voice came fully formed. It was almost as if she were tapping me on the shoulder and telling me what she wanted to say, which is exactly the kind of thing she would do.
Who / what do you enjoy reading?
My reading tastes are very wide, from what might be termed 'literary' to what might be termed 'commercial' books - categorisations which I find very unhelpful, as many 'commercial' novels are brilliantly plotted and written, and many 'literary' novels are gripping page-turners. I'm always drawn to strong central characters with a compelling, often first person, voice, such as The Rosie Project, A Man Called Ove, The Curious Incident of the Dog in the Night Time and The Shock of the Fall. My favourite book of 2018 was Sally Rooney's Normal People, and I was delighted when it won the Costa Novel Award. I also thoroughly enjoyed Three Things About Elsie by Joanna Cannon. I'm currently reading Circe by Madeleine Miller, having loved her previous book, The Song of Achilles.
Will we meet Susan again?
Many people have asked me about a sequel to The Cactus, which is very flattering. I have no immediate plans to write a follow-up, but I do miss spending time with Susan. I have to say, I'm quite interested, myself, to find out how she copes with motherhood and what she'll do next, so you never know …
What is your next book about?
I don't like to reveal to much about a work-in-progress, as it can shift and morph during the writing process. I can say, though, that it's a character-driven novel about three women trying to find a voice.
The Cactus by Sarah Haywood is published in paperback by Two Roads, priced £7.99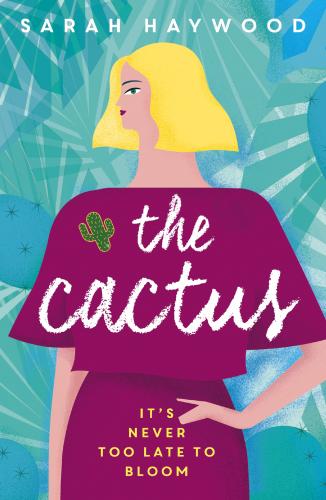 'Legal battles, lapses of logic and the joys and fears of motherhood are explored in this astute, funny and moving novel of a woman learning how to let go.' Daily Mail
'One of the funniest, quirkiest books either of us has read for a long time ... stand by for a slam-bam finish' Richard & Judy Book Club