Coconut Cake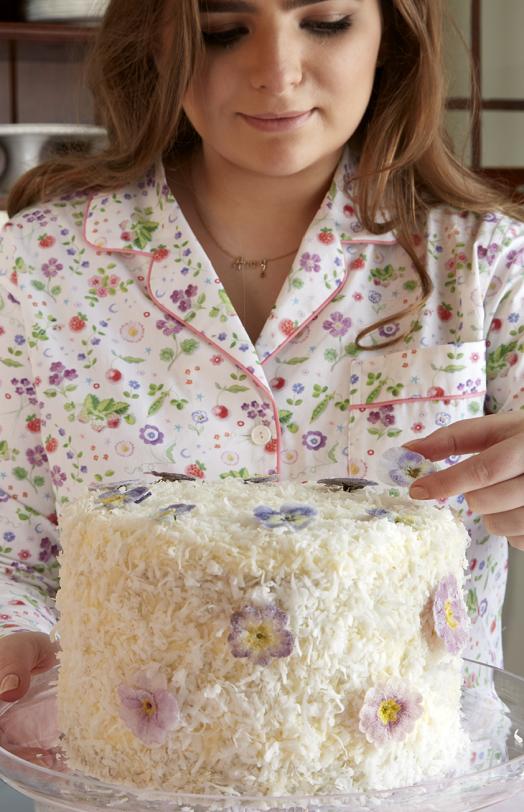 (SERVES 12-14)
INGREDIENTS
For the cake:
400g (14oz) butter, plus extra for greasing
400g (14oz) caster sugar
350g (12oz) self-raising flour
50g (2oz) desiccated coconut
7 eggs
2 tsp vanilla extract
For the cream cheese frosting:
350g (12oz) butter
110g (4oz) cream cheese
900g (2lb) icing sugar, sifted
2 tbsp milk
1 tsp vanilla extract
200g (7oz) sweetened flaked coconut
METHOD
1. Preheat the oven to 180°C/fan 160°C/350°F/gas mark 4. Grease 3 x 20cm (8 inch) cake tins and line the bases with baking parchment.
2. Put the butter, caster sugar, eggs and desiccated coconut into the bowl of a free-standing electric mixer (or you can use a handheld electric whisk and mixing bowl). Then sift in the flour, lifting your sieve quite high to incorporate air, and mix until light and creamy.
3. Divide the mixture between the prepared tins and bake for about 50 minutes or until well risen and a skewer inserted into the middle of one of the cakes comes out clean. Remove the cakes from the oven and leave to cool in the tins before turning out onto wire racks. Peel off the baking parchment and leave to cool completely.
4. While the cakes are cooling, make the cream cheese frosting by beating the butter and cream cheese until soft and creamy. Add the milk and vanilla extract and beat again until smooth. Gradually beat in the icing sugar starting on a low speed.
5. Layer the cream cheese frosting between the three layers of cake and then, using the remaining icing, cover the entire cake. To finish, cover the cake with sweetened, flaked coconut, lightly pressing to ensure that it sticks to the icing. Decorate with crystallised flowers.
Amy-Beth Ellice is Britain's youngest published cookery author. Her debut book, Amy's Baking Year, is available online and in UK bookshops. Following the four seasons, Amy's Baking Year is beautifully illustrated and includes fresh, light recipes for Mother's Day, Easter and Summer picnics, as well as warming treats for Halloween, Bonfire Night and Christmas. From perfect French macarons, to fluffy sponges and ice creams to chutneys and jams, the book also contains Amy's highly sought after 'perfect cupcake' recipe. It's seamless and easy to follow instructions appeal to skilled and unskilled bakers as well as skilled patissiers.
When she is not in the kitchen writing, creating and cooking, Amy performs as a singer, harpist and pianist, and studies fine art. Amy will be attending The Royal Northern College of Music to study classical singing and opera, as well as writing and photographing her second book, based around young, fun, whimsy entertaining at home.
http://www.amazon.co.uk/Amys-Baking-Year-Amy-Beth-Ellice/dp/1782199977
Photography by Natalie Dinham, Amy-Beth wears Charmajesty lifestyle pyjamas.