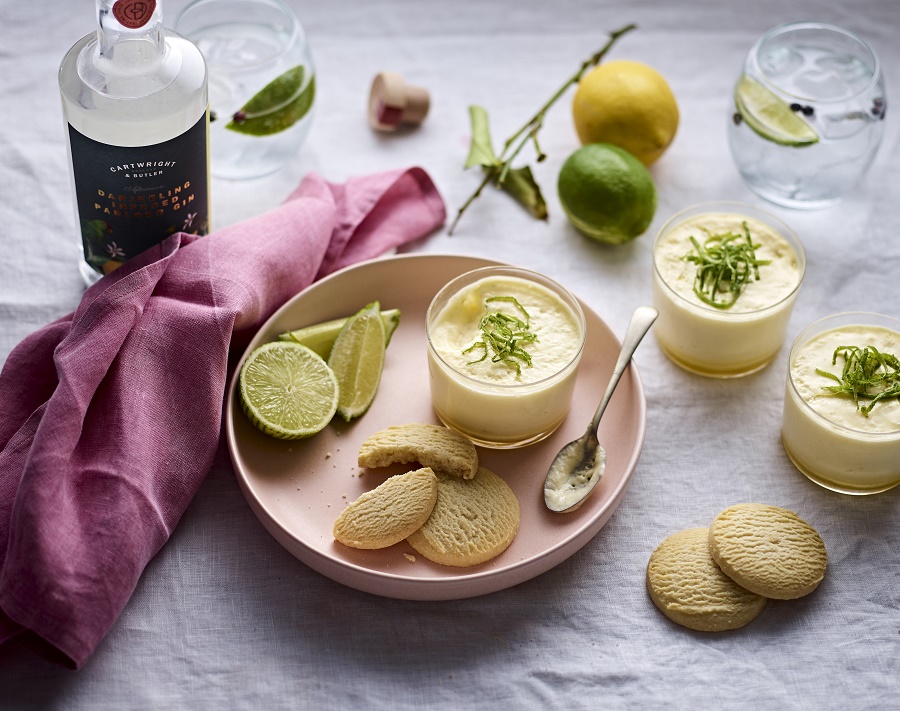 A perfect dinner party pudding for summer, this mousse is not only delicious and light, it's quick to make too, and can be prepared in advance, so it's a winning dessert all round. Here, Cartwright & Butler's Yorkshire produced Darjeeling Infused Parlour Gin is combined with lime and cream for a rich and tangy pot of joy.
PREP TIME: 20 minutes COOK TIME: 0 SERVES: 4
Ingredients:
4 eggs
140g golden caster sugar (plus 1 tbsp sugar for the egg whites)
Zest of 2 limes
100ml lime juice
1 tbsp Cartwright & Butler Darjeeling Infused Parlour Gin
1 tsp powdered gelatine
200ml double cream
Method
1. Separate the 4 eggs. Add the yolks, caster sugar and lime zest to a bowl and beat together until pale, thick and creamy.
2. Mix the gin and lime juice together, sprinkle over the gelatine and warm gently to dissolve.
3. Add this to the egg yolk mixture.
4. In a clean bowl whisk the egg whites to peaks and then add a tbsp of caster sugar and whisk to stiff peaks. Stir a small spoon of the egg whites into the mixture to lighten it, then gradually and gently fold the remaining egg whites into the egg mixture using a metal spoon.
5. Whisk the double cream to gentle peaks and then fold this gently into the egg mixture.
6. Decant into serving glasses or bowls and chill for at least 3 hours before serving.
7. Top with some additional zest.
If you want to give this delicious recipe a try, make sure you snap a photo of your finished dish and tag us on socials @theladymagazine for the chance to be featured!