The Diary of Miss Darcy Bustle: 18 May
Monday
Recently, I have noticed an increase in other doggies telling me about their own 'careers'. It's tricky to know if some of them are true, of course. I mean, how many stunt dogs can a girl meet in one trot round the park? And why are they all very butch-looking and wearing slightly frightening neckwear? Then there are the doggies who think they should be on the equivalent of Dragons' Den for Dogs, like Betty the terrier who says she juggles playing in the garden with being a captain of industry alongside her human friend, Justin Fellowes. Really Betty ? Really?
Tuesday
OMG. I know that imitation is supposed to be the sincerest form of flattery, but I'm not sure what to think of the cast iron boot scraper fashioned to look like me that Alastair Hendy has given me. Well, the editor bought it from his 'Ye Olde Worlde Shoppe' in Hastings, but it now belongs to me. I think. The question is, do I want a mini-me sitting outside the back door? I told Duffle that at least it would show everyone who was top dog, but he said that sadly it might just become a stopping-off post for all the local naughty boys who might just pause to leave their own personal message – not nice ones.
Wednesday
Today I spent quite a lot of time hoping that someone would mention the word holidays. I seem to be the only little sausage not to have booked a getaway. True, I do get to go to Hastings, but a walk on the beach is hardly relaxing when my life is in constant peril from the deranged seagulls. Whoever thought to make them a protected species? No, I want to go to the South of France and swim in a very cool blue pool. I've left a picture of this gorgeous dachshie-shaped lilo lying around. Surely someone will get the message…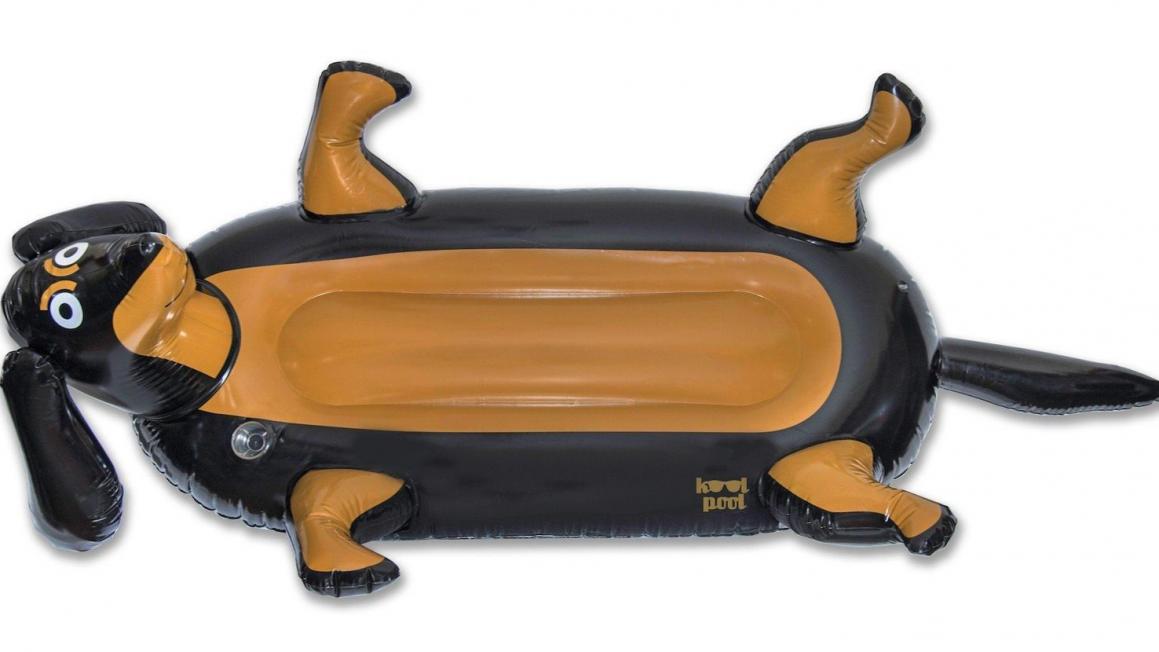 Thursday
In case you hadn't noticed, this week's magazine is partly devoted to getting married – and staying married. There are pages and pages of happy couples who got married, including a pair of chihuahuas who spent more money on their nuptials than a movie star. Well, how does that make me feel? Everyone knows that Harold, my first love, insisted on being carried while he was on a date with me, and that I have yet to find someone else. Admittedly, there are contenders, but have any of them put a ring on it? Umm. no.
Friday
To lift my spirits, I have decided to take up yoga. Yes, doggie yoga is all the rage, apparently. I went along to one class but the tutor turned me away and said I had to find a partner to do it with. That's easier said than done dear, I told her. But I live in hope. or else perhaps I can persuade one of the girls at the office to put down the Victoria sponge…
See you next week
Instagram @missdarcybustle