The Diary of Miss Darcy Bustle: 20 April
Monday
As we get older, we need to keep fitter and that goes for doggies, too. I like to think I am quite healthy – I run really fast when I see a squirrel or if a stray cat dares to walk along my garden wall, but my friend Kookie is the absolute queen of fitness. For starters, Kookie would never, ever, I mean never, eat five doughnuts that she happened to spy on the kitchen worktop. Her human friends, Danka and Joe, have brought her up to be what the editor calls 'a good girl' and it shows. Even though she is 12 years old – which in dog years is 96 years old – she still looks like a puppy. Her secret is hemp. Nnot the stuff that hippys apparently like to smoke, but organic hemp biccies. Her food is properly cooked and she has organic hair shampoo. She has never put anything bad in her body and it shows. I've said I am going to try and follow her example but who am I kidding…
Tuesday
Today I am starting my new regime and trying to avoid any junk food, which means that all joy has gone from my life. If only I was Jackson, a Chinese Shar-Pei, who lives in Nottingham surrounded by a wardrobe that would challenge Zsa Zsa Gabor. He has tailor- made jackets, shirts, and even hats. So far, his owner Christine has spent over £1,000 and he is only a year old. 'Jackson loves dressing up and he looks majestic,' she says. 'Every time I go to fetch the camera or pull out one of his jackets he does get excited. He just loves parading around in his new outfits,' she says. Well, all I can say, Jackson, is no one likes a show-off.
Wednesday
There are heroes, and there are sausage-shaped heroes and George the South African dachshund is certainly one of them. George was out walking with his friend, Charmaine Keevy, when he started barking loudly at a drain duct. Charmaine initially thought it was a cat mewing but then discovered it was a newborn baby.Obviously, they were both really shocked but Charmaine is just grateful she and George were able to help and that the baby is doing well and has been named Grace April by the hospital staff.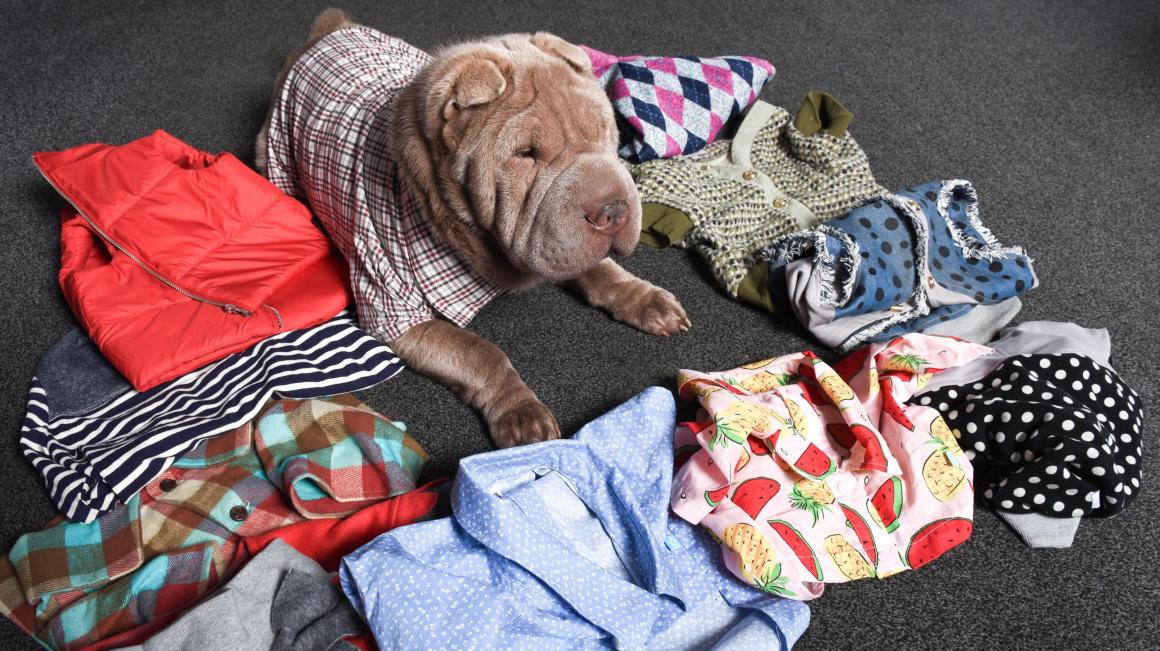 Thursday
We are all looking forward to the wedding of Prince Harry and Meghan Markle with so much excitement here at the office that I can barely contain myself. Obviously, I am not going (although if I was, I would be sworn to secrecy) but I wonder if Meghan's dog, Guy, will be going? He could even be the ring bearer – I wonder if he is looking for a plus one?
Friday
The latest craze in doggie world is puppy yoga – where yoga fans take a puppy along to their exercise classes so they can work out together. Really? Is there a craze that involves laying on the sofa watching Midsomer Murders, because I am 'all over that' as the young people say….
See you next week
Instagram @missdarcybustle