The Diary of Miss Darcy Bustle: 27 October
Monday
My friend Polly has not been very well and so she hasn't been able to go out for walks in the park. Duffle and I have missed her, but her human friend popped round yesterday and said Polly was on the mend. Her little leg – she is a Yorkie – was badly injured after she stepped on broken glass on the pavement. They thought she might need to have it amputated (eek) but thankfully her lovely vet has saved it.
Tuesday
I got sent some pictures of the 27th annual Halloween pet parade in New York this week. Oh my, what fun, there were hundreds of different costumes. One was dressed as a yellow taxi and another was wearing a wig that apparently he likes to wear even when it isn't dressing-up day. I think English dogs need to get themselves out a bit more, throw off our anxieties about being silly and go for it. Sequins anyone?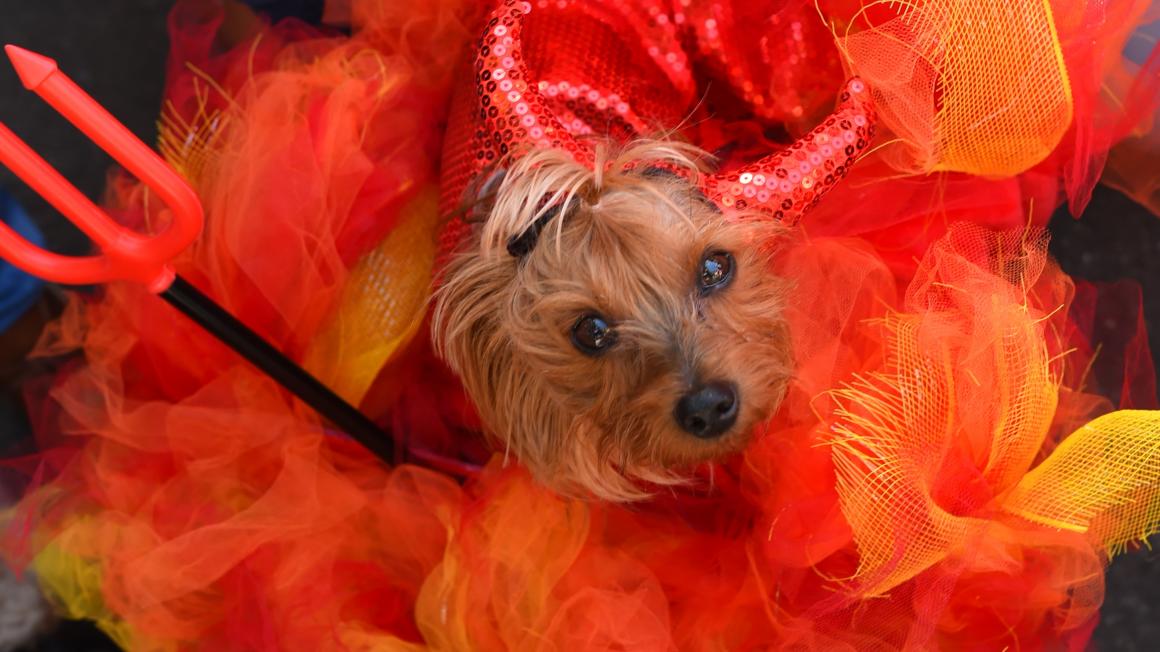 Wednesday
It was Thomas Blaikie's special birthday last week. I'm not supposed to say how old he is but if he were a dog he would be 420 years old – which is really quite old. He doesn't look it though, he looks really sprightly. The editor said that he wore a lacy black shirt for his birthday party, which she thought was a little racy, but which I think sounds just the thing for Halloween dressing-up. He didn't have a birthday cake and candles (too many to fit on) and he didn't have any dancing. I think he thinks he's now too old for dancing, but you can never be too old to shimmy your hips, Thomas.
Thursday
Lots of people think that I have an interesting name but it's nothing compared to the weird ones revealed by Battersea Dogs and Cats Home this week. Apparently food themes are big this year, with mad ones like Wasabi, Nachos, Poptart and Popcorn. Another odd one was a mongrel called Black Trouser, who only found a new home after being re-named Fudge. Then there was the Staffie named Lord Farquaad and a cat called Beetlejuice. The funniest were a tiny Jack Russell called PeeWee and a terrier called Captain Gary Ziltoid. I have decided to start my own survey of wacky names and wonder if readers would write in and tell me their favourites.
Friday
The search is still on for my very own Mr Darcy and the girls at the office are doing the vetting. There are lots of 'rules'. Apparently I am not allowed to decide based on looks (Why?). And I'm not allowed to kiss on the first date, which is a little hard as sniffing is one of the ways we doggies get acquainted. Hopefully they'll come up with candidates soon, as I'm not getting any younger…
See you next week! Instagram @missdarcybustle
written by Miss Darcy Bustle