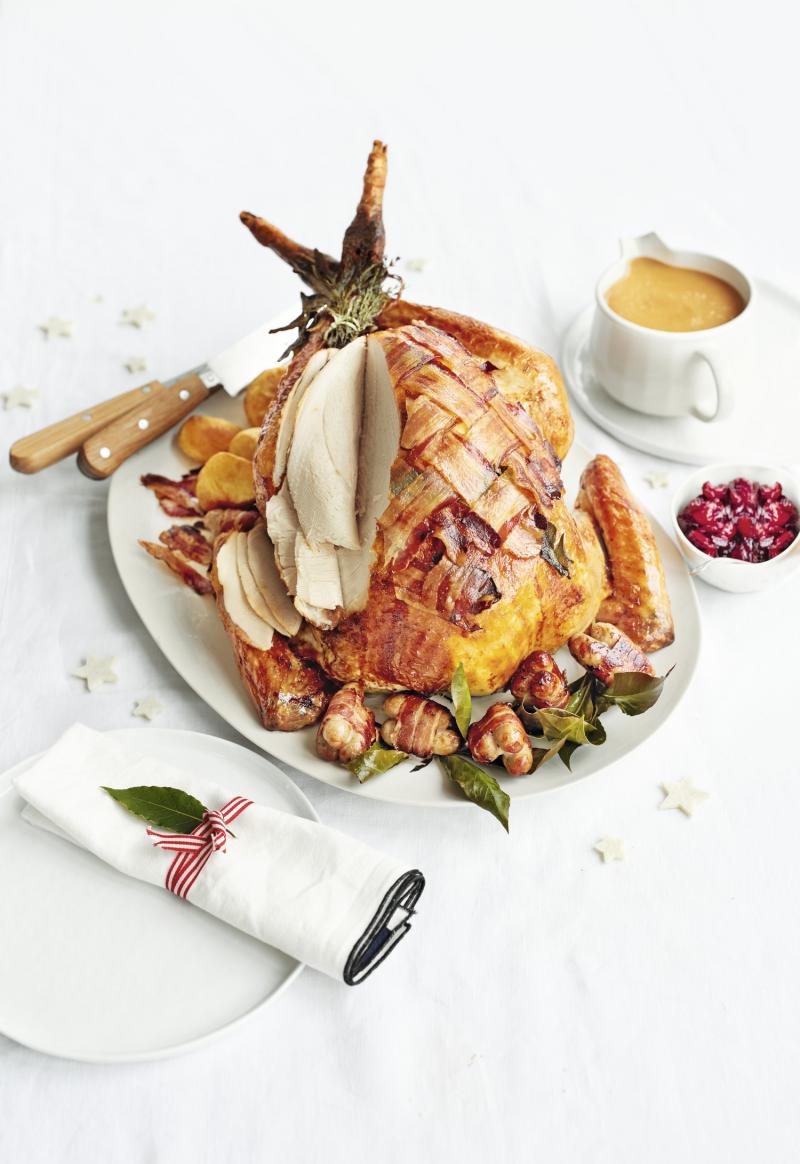 The perfect roast turkey – tender and full of flavour, with crisp, golden skin
Preparation time: 15 minutes
Cooking time: 35 minutes per kg (about 3-4 hours) + resting
Total time: 3 - 4 hours 15 minutes + resting time
Serves: 8
Ingredients
1 Free Range Bronze Turkey, about 4-6kg
2-3 fresh bay leaves, torn
1 lemon, cut into quarters lengthways
1 onion, peeled and cut into quarters
450g pack Sausagemeat Stuffing (optional)
50g butter, melted
6 fresh sage leaves (optional)
95g Italian Sliced Pancetta
500g uncooked mini pigs in blankets (optional)

Method
1. Preheat the oven to 180°C, gas mark 4. Remove the giblets and reserve for turkey stock if making. Season inside the turkey. Place the torn bay leaves, with the onion and lemon quarters, inside the turkey's larger cavity. Stuff the smaller neck cavity with the sausagemeat, if using, pull the skin back over the neck and use a cocktail stick to secure underneath the bird. Calculate the cooking time, allowing 35 minutes per kg (including stuffing).
2. Transfer the turkey to a large roasting tin, breast-side up. Brush with the melted butter and season the skin. Cover with foil and roast according to the pack instructions. Remove the foil 30 minutes before the end of cooking, arrange the sage leaves over the turkey breast, then criss-cross the pancetta rashers in a lattice pattern across the breast. Arrange the mini pigs in blankets, if using, around the turkey. Return to the oven and continue to roast until the turkey and little pigs are cooked through.
3. Check the turkey is thoroughly cooked by inserting a skewer into the thickest parts of the breast and thighs: the juices should run clear, and there should be no pink meat.
4. Transfer the cooked turkey to a serving dish, cover with buttered foil and keep warm. Allow to rest for at least 30 minutes.