Last month, Fairfax & Favor donated a percentage of all online sales to the NHS Charities COVID-19 Urgent Appeal, to support the NHS during the current Coronavirus outbreak in the UK. With thanks to Fairfax & Favor's dedicated customers, the brand has raised over a staggering £61,123.97 for the charity. The donation will go towards funding well-being packs/gifts for staff and volunteers on wards/departments, covering the cost of travel, parking and accommodation for NHS staff and volunteers expenses, along with funding other items as requested by NHS Charities that enhance the well-being of NHS staff and volunteers caring for COVID-19 patients.
Fairfax & Favor will be continuing their charitable initiatives into the month of May, this time with something a little different. Co-founders Marcus Fairfax Fountaine and Felix Favor Parker have designed a special limited-edition navy and white NHS suede tassel. The NHS tassel is on sale throughout May and priced at £25, with 100% of profits being donated to the NHS Charities Together Campaign. For this latest initiative, Fairfax & Favor hope to raise a further £40,000 for the charity. In the past, the brand has received unprecedented support for their charity campaigns, including their annual Breast Cancer Care campaign, from their loyal followers and customers, social influencers and celebrities alike. So far, famous faces including ITV Racing Presenters Francesca Cumani and Rosie Tapner and social influencers Cara Sutherland and Laura Blair to name a few, have committed to supporting the campaign.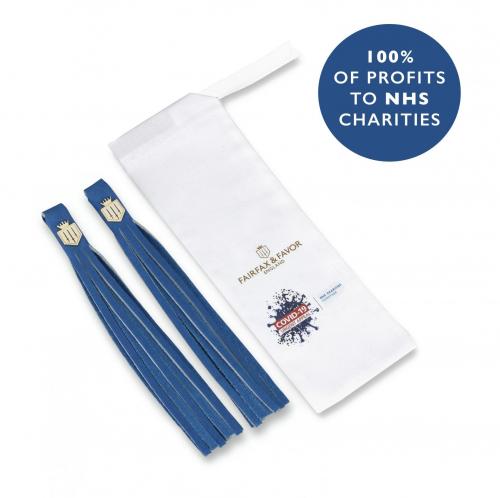 The tassel can be paired with their celebrated boot range, which includes the iconic Regina (below), Amira and Imperial Explorer styles.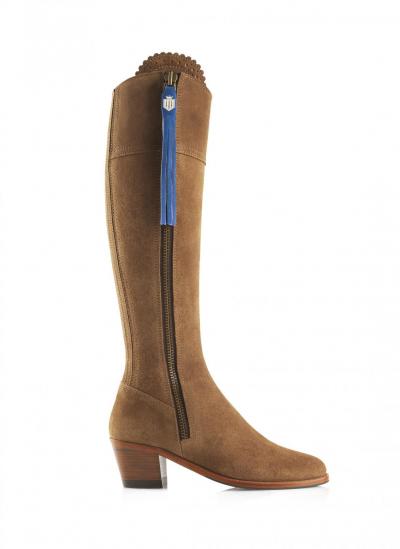 Fairfax & Favor Co-Founders Marcus Fairfax Fountaine and Felix Favor Parker said of the campaign; "We would like to thank our fantastic customers for supporting Fairfax & Favor and the NHS Charities COVID-19 Urgent Appeal trust during this unprecedented time of uncertainty. By working together and supporting those in need we will not only create hope but create a more certain future for everyone affected."
Read more about the Fairfax & Favor Covid-19 Appeal here.
The Lady has recently teamed up with luxury lifestyle brand Fairfax & Favor to give you the chance to win a pair of the gorgeous Monaco Wedges in a colourway of your choice worth £145! Don't miss out, click here to enter.