FIRST IMPRESSIONS: ALEX POLIZZI
What are you working on?
Another series of The Hotel Inspector, and I've finished shooting for a new BBC Two series, which combines my love of food and business. I'm looking forward to some new projects starting this spring, too.
When are you at your happiest?
I've had moments of extreme happiness throughout my life. I think the last seven years since I've been married have been amazing. My children bring me great happiness – the joy of a family far outweighs all the exhaustion and hard work.
What is your greatest fear?
Something happening to my children or the ones I love.
What is your earliest memory?
Being held up by my father, to look through the glass panel of the door to see my mother with my newly born sister.
What do you most dislike about yourself?
My hot temper, my impatience, my attempt to make everything perfect – which is impossible to achieve and exhausting for everybody around me – and my tendency to gossip.
Who has been your greatest influence?
My family. I try to hold myself up to the high standards set by my mother, who inspires me personally and professionally. My family holds two traits in high regard: kindness and honesty.
What is your most treasured possession?
I have a clown painting, which hung in my mum's house and which I have always loved. On my 30th birthday she gave it to me. When my grandmother died my mum brought me the companion piece from my grandmother's house, so I now have two of them.
What trait do you most deplore in others?
Low standards, laziness, and those who find an excuse not to do anything.
What do you most dislike about your appearance?
I'm only 5ft 4in with size 6½ feet, which is large for my height. In my younger days I wore enormous heels to elongate my legs, but now I'm in my 40s, comfort triumphs over vanity.
What is your favourite book?
I always have a book in my handbag. I like anything by Daniel Woodrell and American fiction. I'm also partial to thrillers and detective fiction.
What is your favourite film?
With two young children it's currently The Lego Movie, but given a choice I would watch American Hustle.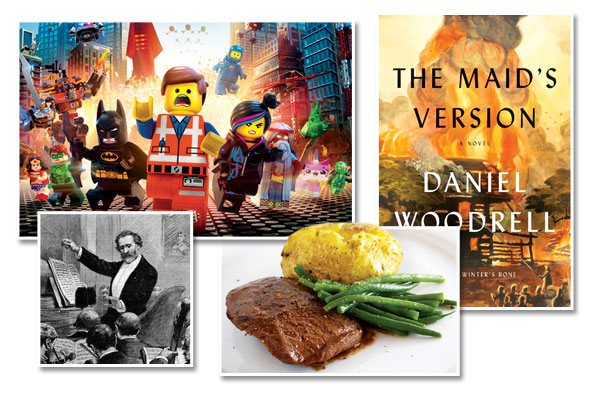 And your favourite record or piece of music?
La Traviata – anything by Verdi. I love most of the great opera singers and I think I can sing most of the great arias by heart.
What is your favourite meal?
I like to cook in the Mediterranean style I was taught by my mother and grandmother. But my favourite meal is the old classic: baked potato, fillet steak and green beans.
What is the nastiest thing someone has ever said to you?
I heard someone say, 'She's rich, why doesn't she have liposuction?'
What is your secret vice?

It's a secret!
Do you write thank-you notes?
No. There are so many ways to show gratitude that will fit with a busy and modern lifestyle. I'm much more likely to ping a text or an email.
Which phrase do you most overuse?
'Darling', 'Honestly', 'I mean…' or 'Mamma mia!'
What single thing would improve the quality of your life?
Teletransportation – I spend too much time on motorways.
Tell us something we don't know about you.
I'm not particularly keen on flying – I went to Disneyland and only went on one ride. I'm amazed by those brave enough to enjoy huge roller coasters!
What would you like your epitaph to read?
'She tried her best'.
The new series, Alex Polizzi: Chefs On Trial, is on BBC Two, Monday to Thursday at 8pm.