FIRST IMPRESSIONS: DONNY OSMOND
What are you working on?
The most important album of my career – my 60th album.
When are you at your happiest?
When I'm performing – that's when I'm at my happiest professionally. When I'm home with my wife, my children, my grandkids – that's when I'm the happiest in my personal life.
What is your greatest fear?
I don't fear too many things.
What is your earliest memory?
Performing on The Andy Williams Show.
What you do you most dislike about yourself?
I'm a workaholic.
Who has been your greatest influence?
Stevie Wonder, that's why it's so cool he's on my album. The first song I ever bought was My Cherie Amour. I asked my mum to go to the store with me.
What is your most treasured possession?
The coat from Joseph And The Amazing Technicolor Dreamcoat. I had fi nished my six-year run and Andrew Lloyd Webber asked me to be in the fi lm. Before the last scene I turned to my dresser and said, 'Here's the keys to my car. In the trunk, you're going to find two suitcases. I want you to pack the coat, armour, loincloth, shoes, wig, everything, as soon as I'm finished – because I'm stealing them.'
What trait do you most deplore in others?
Complacency.
What do you most dislike about your appearance?
My smile.
What is your favourite book?
Unbroken by Laura Hillenbrand.
What is your favourite film?
The Fugitive.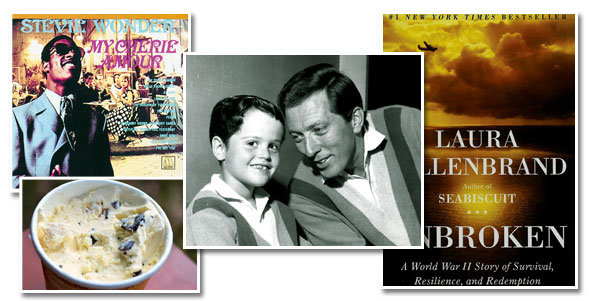 What is your favourite record?
The latest Donny Osmond album! It sounds so self-serving but when I listen to the songs it just evokes all these memories. It's the song book of my life.
What is your favourite meal?
The chicken enchiladas my wife makes.
Who would you most like to come to dinner?
I would love to have dinner with my dad. At the end of his life he started telling me stories I'd never heard before. He knew the guys from the Rat Pack really well. But he had an altercation one night with Frank Sinatra. Frank apologised by giving him $1,000 cash. We needed new outfits for the show so he indirectly paid for them.
What is the nastiest thing anyone has said to you?
As a teenager, I was on the cover of Rolling Stone magazine. Shortly after that, some idiot writer said the worst day in rock-and-roll history was the day Donny Osmond was born.
Do you believe in aliens?
I do. I would love to be the first person to sing on a spaceship. When Neil Armstrong landed on the moon with Buzz Aldrin, I walked outside, looked up at the moon and said I want to be the first singer on the moon. Buzz Aldrin told me years later that on one of the missions they took a tape of music including a track by Andy Williams, which I sang backing on. They left that tape on the moon so my voice is there.
What is your secret vice?
Häagen-Dazs chocolate chip ice cream.
Do you write thank-you notes?
No. Everything is done by email.
Which phrase do you most overuse?
'Alright'. I do it all the time, in a British accent.
What would improve the quality of your life?
Not a thing.
Can you tell us one thing people might not know about you?
The Teenage Mutant Ninja Turtle Donatello is named after me. His colour is purple and that was my colour back in the 1970s. I found out that the creator is a huge Osmonds fan.
What would you like your epitaph to read?
He did it all.
Donny Osmond's new album Soundtrack Of My Life is out now on Decca Records.