FIRST IMPRESSIONS: GYLES BRANDRETH
What are you working on at the moment?
On radio, the Radio 4 word game, Wordaholics. On TV I am travelling the country as a reporter for The One Show. I am also on the road promoting two new books. One is my political diaries, Breaking The Code, about my life as a Government Whip. The other is Novelty Knits, a collection of fun knitting patterns inspired by the knitwear I used to wear on TV 30 years ago – retro knitwear is making a comeback! I have done the knitting book with my daughter, Saethryd.
When were you at your happiest?
This morning when I saw all six of my grandchildren at the same time and at the same moment they were all laughing. Who could ask for anything more?
What is your greatest fear?
Having nothing to do.
What is your earliest memory?
The hot sand between my toes on the beach at Broadstairs in Kent. From the time when I was a toddler that's where we always went for our family holidays. I have just been back there with Len Goodman for his BBC holiday programme and it brought it all back to me.
What do you most dislike about yourself?
In my head, I am still 18. In the mirror, I look like Victor Meldrew on an off day.
Who has been your greatest influence?
My wife, Michele. We met at university 46 years ago. She has beauty, integrity, intelligence and a wonderful sense of humour – she needs that to endure life with me. When in doubt, I try to do what I think she'd do.
What is your most treasured possession?
We're trying to get rid of things. My wife keeps reminding me that possessions aren't important. That said, I am rather fond of my woolly jumpers.
What trait do you most deplore in others?
Laziness.
What do you most dislike about your appearance?
When I had hair, I took it for granted. Now I don't have any, I really miss it.
What is your favourite book?
The Old Wives' Tale by Arnold Bennett.
What is your favourite film?
All About Eve.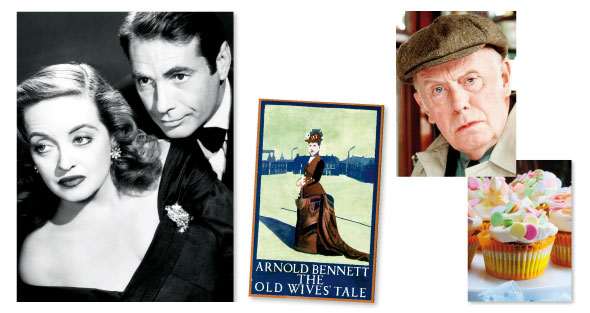 And your favourite piece of music?
The hymn, Dear Lord And Father Of Mankind.
What is your favourite meal?
Brown bread, butter and fish fingers.
Who would you most like to come to dinner?
Oscar Wilde and Arthur Conan Doyle – not that I'd give them fish fingers. Wilde and Conan Doyle met over dinner in 1889 and that meeting gave me the idea to write a series of Victorian murdermysteries featuring Oscar and Arthur as my Sherlock Holmes and Dr Watson. The most recent is Oscar Wilde And The Murders At Reading Gaol and I am about to start writing the seventh in the series. I love a cosy murder.
What is the nastiest thing anyone has said to you?
You have to let go of everything that's nasty.
Do you believe in aliens?
Have you met my children?
What is your secret vice?
Cupcakes.
Do you write thank-you notes?
Thanks for asking. Yes.
Which phrase do you most overuse?
Well done.
What single thing would improve the quality of your life?
I'm so lucky I don't think I could ask for anything more.
Tell us one thing people might not know about you.
I am on Twitter @GylesB1, although apparently I don't look like a Twitter sort of person. And I'm the person who had the idea of putting interesting art on the empty plinth in Trafalgar Square.
What would you like your epitaph to read?
'He meant well'.
Gyles Brandreth will be appearing on Holiday Of My Lifetime, which starts on BBC One on 20 October. Breaking The Code: Westminster Diaries (Biteback Publishing, £17); Novelty Knits: 35 Fun & Fabulous Jumper Designs (Kyle Books, £15.99).