FIRST IMPRESSIONS: JANE GREEN
What are you working on at the moment?
I am in that delicious period where the first draft of the new book has been handed in, and while I know huge edits are coming, right now I have nothing whatsoever to do. This is my holiday.
When were you at your happiest?
We rented a house for five years before building this one, and I have to confess that it was the happiest house I have ever lived in, partly because, I'm sure, none of the responsibility was ours.
What is your greatest fear?
Cancer. Until I was diagnosed with it this summer and found that nothing is ever as frightening when it is real. Post-treatment, I am now, happily, cancer-free.
What is your earliest memory?
I have a memory of my brother being bathed in the bathroom sink, which would have made me two years old, but it is entirely possible I have brought a photo to life.
What do you most dislike about yourself?
I have a tendency to be self-absorbed, which is not something I am proud of. Because I am aware of it, I try to have a daily reprieve.
Who has been your greatest influence?
My husband. He has brought out my best qualities, and absolutely made me a better person.
What is your most treasured possession?
A beautiful antique necklace and matching earrings that belonged to my husband's greatgreat- grandmother, given to me in lieu of an engagement ring. The history makes them special.
What trait do you most deplore in others?
Rudeness.
What do you most dislike about your appearance?
My feet. I have always wanted bony, dainty feet rather than my own.
What is your favourite book?
Brother Of The More Famous Jack by Barbara Trapido.
What is your favourite film?
Truly Madly Deeply.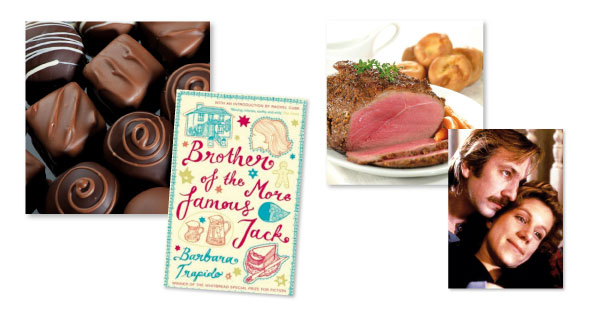 And your favourite piece of music?
Anything from the 1970s.
What is your favourite meal?
Roast beef with Yorkshire puddings.
Who would you most like to come to dinner?
Stephen Fry: he is the loveliest guest in the world – huge fun, and completely brilliant, with that beautiful gift of always making you feel equally brilliant, even when – ahem – you clearly aren't.
What is the nastiest thing anyone has said to you?
David Sexton [a journalist] wrote that he confused me with a Teletubby. It was as ridiculous then as it is now, and yet of course, as a woman, any comment directed at weight, sticks.
Do you believe in aliens?
I do. I also genuinely worry about alien abductions. For this reason I will never own a farm in the Midwest.
What is your secret vice?
Eating of chocolate and all things sugary late at night, while standing in the pantry when the rest of the house has gone to bed. For this reason, I have had to cut chocolate and all things sugary out of my life (but I have never looked like a Teletubby).
Do you write thank-you notes?
Yes. On fantastically thick and gorgeous note cards.
Which phrase do you most overuse?
Not phrases, words: lovely, gorgeous, ghastly.
What single thing would improve the quality of your life?
A heated driveway. The winters in Connecticut are brutal, and digging yourself out of snow every single day is exhausting.
Tell us one thing that people might not know about you.
I am deeply introverted. Although I love being with people, I can only manage very small doses before having to retreat to my quiet cave by myself.
What would you like your epitaph to read?
'The End'.
Saving Grace by Jane Green (Macmillan, £13.99).