Ford Bullitt Launch in the South of France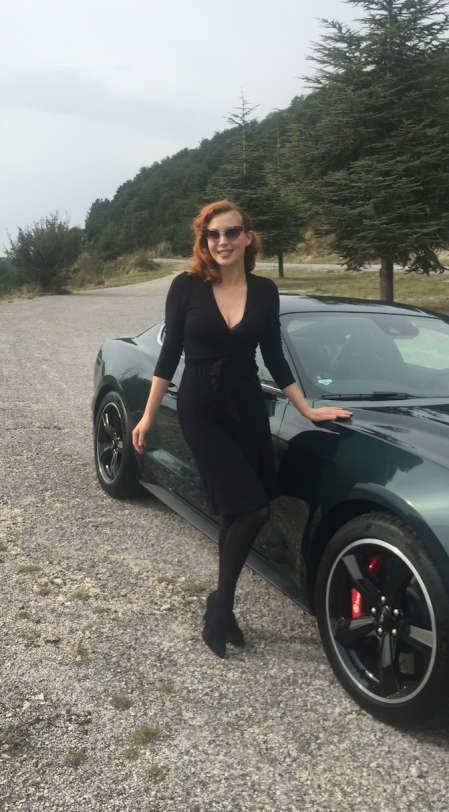 If you're a fan of vintage films, you will know there is often a running theme. A fast fabulous car and a thriller storyline with a dash of romance thrown in for good measure! In 1968, a certain Ford blazed its way onto the silver screen. That car was the Mustang GT Fastback and the movie was Bullitt. And as a star was born, history was made. I was delighted to be invited to the South of France to celebrate the launch of their new Ford Mustang, aptly named Bullitt, for a 50th-anniversary revival.
There is nothing quite like the light in the South of France. A favourite of artists, filmmakers and the Hollywood elite it is a great place for driving and the perfect place to try out the new Ford Mustang. My journey started in Nice and I drove up to the winding mountains, admiring a great view overlooking the Cote D'Azur. The Mustang Bullitt is a car that needs minimum effort for maximum speed so it is best to be gentle with it unless you want to go super fast! Now of course, there are many new additions to the new Mustang, acceleration, power and bigger throttle bodies being one of them. But to be honest I just cared about it's aesthetic! Shining in a highland green colour it is a classic vintage style and perfect for donning your favourite headscarf with some oversized shades for some serious Instagram worthy pictures! It definitely has personality and we had quite a few stares from the locals.
We stopped for a spot of lunch at the Grand Hotel Bain in Comps-Sur-Artuby- a very quaint, very French village tucked away in the mountains, and slowly I ate my body weight in quiche and crusty bread (how could I resist?) Then it was on to the coast which we drove along the sea edge, taking in all the scenery. We visited Cannes, Juan Les Pins and then finished at Cap D'Antibes Hotel which has its own private beach and where I would be staying for the evening.
My room had a chic fresh look with a dash of 60's style, which kept with the running vintage theme and the balcony overlooked orchards and the harbour. On one side there were yachts galore and on the other, a quiet beach with deck chairs just asking to sit on and drink a cocktail. Downstairs, the restaurant was laid out to showcase a very special Ford dinner which was all fish dishes- heaven!
It was relaxing to sit and chat with others on their experience of driving the new Mustang and find out their interesting spots that they had passed along the way. It definitely never gets boring being in the South of France, and although the film Bullitt is 50 years old, I never tire of a classic car either!
Submitted by

avogel

on 30 October, 2018 - 08:59