Get the 1940s look as seen in ITV's The Halcyon
2017 is promising to be a great year for film and television especially if you love a period drama. Recently ITV launched a new series,
The Halcyon
, set in wartime London in the early 1940s. So far, we have seen how lives are impacted at all social levels by relationships, politics and of course, the onset of war. But for some of us, the most exciting part has been the fashion; every female character has worn beautiful designs from the era layered with stunning jewellery and accessories.
Anna Robbins, responsible for some of Downton Abbey's costumes is the lady behind this, having researched everywhere from the V&A to visiting London's vintage fairs.
What we love is how each character's style differs meaning that there is a look for all of us to drool over. But you don't have to trawl the French flea markets to get the look, as we have chosen our favourites which can all be bought online.
Betsy Day is the glamourous, in house singer who we often see in jaw dropping, original gowns that most of us don't have the opportunity to wear. However, when not on stage this character wears coordinates with classic 1940s details such as a nipped in waist and accentuated shoulders. They often are in fun colourful prints, showing the bubbly side of her personality.
Get Betsy's day look by choosing a tea dress with a floral pattern on like this
Crimson Dream dress
, influenced by the wartime styles worn by pinups such as Betty Grable and Rita Hayworth. Team with Bakelite jewellery and a low heeled shoe like the
Balboa
from Remix at Retro Revival.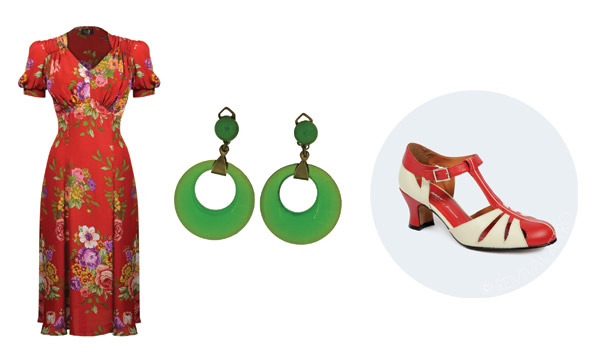 Emma Garland is the receptionist so spends much of her time in uniform. This however, is a classic 1940s suit, elegantly tailored with a wonderful silhouette. Outside of work she would have worn a classic shirt-waister dress which is the epitome of wartime styling as it is both practical and demure.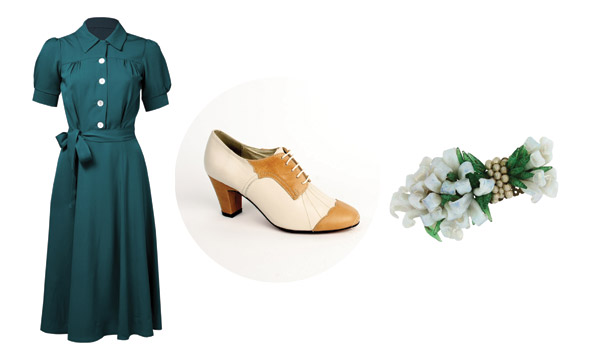 Lady Hamilton is the wealthy hotel owner, so wears luxurious designs which would have been high fashion at the time. Be it a bias-cut silk evening dress, or a suit with a coordinated coat slung over both shoulders, she oozes class. Her jewellery is expensive and on show – one feels she would never leave the hotel without a hair out of place.
Get the matriarch's look by choosing a wiggle dress, a fitted style to show off your shape and flatter at the same time. This black Victory dress by
The House of Foxy
, has high fashion details from the time such as the sweetheart neckline; supremely flattering for those with a bust and will create volume for those who don't. Wear with a contrasting coloured coat with vintage jewellery such as these Trifari gold vermeil, glass and rhinestone earrings and eye catching shoes.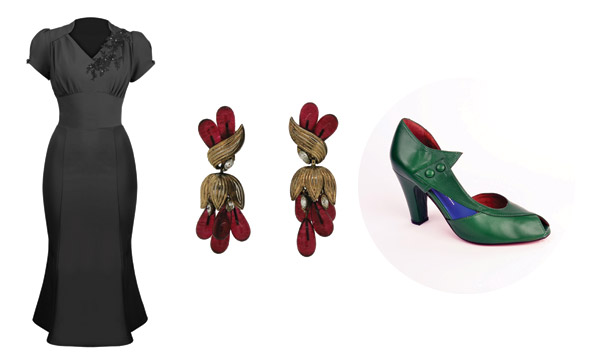 Finally, Charity Lambert, Lord Hamilton's mistress, who also is fashionable but in a younger, more fun way. She too wears brooches, matching hats, and suits with stylish, pussy bow blouses – a look that we could easily wear to the office today.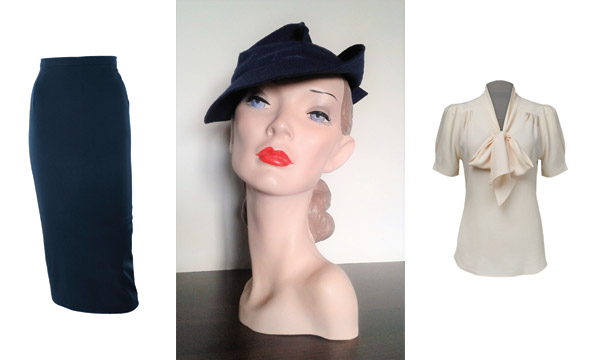 All clothing is by
The House of Foxy
, jewellery by
Gemma Redmond Vintage
, hat by
The Little Shop of Gorgeousness and Fripperies
and shoes by Remix at
Revival Retro
.