Get your holiday booked
Catch up on your classics
A selection of big books everyone else has read
One of the great pleasures of any summer holiday is finally having the time to read. But what happens if your last-minute panic buys prove a literary letdown? This year, protect yourself against disappointment – ignore the hype and only pack those authors you want to spend time with.
Catch up on neglected classics and re-visit guilty pleasures. Thanks to Kindle-style wizardry you can still travel light. The novels here have been chosen for readability, fabulous characters, wit and insight. Hop on to the hammock and enjoy...
Emma by Jane Austen (Wordsworth Classics, £1.99)
Austen's most perfectly plotted romance starring a heroine whom even the author admitted '...no one but myself will much like'. Lessons in love for picky daters. If you've read this, try: Northanger Abbey
Jane Eyre by Charlotte Brontë (Wordsworth Classics, £1.99)
Plain Jane gets her man in one of the most compelling love stories ever written. Go weak at the knees for anti-hero Mr Rochester . The perils of fancying the boss. If you've read this, try: Villette
Anna Karenina by Leo Tolstoy (Penguin Classics, £9.99)
Romance on a Russian scale: the ultimate portrayal of a married woman's love for a younger man. What you get: notes for the 'cougar' readership. If you've read this, try: War And Peace
Madame Bovary by Gustave Flaubert (Penguin Classics, £8.99)
Prosecuted for obscenity, Flaubert's real crime was to show a wife driven to adultery and frothy lingerie by the frustrations of bourgeois married life. The original sex 'n' shopping novel. If you've read this, try: A Sentimental Education
THE HOUSE OF MIRTH by Edith Wharton (Vintage Classics, £7.99)
Is Lily Bart a victim of circumstance or an agent of her own destruction? Wharton exposes the dark side of New York high society in this timeless analysis of a woman's lot. What happens when your credit card 'maxes out' out in NYC. If you've read this, try: Ethan Frome
THE GREAT GATSBY by F Scott Fitzgerald (Penguin Modern Classics, £5.19)
Set in the jazz age, this dreamy novelette relates the tragic history of Jay Gatsby's passion for Southern belle, Daisy Buchanan. One of the most celebrated novels in the American canon. Class, cocktails and crazy-coloured suits. Will enable you to join in dinnerparty conversations about 'Gatz' in a knowledgeable way. If you've read this, try: Babylon Revisited: And Other Stories
TO THE LIGHTHOUSE by Virginia Woolf (Wordsworth Classics, £1.99)
A novel about a summer holiday – but not as it has been done before. Family dynamics take a modernist turn on a Scottish isle. Family procrastination and the definitive recipe for Boeuf en Daube. If you've read this, try: Orlando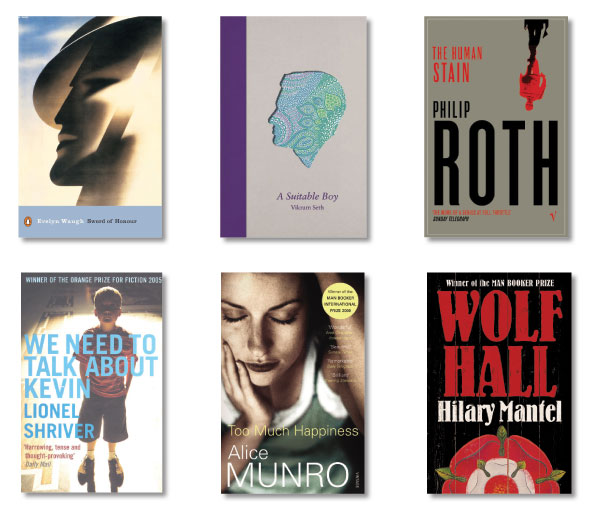 THE PURSUIT OF LOVE by Nancy Mitford (Penguin, £8.99)
Inspired by the author's own family, this inter-war satire of upper-class life sparkles with peerless jokes and acerbic insight. Missing Downton Abbey? This is the real thing. If you've read this, try: The Blessing
GONE WITH THE WIND by Margaret Mitchell (Pan, £8.99)
Scarlett O'Hara sashays her way through the American Civil War and several husbands. Best accompanied by a tray of mint juleps. If you've read this, try: Lost Laysen
THE SWORD OF HONOUR TRILOGY by Evelyn Waugh (Penguin Classics, £14.99)
This trilogy of novels spanning the Second World War is Waugh's masterpiece: comedy, irony and tragedy. Look high-brow by the poolside. If you've read this, try: A Handful Of Dust
A SUITABLE BOY by Vikram Seth (Phoenix, £10.99)
Lata has to choose between a bevy of suitors, but which one will she pick? Seth takes us on a mesmeric tour of 1950s India. One for the Kindle: weighing in at 1,504 pages. If you've read this, try: The Golden Gate
THE HUMAN STAIN by Philip Roth (Vintage, £8.99)
Roth's excoriating examination of life in the Clinton-Lewinksy era. Everything you need to know about middle-aged men, and much that you don't. If you've read this, try: American Pastoral
WE NEED TO TALK ABOUT KEVIN by Lionel Shriver (Serpent's Tail Classics, £7.99)
How does it feel to raise a killer? Time to catch up on this important book about the darker side of motherhood. Essential reading for the Yummy Mummy brigade. If you've read this, try: The Post- Birthday World
TOO MUCH HAPPINESS by Alice Munro (Vintage, £8.99)
Munro's unadorned stories of small-town life have earned her comparisons to Chekhov. Prose as clear as a Canadian lake. For those in need of nourishment: the literary version of chicken soup. If you've read this, try: Lives Of Girls And Women
WOLF HALL by Hilary Mantel (Fourth Estate, £9.99)
This 2009 Booker winner gets inside the head of Tudor statesman Thomas Cromwell. Watch Henry VIII's marital dramas unfold before his all-seeing eyes and leave it wanting more. How to get divorced without losing your head. If you've read this, try: A Place Of Greater Safety
---
Books about holidays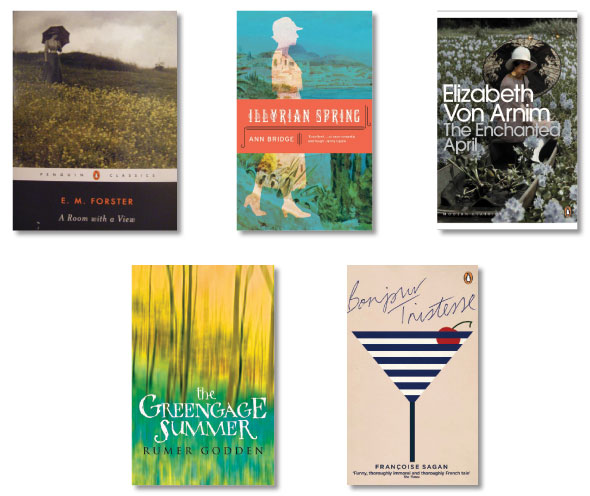 A ROOM WITH A VIEW by EM Forster (Penguin Classics, £8.99)
Edwardian inhibitions melt under a Tuscan sun. Cue sweet amore in a field of violets.
ILLYRIAN SPRING by Ann Bridge (Daunt Books, £9.99)
A woman of a 'dangerous age' escapes on the Orient-Express leaving her husband and children behind. En route to the Dalmatian coast she meets an artistic younger man.
THE ENCHANTED APRIL by Elizabeth von Arnim (Macmillan Readers, £4.70)
A recipe for happiness: four women, one medieval castello, riotous wisteria, and a room of one's own.
THE GREENGAGE SUMMER by Rumer Godden (Pan, £6.99)
A young schoolgirl holidaying in France falls in love with a mysterious older man. Plus ça change.
BONJOUR TRISTESSE BY FRANÇOISE SAGAN (Penguin Classics, £5.99)
The south of France at its most insouciant – not only are the teenagers frisky, but the adults are too. As the young narrator puts it: 'Fidelity is arbitrary and sterile.'
---
Period pieces
THE WEATHER IN THE STREETS by Rosamond Lehmann (Virago, £9.99)
Groundbreaking in its day, this elegant novel traces the consequences of a woman's clandestine affair with a married friend.
EXCELLENT WOMEN by Barbara Pym (Virago, £8.99)
Post-war London might be drab, but Pym's inimitable heroines do their best to cheer things up.
THE TALENTED MR RIPLEY by Patricia Highsmith (Vintage, £7.99)
Steely storytelling that will keep you on the edge of your seat.
A SEVERED HEAD by Iris Murdoch (Vintage, £8.99)
Murdoch's fiction is every bit as riveting as you remember.
THE CAZALET CHRONICLES (four volumes) by Elizabeth Jane Howard (Pan series, various prices)
This wartime saga about a Sussex family could sustain you for the entire holidays.Intelligent easy reading
---
Intelligent easy ready
THE INNOCENTS by Francesca Segal (Chatto & Windus, £14.99)
Edith Wharton's The Age Of Innocence is transferred to present-day Jewish north London. Laugh-out-loud comedy as a compliant son goes rogue before his wedding day.
OTHER PEOPLE'S MONEY by Justin Cartwright (Bloomsbury, £7.99)
A deeply satisfying tale of unpleasant financiers and trophy wives. Cartwright's gem of a novel counts the cost of being human.
MARRIED LOVE by Tessa Hadley (Jonathan Cape, £14.99)
A classy collection of short stories exposing the stresses of middleclass life. Join in the fun as grannies and toddlers let rip.
YOU by Joanna Briscoe (Bloomsbury, £11.99)
A gripping West Country drama of mothers and daughters, missing babies and illicit affairs. A novel that lures you into its world and won't let you go.
DAUGHTERS by Elizabeth Buchan (Michael Joseph, £6.99)
All mothers want to see their daughters happy, but what happens if they decide to marry the wrong man? Another winner from the queen of the domestic drama.
EVERY CONTACT LEAVES A TRACE by Elanor Dymott (Jonathan Cape, £12.99)
From the Tartt school of campus whodunnits, an Oxford graduate faces up to her misspent student past.
BEASTLY THINGS by Donna Leon (William Heinemann, £17.99)
The latest understated crime novel from the mistress of La Serenissima. The stink of canal water rises from the page.
THE UNCOMMON READER by Alan Bennett (Faber & Faber, £6.99)
When the Queen accidentally comes across a mobile library parked by the Buck House kitchens she becomes an avid reader. Bennett's hilarious tale traces the havoc caused by HM's belated discovery of literature.
THE SONG OF ACHILLES by Madeline Miller (Bloomsbury, £7.99)
Eros takes centre stage as Greek heroes Achilles and Patroclus get sexy in Madeline Miller's prize-winning re-telling of the Trojan War.
---
Best new fiction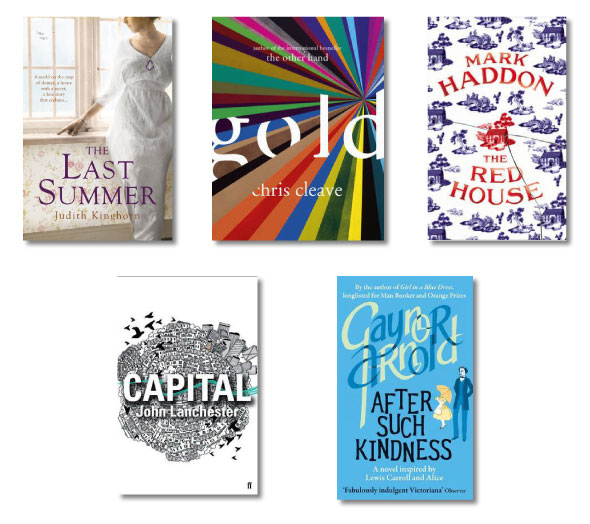 THE LAST SUMMER by Judith Kinghorn (Headline, £7.99)
The year is 1914 and love and war are about to transform privileged 16-year-old Clarissa's charmed existence forever. This sumptuous romance is made for fans of Downton.
GOLD by Chris Cleave (Sceptre, £16.99)
With the Olympics almost upon us, this compulsive and emotive tale of women's sprint cycling can't fail to hit the spot.
THE RED HOUSE by Mark Haddon (Jonathan Cape, £16.99)
When hospital consultant Richard decides to invite his estranged sister and her family on holiday, the stage is set for an eventful week. From the bestselling author of A Spot Of Bother.
CAPITAL by John Lanchester (Faber, £17.99)
Centring on a single London street, this multi-stranded, postcrash novel of life in the capital proves John Lanchester to be a superbly entertaining storyteller.
AFTER SUCH KINDNESS by Gaynor Arnold (Tindal Street Press, £12.99)
Gaynor Arnold was Booker nominated for Girl In A Blue Dress, based on Charles Dickens's marriage. In this novel, her subjects are Lewis Carroll and the original Alice in Wonderland, Alice Liddell.
SCENES FROM EARLY LIFE by Philip Hensher (Fourth Estate, £18.99)
Philip Hensher here draws not on his own history but that of his husband, Zaved Mahmood, to create a vivid, beguiling comingof- age tale set in 1970s Bangladesh.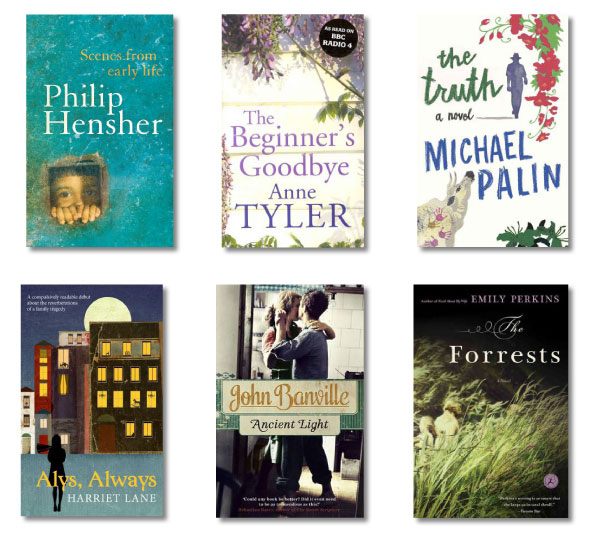 THE BEGINNER'S GOODBYE by Anne Tyler (Chatto & Windus, £16.99)
Anne Tyler's latest begins with the return of Aaron Woolcott's wife from the dead. A slight but clearsighted and touching novella.
THE TRUTH by Michael Palin (Weidenfeld & Nicolson, £18.99)
Michael Palin's second novel centres on writer Keith Mabbut. Asked to pen an account of Hamish Melville, activist and humanitarian, Mabbut heads off to India in pursuit. But how to know what is really true about his elusive subject?
ALYS, ALWAYS by Harriet Lane (Weidenfeld & Nicolson, £12.99)
A car crash, a dying woman and another desperate to escape her humdrum existence – ingredients for a gripping, unsettling debut that has earned high praise from authors, including our own Rachel Johnson.
ANCIENT LIGHT by John Banville (Viking, £16.99)
The language is the star in this beautifully-written, enigmatic novel from a former Booker-prize winner, narrated by an ageing actor.
THE FORRESTS by Emily Perkins (Bloomsbury Circus, £12.99)
This extraordinary New Zealandbased tale of love and loss, centred on the Forrest family, is like a cross between Virginia Woolf and Jonathan Franzen.
---
Stephanie Cross on the unmissable new titles for summer...
New non-fiction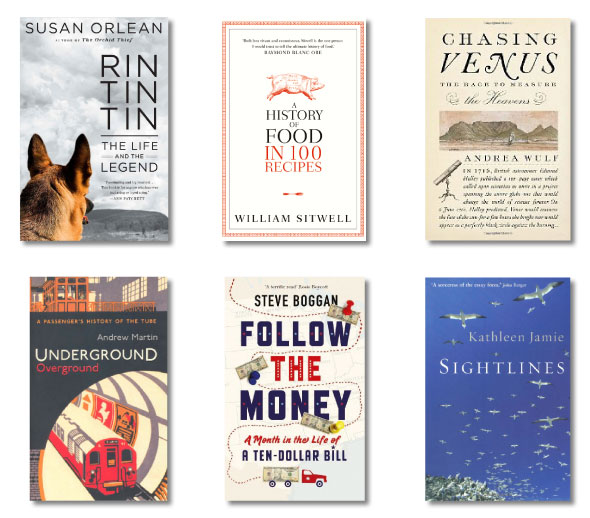 RIN TIN TIN: The Life And legend Of The World's Most Famous Dog by Susan Orlean (Atlantic, £16.99)
Before Lassie and Uggie, Hollywood's biggest bow-wow was Rin Tin Tin. In the 1920s the German Shepherd was earning over $1,000 a week.
A HISTORY OF FOOD IN 100 RECIPES by William Sitwell (Collins, £20)
With recipes from ancient Egypt, the Bible, and 'the greatest party planner of the Middle Ages', this is a mouthwatering alternative history.
CHASING VENUS: THE RACE TO MEASURE THE HEAVENS by Andrea Wulf (William Heinemann, £18.99)
The 2012 transit of Venus caused mild excitement, but in the 18th century the race to witness this spectacle couldn't have been more dramatic. Andrea Wulf's gripping account reads like a thriller.
UNDERGROUND, OVERGROUND: A PASSENGER'S HISTORY OF THE TUBE by Andrew Martin (Profile, £14.99)
Tube aficionado Andrew Martin goes underground to chart the history of the network.
FOLLOW THE MONEY: A MONTH IN THE LIFE OF A TEN-DOLLAR BILL by Steve Boggan (Union Books, £12.99)
In which English journalist Steve Boggan sets out across the States on the trail of a 10-dollar bill. Great fun.
SIGHTLINES by Kathleen Jamie (Sort of Books, £8.99)
Kathleen Jamie is an acclaimed poetess and nature writer. In this outstanding collection of essays, she turns her acute gaze on subjects ranging from killer whales to cancer cells.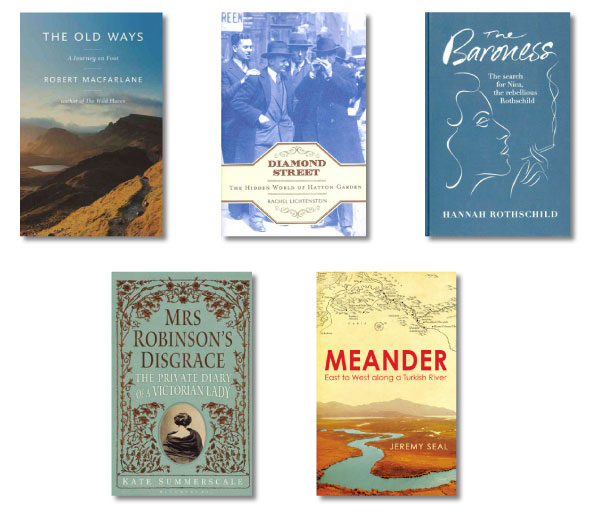 THE OLD WAYS: A JOURNEY ON FOOT by Robert Macfarlane (Hamish Hamilton, £20)
This magnificent meditation on wayfaring extends to ancient sailing routes as well. Eyeopening and inspiring.
DIAMOND STREET: THE HIDDEN WORLD OF HATTON GARDEN by Rachel Lichtenstein (Hamish Hamilton, £20)
This book brings together the history of Hatton Garden with the testimonies of those who have worked there.
THE BARONESS: THE SEARCH FOR NICA THE REBELLIOUS ROTHSCHILD by Hannah Rothschild (Virago, £20)
How Hannah Rothschild's great-aunt became captivated by the troubled American jazz genius Thelonious Monk.
MRS ROBINSON'S DISGRACE: THE PRIVATE DIARY OF A VICTORIAN LADY by Kate Summerscale (Bloomsbury, £16.99)
A scandalous Victorian divorce provides courtroom drama and rich subject matter for the prize-winning author.
MEANDER: EAST TO WEST ALONG A TURKISH RIVER by Jeremy Seal (Chatto & Windus, £16.99)
Turkey's Meander valley is on the historic borders of Asia and Europe, but Jeremy Seal was unable to find any accounts of journeys along its river. So he set out in his one-man canoe...
---
LITTLE READERS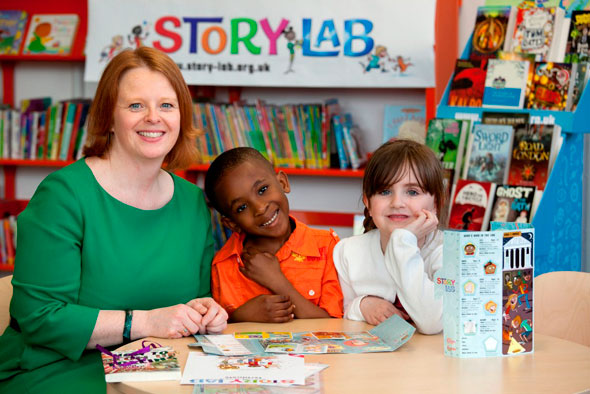 If you want to inspire your kids to pick up a book this summer, The Reading Agency's Olympic-themed 'Story Lab' Summer Reading Challenge could be just the thing. Designed for children aged four-11, it's run in 97% of UK public libraries and challenges youngsters to read six or more books over the course of the holidays.
Visit www.story-lab.org.uk
---
Raise a glass to charitable reading
Edwina Langley on an Oxfam initiative that allows you to drink, read and give to charity, all at the same time
Oxfam's decision to launch pop-up shops at various festival sites over the summer, thus providing changes of clothing for those covered in mud or worse, is inspired. A brilliant conjunction of a cash-strapped, captive audience of vintage-fashion lovers desperately in need of new, dry threads, and racks of appropriate merchandise. Indeed, Oxfam must have been one of the few retailers rubbing its hands in glee about the rain this year.
And it might have struck gold again. The Oxfam festival initiative is now echoed in its chain of second-hand bookshops. Together with Lindeman's, one of the oldest Australian wine brands established in 1843, Oxfam is holding book and wine evenings at venues across the country – the thinking behind it being, not inaccurately, that where book-lovers gather, wine must surely follow.
Like the festival shops, it's all in aid of charity: you turn up at one of the scheduled events at Oxfam (see left for details), complete with a bag of unwanted (but also presentable) books for donation. Having bagged your glass of Shiraz, you're then free to circulate, seeking out other bookworms and having a good nose through the book offerings/ throw outs – and, hopefully, buying a few at the same time.
Lindeman's will match all proceeds made from book sales on the night and send them straight to Oxfam, so the whole experience, including the glass of wine, is not only good fun, but also entirely guilt free.
REGIONAL EVENTS
12 July, Sheffield 276 Glossop Road: 0114-249 4918
Exeter 98 South Street: 01392- 493433
13 July, Salisbury 10-14 Catherine Street: 01722- 340746
19 July, Tunbridge Wells 6 Chapel Place: 01892- 616269
2 August, Edinburgh 25 Raeburn Place, Stockbridge: 0131-332 9632
Nottingham 12 Central Avenue, West Bridgford: 0115-982 6951
For details: www.wineandbookclub.co.uk
---
YOU ONLY LIVE TWICE...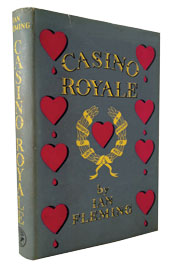 ...so why not splash out on this top piece of memorabilia. A rare 1953 UK first edition of Casino Royale, Ian Fleming's first James Bond novel, in custom-made box, that would have cost 10s 6d, is now expected to sell for £50,000.
For details: 020-7836 5596, www.vintageseekers.com