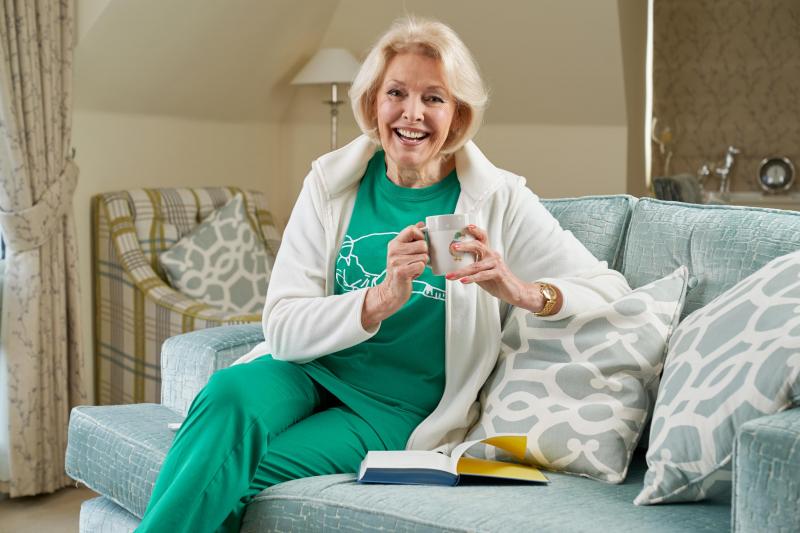 Fitness Queen, Diana Moran has teamed up with luxury retirement living provider Richmond Villages to choreograph a bespoke fitness class, designed exclusively to help residents' futureproof their health and wellbeing and staying active and mobile.
The former model and author shot to fame in the 1980swhen she inspired men and women across the country to 'wake up and shake up' on her daily workout slots on BBC1's Breakfast Time.
As she approaches her 80thbirthday in June this year, Moran is still passionate about the benefits of keeping active, and educating others on the benefits of doing so too. She is raising awareness of the importance of exercise in later life, and has collaborated with the team of fitness professionals at Richmond Villages to create a workout that can be incorporated into the daily routine.
Commenting, she said: "Who better to create an achievable fitness programme than somebody who is a similar age, I am only too aware of the limitations that can come into play later in life and have designed the 30 minute workout with all abilities in mind. For example, many of the exercises can be done sitting down for those who might find that easier. It's a mix of warm up, medium impact and stretching and cooling down, focusing on key areas such as joints at the knees and ankles plus strengthening the core and back muscles.
"I have been super impressed with how active the residents are here at Richmond Villages Witney, and across the Richmond network! People living here really are embracing this stage of their life and living it to the max. I always say age is just a number and the Richmond residents I've had the pleasure of meeting certainly echo my mantra."
The NHS advises people aged 60 and over get at least 2.5 hours of exercise every week, so The Richmond Routine has been specifically designed with this in mind to ensure that the community have the opportunity to enjoy 30 minutes of activity each week day in a way that really focuses on key parts of the body which will really benefit them in their senior years.
Commenting on delivering The Richmond Routine for the first time to residents at Richmond Villages Witney on Wednesday 1stMay, Diana says,"I believe that it's so important to stay active as we age, and as I turn 80 this year, creating a tailored fitness routine which is suitable for my body's needs is essential.
"It's been wonderful meeting the lovely residents here at Witney, the facilities here are fantastic and are perfect for helping them to stay active and healthy for longer. It's great to see that the villages have fitness suites and swimming pools for residents to enjoy."
CEO of Richmond Villages, Philippa Fieldhouse, adds:"It's known that we are all living longer than ever before. There are likely to be an additional 8.6 million people aged 65 years and over1by 2060– a population roughly the size of London – so it's essential that we provide the best quality retirement accommodation to care for this aging population. At Richmond, we are passionate about supporting residents to live longer, happier, healthier lives and that's why we offer premium accommodation, the best level of care, and state-of-the-art health and wellness facilities.
"We also know that having an active lifestyle can lead to a lower risk of heart disease, stroke, type 2 diabetes, some cancers, and even dementia, so our activity leads create a busy schedule of social activities at each Richmond Village so that residents have lots to do, can keep active and live their best lives at Richmond."
Richmond Villages offers a range of retirement accommodation tailored to the individual needs of each resident, including Apartments, Suites and care homes providing dementia, nursing and residential care. The luxury villages also boast onsite restaurants, bars and cafes, Wellness Spas with heated pools, fitness studios and beauty therapy rooms, plus extensive grounds and lounges for residents to enjoy.
For further information about Richmond Villages visit www.richmond-villages.com