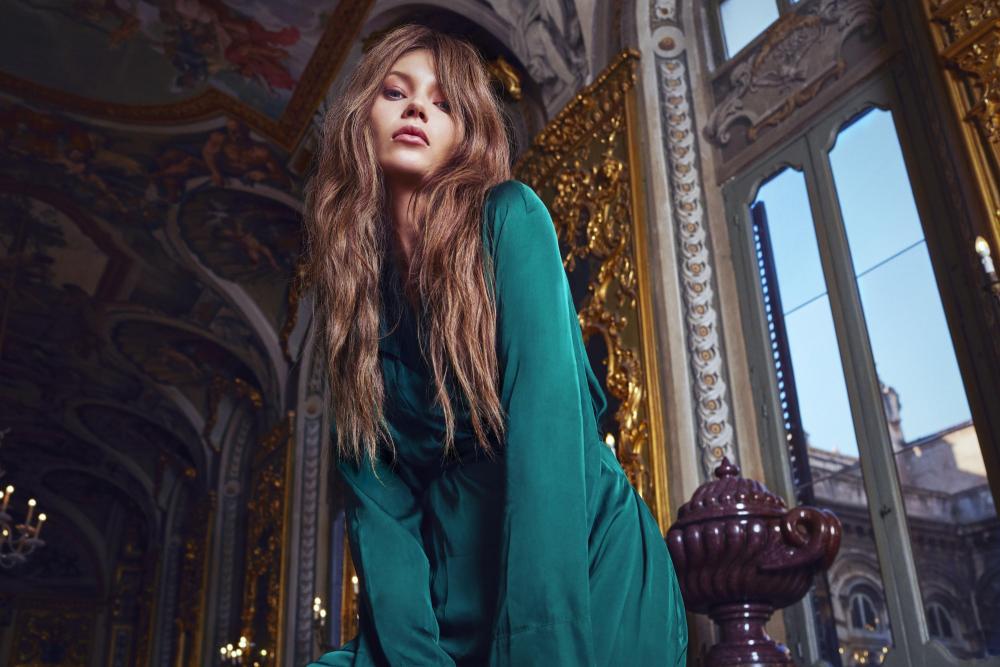 Hair – it can be the difference between a good and a bad day.
For many, it's also the difference between confidence and low self-esteem. Which is why we are prepared to spend thousands of pounds a year on making our manes look perfect.
To women with fine or thinning hair, having hair extensions is a beauty essential, indeed many of us can't feel our best selves without them. Luckily, hair extensions can be so well done now and of such good quality that they are undetectable. Whether you opt for bonds or tapes, it is possible to access the very best types of hair and professional application methods, for a price. If you want a full head of bonds or simply a few tapes to give some extra volume, extensions that are well-fitted and seamlessly unite with one's own hair can give us that longed for confidence boost, and you can keep them in for months at a time.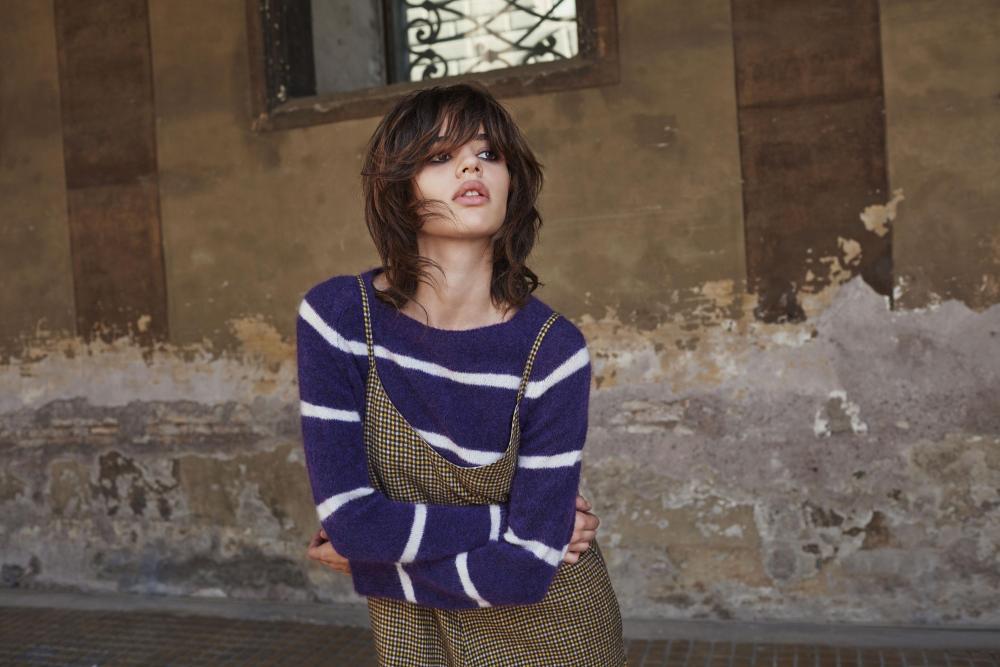 *It is extremely important to do your research and if you are considering having extensions, make a consultation appointment at a reputable salon to discuss the best method for your hair.
Some may balk at the price of professionally applied extensions, and as they can cost hundreds it's no surprise. However, it's worth going to the best for something as important as your hair. If you've made mistakes and wasted money with previous unprofessional hairdressers applying the wrong kind of extensions, in terms of the colour, quality, application, or the fact they are not blended properly, it would certainly be advisable to at least consult a trained hairdresser before embarking on another attempt. Trust me, I've made those mistakes myself!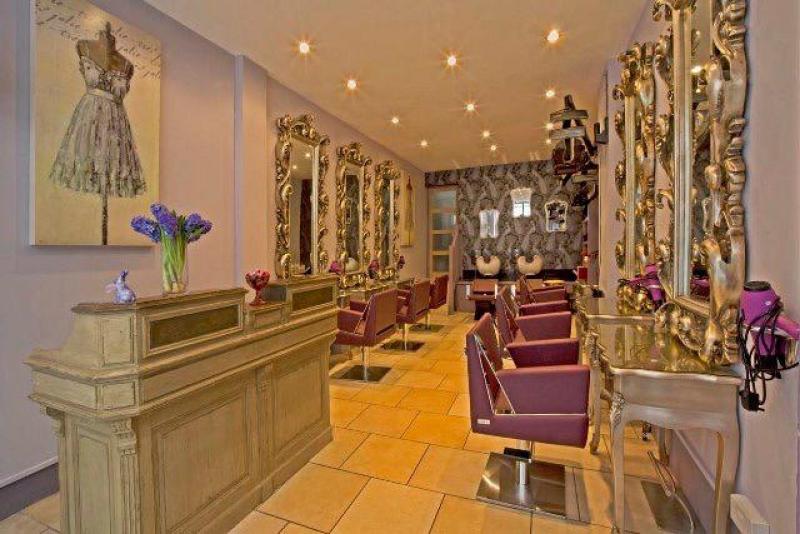 I was lucky enough to be invited by the award-winning Great Lengths to the lovely Signature salon in Norwich, on Bridewell Alley, to receive a complimentary full set of tape extensions by salon expert Ryan, who is specially trained by Great Lengths. At my consultation, Ryan told me about his training by Great Lengths and all about the brand's ethos; Great Lengths only use human hair that is ethically sourced through specific donation venues which are Indian temples, and where the money used to buy the hair goes directly back into the communities. Using ethically sourced hair and investing in the communities it buys from is a big tick in today's beauty industry.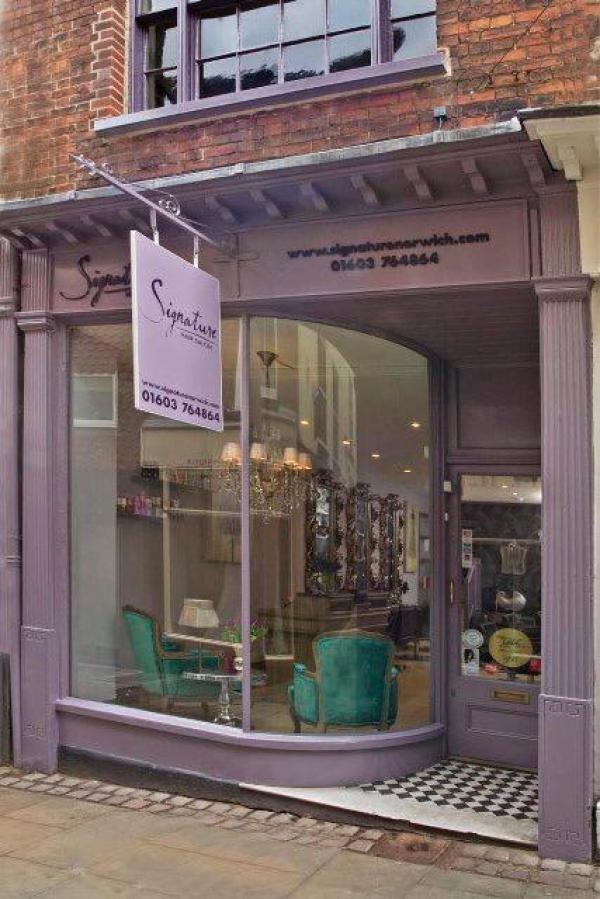 'Great Lengths was established over 25 years ago and the professional 100% human and 100% ethical extensions are now available across the world in over 60 countries. Priding themselves on quality, Great Lengths has a vast range of 80 shades, which have been expertly blended by hand, including 40 base shades, fashion colours, balayage and root stretch in both pre-bonded and award-winning GL Tapes. All Certified Great Lengths stylists are fully trained and certified to ensure the application and removal processes are kept to a high and consistent standard across all salons.'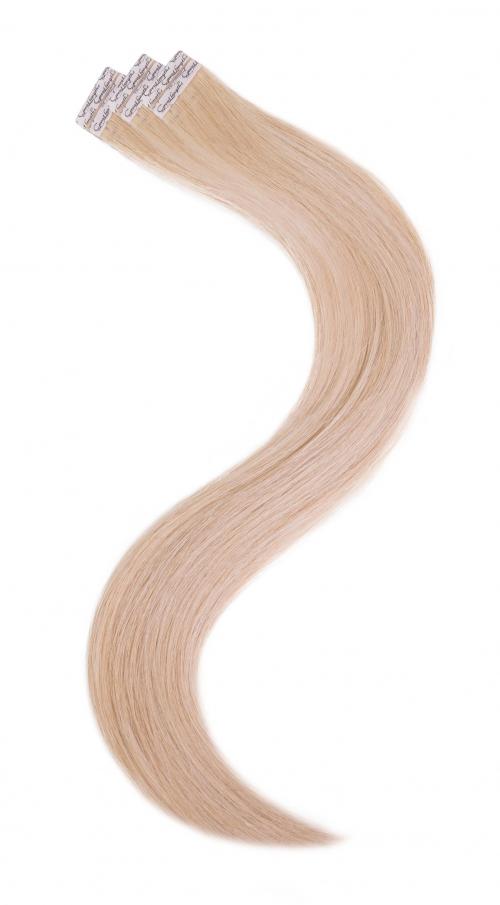 As well as being 100% ethically sourced, since 2015 Great Lengths have been the proud partners of The Little Princess Trust and have been encouraging their certified stylists and salons to donate their clients removed hair extensions to support their cause. The Little Princess Trust provides free real hair wigs to children and young people up to 24 years, who have lost their own hair through cancer treatment or other conditions. Great Lengths is the only dedicated charity to provide real hair wigs to boys and girls across the UK and Ireland free of charge. I will certainly be donating my hair to this wonderful cause when I've used it.
After my initial consultation and colour match I came back for my tapes to be fitted, the whole process took no more than an hour and a half and that included washing and trimming my hair. I had two shades of blonde in my hair and the application was completely comfortable. The adhesive is medical grade and hypoallergenic, non-toxic invisible tape. I have gone from thin, fine hair which I could do very little with, to having a wonderful full head of hair that I can swish and curl and play with at last! The lovely thing about tape extensions is you can't feel them at all and they don't damage your hair. I am now a convert and will continue to get mine re-done for the two or three re-fits Ryan suggests they'll last for. Tapes last for 6 to 8 weeks at a time, after which you should come back for a maintenance check and professional assessment, removal and re-tape.
Great Lengths supply a gorgeous little hessian bag with after-care pack, including Great Lengths shampoo, conditioner, water treatment spray (with container for spraying), deep conditioning treatment and a flathead soft bristle hairbrush, the nicest brush I've ever used and actually the only one my children will let me use on their hair too! Ryan is dedicated and professional and I felt very well looked after at Signature and I'm really looking forward to the rest of my Great Lengths journey.
Before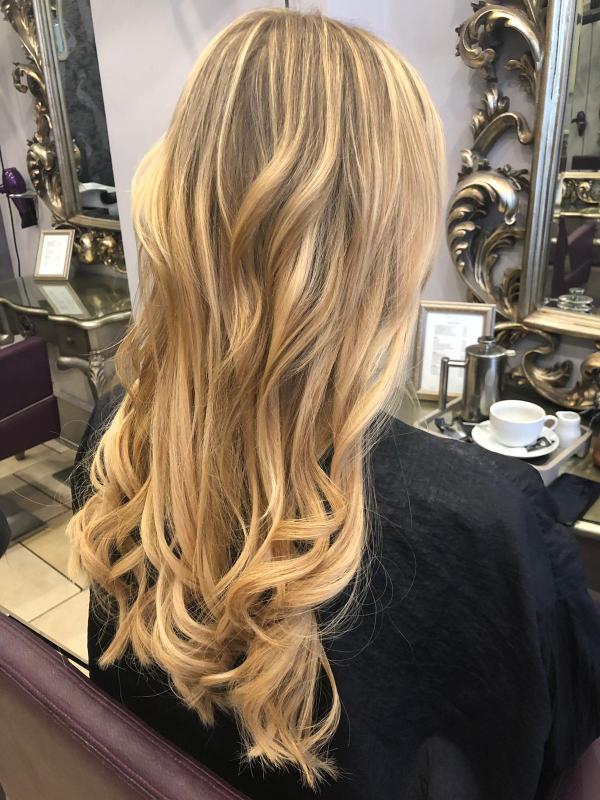 After
Q&A
What's better – bonds or tapes?
Either – however I opted for tapes as they lie flat on my head and are easy to get in and out, cause no damage to the hair and are undetectable.
How long does it take to have GL tapes put in?
With wash and trim it can be 45 mins – 90 mins.
Are they easy to manage?
Very. If you've not had extensions before my advice would be to go for tapes as they are easy to remove (ten – 30 mins) You can wash and style your hair as normal – just use a soft bristle GL brush and low heat dryer.
How long do GL tapes last?
You should get a maintenance check with a GL professional 6 – 8 weeks after application, when you will have them removed and re-taped. You can do this up to three times, depending on the condition of the hair.
Does it look fake?
Not at all. Great Lengths hair is all real, ethically sourced finest Indian hair. Great Lengths professionals are trained to apply the hair so that it blends perfectly with your own hair.
How much do they cost?
Prices vary from salon to salon and depending on what type and length and amount of extensions you are having. Ask your consultant for a quote at your consultation.
Verdict?
Absolutely amazing! Thank you so much Great Lengths and the lovely Ryan at Signature! I'm so excited to be on my Great Lengths journey!
To find a Great Lengths certified salon or stylist, please visit: http://www.greatlengthshair.co.uk/salon-locator/
http://www.greatlengthshair.co.uk/
https://www.littleprincesses.org.uk/