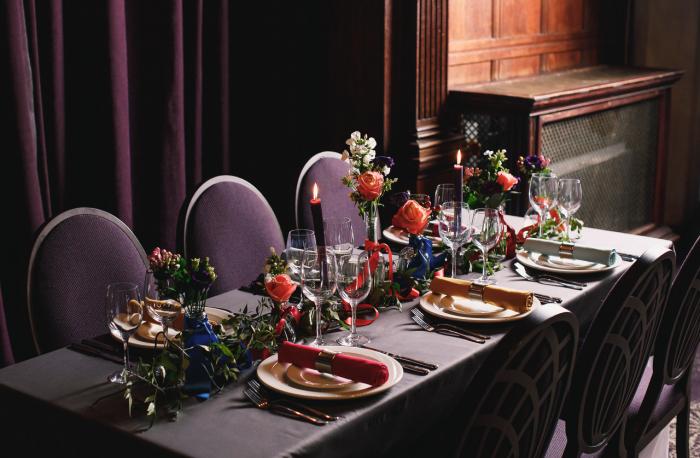 According to new research, the average UK wedding costs over £30,000, with a greater number of couples now paying for a large chunk of their own weddings than ever before. In spite of an uncertain economic outlook, people are still planning amazing wedding celebrations and displaying huge creativity and originality. The slightly shakier financial circumstances mean that when couples do plan their big day, they're spending more carefully and investing in the little things that really do make an impact.
Clownfish Events have been planning original weddings for ten years and Events Director Hannah Sheppard shares her insider tips on how to create a day to treasure forever. What are the top themes and styles for 2019? How can couples achieve the same professional styling and yet rein in their spending? Here's how to plan your wedding for maximum impact, making best possible use of your available budget...
Ditching shabby and rolling with the chic
The shabby, 'hipster' chic look has been enduring but is finally on the wane. Although people still love the 'back to nature' element, the emphasis is moving away from 'shabby' towards the 'chic', but with a hefty dose of old world, true love and period drama romance. Before alarm bells set in that 'chic' equates to expensive, with clever planning there are lots of ways to bring in luxe styling, without breaking the bank with luxurious fabrics like rich velvets and weighty silks.
3 easy design themes to personalise
What people really want to achieve on their wedding day is individuality, by introducing something unique that ever so slightly breaks with convention. Taking one of these themes, but going back to basics, you can design a paired down décor where the emphasis is on quality rather than quantity. It's the little details that really count.
Romantic drama – recreate period drama's natural elegance with swooping calligraphy styling on place settings and menus. Dine banquet style with tapered candles and vintage candlestick holders for an eclectically romantic effect.
Glamour – mix metallics and mirrors with a coral and rose gold / copper colour pallet. Introduce a bold and minimalist natural theme with oversized Pampas Grasses.
Scandinavian chic – enduring urban cool styling using simple wicker and bare wood materials, neutral colours and back garden simplicity. Add décor statement pieces like Peacock chairs for bride and groom wow factor.
Good honest food
Our more adventurous palates have given way to a transformation when it comes to wedding food. Gone are the days of traditional, 'silver service' style dining, which means you can focus on developing a menu using seasonally inspired food without going over budget. Swap out formal three course dining for rustic looking, shared charcuterie platters and hearty stews.
What no cake?
We've all admired the beautiful naked cakes but this year, an ever-increasing number of couples are opting not to have a wedding cake and instead creating a savoury 'cheese cake' featuring a wide array of unusual cheeses. These ultimate cheese boards are piled high like a multi-tiered wedding cake and festooned with dried fruits, nuts and delicious accompaniments.
Wedding dress style
Gold or gold detailing on wedding dresses is key this year. The traditional white is being left behind for the chic look of gold. Dresses with pockets are also appearing as brides are looking for that secret hiding place for tissues and their phone! Since the royal weddings, dresses with sleeves are becoming increasingly popular too. 2019 will see the return of classic cuts, simple fabrics with strapless, boho chic dresses are now on their way out.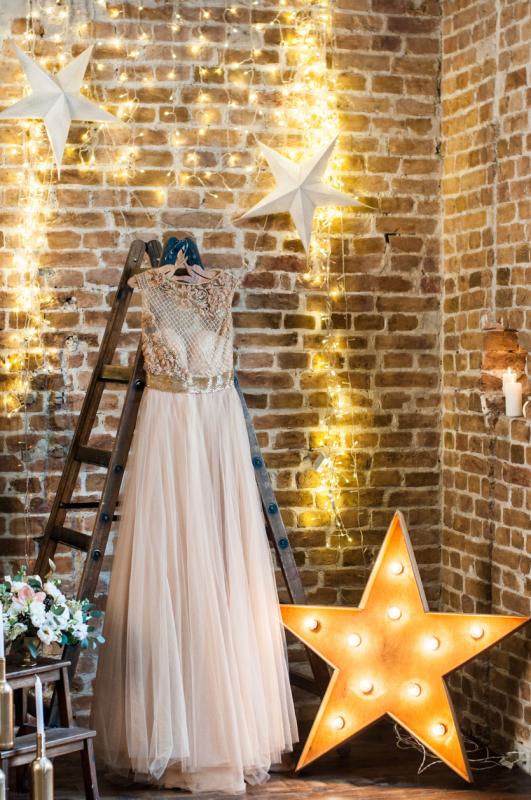 Botanicals décor styling
A strong back to nature theme complements the more relaxed approach to dining with a look we are describing as 'luxe botanicals'. There are two main colour pallets – understated neutrals - think natural forests with a hippie chic twist using transparent signage, creative place cards, charger plates and ghost chairs all tied together with emerald green and organic foliage creations. Or bold, vibrant colour styling, bringing the outside in with Garden Chic mimicking the beautiful wedding of Harry and Megan.
All about the experience
Time is precious and with people working longer hours and budgets being more restricted than in former years, couples getting married this year want to create lasting memories for guests. Must have ideas for boosting the guest experience include video booths, smoke bomb photography, virtual experiences and for couples opting for the cheese tower cake alternative, a sweet treat in the form of a donut wall!