The History of the Pencil Skirt
Women have been looking fabulous in pencil skirts since Christian Dior first designed them in 1954. As part of his H Line collection, he created a new shape for women to show off their curves in a way that until this point was unheard of. Directly before this, he was designing full skirts with nipped in waists as part of his New Look collection, using fabric with abundance after the strict rationing during the war so this was a real departure for him and something that women fell in love with and still wear today.
His H collection focused on the vertical shape wanting our eye to be drawn to the hips rather than the waist; he created styles that sat perfectly on any size to emphasise women's wonderful shapes.
The pencil skirt was tapered at the hemline which sat below the knee, resulting in women having to move differently after years of wearing a full skirt. They started to literally wiggle along, shuffling their heeled feet in small movements, something that quickly became Marilyn Monroe's trademark – and the term "wiggle dress" was born.
Beautiful women such as Grace Kelly and Audrey Hepburn also embraced the look but wore it in a more preppy way rather than with Marilyn's sass, wearing it with flat shoes and a pretty blouse tucked in.
Women have been wearing pencil skirts ever since and they are now a must have item in any capsule wardrobe whether you love vintage or modern fashion. In the 1970s, with the introduction of new stretch fabrics such as lycra, the pencil skirt became even tighter. When Rizzo wore her black pencil skirt in the film Grease in 1978, we fell in love again with the 1950s vibes, wearing them with a tight blouse and wedged shoes.
In the 1980s, women wore them as part of their power suits teamed up with pussy bow blouses and large shoulder pads. Think Melanie Griffiths in Working Girl and Joan Collins in the hit TV programme Dynasty – this look meant you were successful and powerful!
Fast forward to the present day and the pencil skirt is still worn in the office but also out in the evening; it's seen as super glamorous with celebrities such as Kim Kardashian and Christina Hendricks even wearing them on the red carpet. Believing it to be the most flattering shape for women of all sizes, stylists across the globe dress their ladies in this figure hugging skirt.
The Vintage Look
As the pencil skirt was popular across many eras, you have a lot of looks to go for to create a vintage look, but the easiest style to embrace is the 1950s "wiggle". For a smart look, choose a fitted stretch top in the same colour and add a skinny belt to accentuate your curves. Alternatively, team with a peplum top or jacket for that classic 50s elegant look or a fitted cardigan.
For a sassier look a la Rizzo, team with animal/leopard patterns, a square neck scarf and fabulous pointy shoes in a bright colour such red. This one is by
The House Of Foxy
.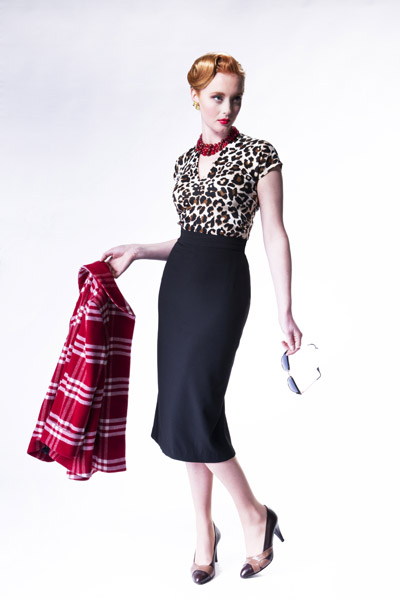 The Office Look
Team up a black or grey pencil skirt with a crisp white blouse which should be tucked in. Soften the look by wearing a cashmere cardigan rather than a jacket or go super professional with a fitted blazer in a contrasting colour.
The Party Look
What is great about the pencil skirt is you can literally wear it to the office then out on a night out. Replace your blouse with a silky camisole top, add a tight statement belt at the waistline and a pair of killer heels.
Getting it right for all shapes
If you feel less confident about your hips, choose a plain colour pencil skirt but style with a patterned blouse or fine knit such as
this striped top
by Rocket Originals. But remember to choose a skirt that hugs your curves as this will be the most flattering.
If you want to add height, choose a shorter hemline with a higher waist and wear with killer heels. One that sits above the knee works best for petite ladies.
If you prefer your bottom half to your top, choose a
patterned skirt
with a block colour top. Look out for coloured checks or grey pin stripes.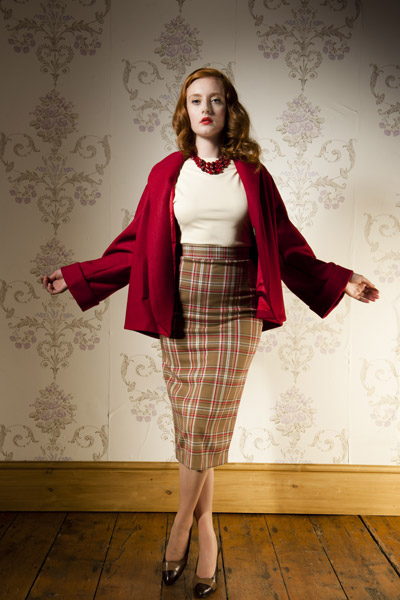 Where to Buy
The best pencil skirts are made by vintage reproduction companies who have studied the original design and kept their designs close to the originals. Find some of the best in the UK at vintage festivals such as
The Festival of Vintage
in York and from independent sites who stock many brands.
Kate Beavis is a writer, speaker and expert on personal branding, creating your own look, being brave in your choices and all things vintage.