A Housekeeper's Day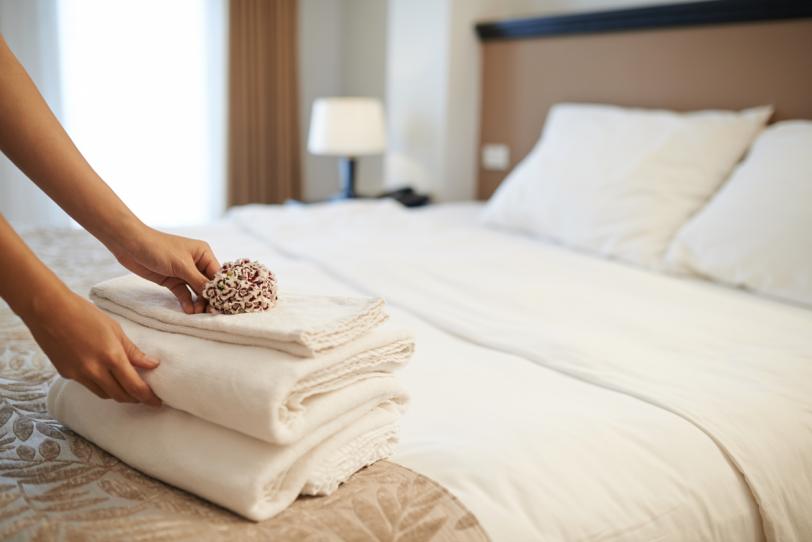 Sue is a Housekeeper in a large country estate in Norfolk, she gives us an insight into her day and her top tips on how to get the most out of the role.
'I have had the privilege and pleasure to work in some amazing houses for some lovely and very interesting people.'
Morning
The estate was once one of Norfolk's largest, stretching miles from inland right over to the coast. It is a country lifestyle, walking dogs in woods and cleaning a large area including exterior guesthouses, so I have to be very organised. On a usual day I begin the housework with cleaning the office, stairs, living area, bedroom and bathrooms. I do this in several different stages; firstly the dusting, then the hoovering and mopping and putting straight sofas, desks, emptying rubbish bins, cleaning the loos and doing the laundry. If my employers are at home it's important to try and not clean around them if possible as they will be working. I try to keep an eye or find out what their movements are so I can get my work done efficiently without getting in the way. In the late morning I move onto cleaning the bedrooms and prepare the guest houses for any visitors.
1pm
Stop for lunch. There is a private chef here who is usually busy cooking for the Principal and their family. Usually I bring something in like a sandwich and have it on the terrace if the weather is nice - the views are incredible!
Afternoon
After lunch I concentrate more on the less physical tasks of ironing and sewing. I put the laundry away in the Principal's dressing room and clean any formal wear for event at the weekend – at this time of year there will be Hunt Balls and suchlike.
Walk and feed the dogs - they love to go into the local woods and chase their tennis balls! Back to house, check on employers ask if they need anything.
Sue's top tips:
'Always smile and say a cheery good morning!'
What's the most important element of the job?
'I think the most important thing is being able to read people, knowing when it's necessary to be discreet and not seen or when it's time to chat.'
What individual attributes do you need to have to be a good Housekeeper?
'It is a very personal job as the Housekeeper goes behind the scenes, therefore you should always respect the house and the employers privacy. You have to understand others well and be able to have good rapport with your employer while at the same time knowing when to just get on with your job quietly.'
Do you find it an interesting job?
'No two houses or employers are the same, their needs and requirements are completely individual. This makes it an engaging and diverse role, you never stop learning about people - which is always interesting.'
What is the best attitude to have going into this role?
'The housekeeper role can be a very vast and varied position. The only common factor is that no two days are the same and things change without notice. So it helps if you can have a flexible, happy, can-do attitude.'
Do you have to have good stamina for this role?
'Yes! But it is rewarding and keeps me fit. My advice is to do the less physically demanding work such as sewing or ironing in the afternoon, so you don't get too tired.'
Are you interested in a career in Housekeeping? Look at our latest vacancies here or contact our recruitment team on 0203 857 9945