How to Create a Fashionable 1930s Faux Bob
Vintage hair styling requires several things; patience, nimble fingers and a few select styling products. In my line of work as a freelance vintage hair stylist, make-up artist and owner of Sarah's Doo-Wop Dos, I regularly create many different looks from different eras for my customers, so the tips I'm sharing in this article are thoroughly tried and tested!
The women of the 1930s favoured short hair and pencil thin brows. The faux bob is a great way of achieving a quick and easy to wear 1930s look. Team it with wide leg trousers and a floaty blouse for a relaxed day look, or pull out all the stops in a bias cut dress for an elegant evening look.
Step 1:
Start by working some mousse through your hair and then curling it. The curling tongs of the 1930s were pretty basic. They were thin and had to be heated up over a burner before being tested on paper to make sure they wouldn't burn the hair! These days we have the luxury of modern equipment, but you should still use a small barrelled curling tong to create your curls for this style.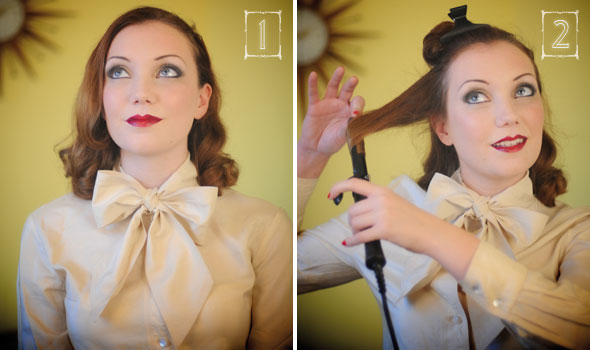 Step 2:
Separate some hair at the front of your head and create a side parting, this can now be clipped up out of the way till later on. Then add in some hair grips around the back of your head to create a line. This will hold the hair neatly in place and give you a landmark that you can feel and work towards when styling as this bit gets a bit tricky.
Step 3:
Take sections of your curled hair and bring them up to the line of pins. You can tease the hair a little first, which helps create texture and makes the hair easier to work with. The hair of the 1920s was worn very flat and close to the head but in the 1930s hair had more shape and body. For this reason you want the hair to have a bit of texture and volume.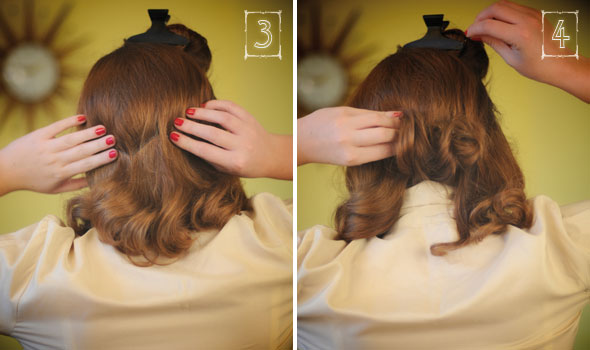 Step 4:
The fashion of the 1930s was for the hair to frame the face for a feminine look, so, once the hair at the back of your head is all securely pinned up, you can focus on the remaining front sections. Unclip the front sections and taking the smaller side, twist it and then pin it behind your ear.
Step 5:
Take the bigger front section and create some lift to it by using a rat-tailed comb and working in small sections, backcombing them to create a neat look whilst creating volume. This style can be seen on style icons of the time, Greta Garbo and Jean Harlow, who's soft, fluffy curls framed their faces perfectly.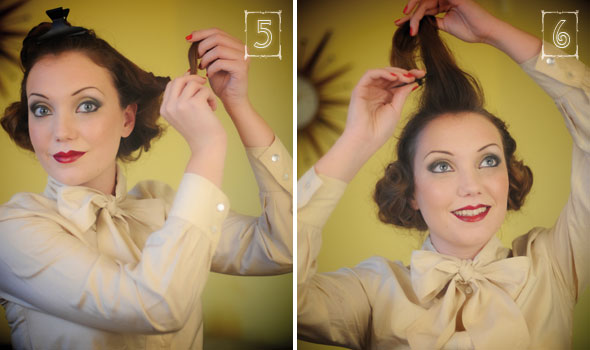 Step 6:
Drop the section to one side and let it fall in a soft, bouncy wave. This can be pinned if needed. Then, spray the whole style with hairspray to lock it all in place. Waves were still very fashionable in this era thanks to the invention of Marcel Waving, a popular hot waving technique achieved with tongs.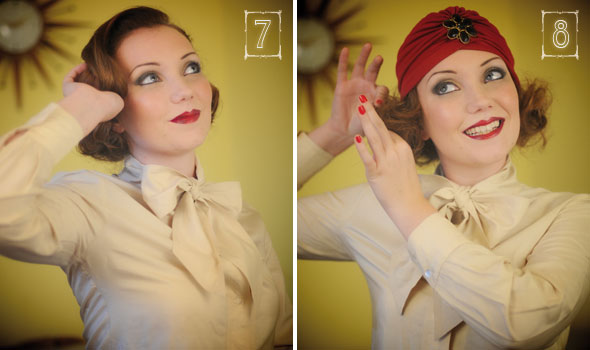 Step 7:
Here I have accessorised with a turban. They became very popular at the time as an easy way to achieve an elegant look.
The final look...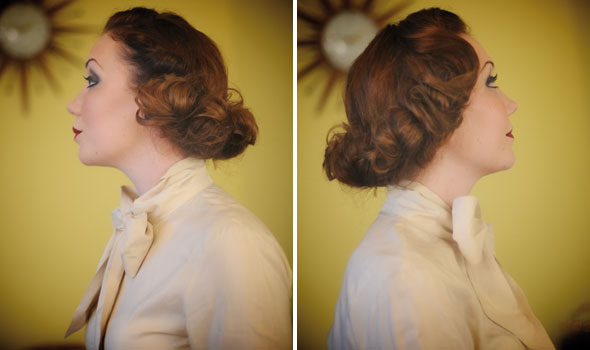 Credits
Article, hair and make-up: Sarah Dunn, owner of Sarah's Doo-Wop Dos
www.doowopdos.co.uk
Model: Eva Dane
Photography: Jez Brown
www.facebook.com/jezbrownphotography