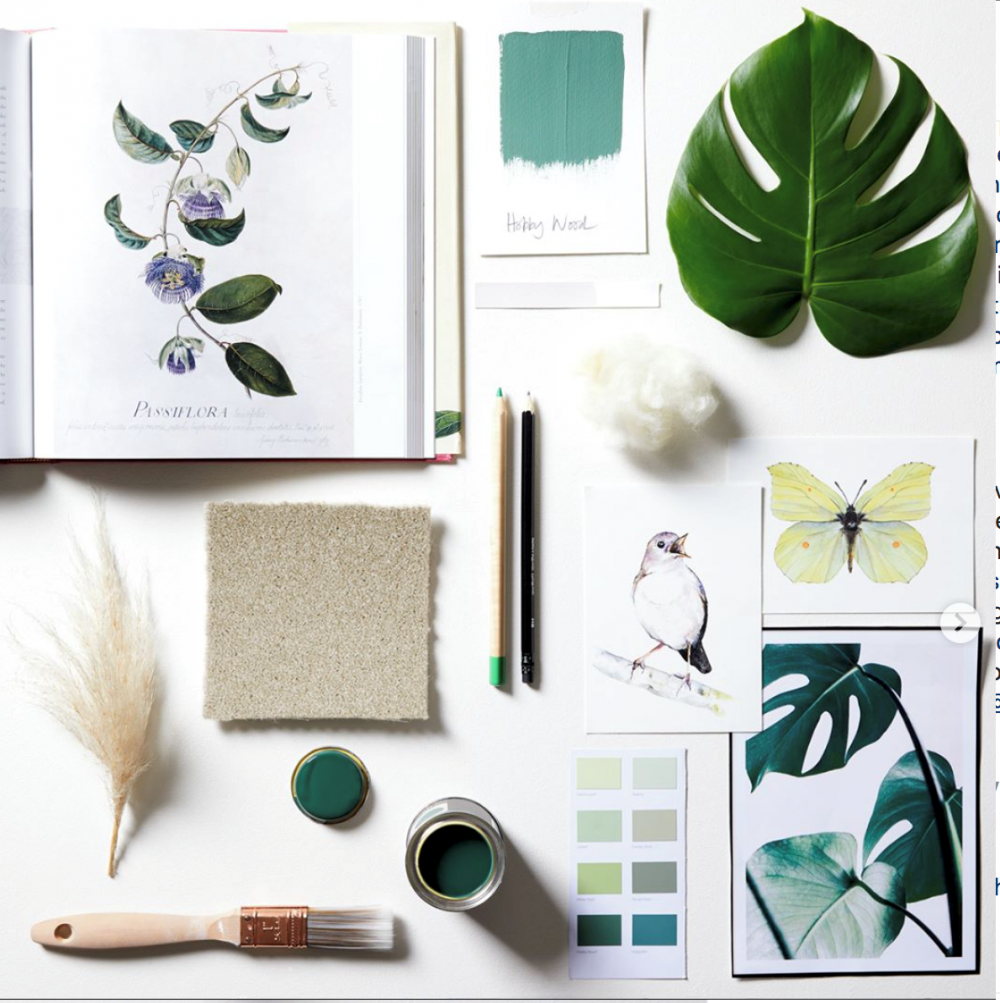 How to Create a Mood board
If interior re-vamping and styling is high on your 'to do' list but you're not sure where to start, here's some insider help from Cormar Carpets' interior stylist Jess Contomichalos. Her No. 1 tip is starting every project with a mood board.
Jess explains: 'Whether I'm designing a room set for a photoshoot or a makeover at my home, the best way forward is to create a mood board. It will give you clarity and help ensure your colours, style and all major elements work together at a glance. It also allows you to show other people your ideas clearly and easily."
Choose how you want to create your mood board. When creating mood boards for a client I often use PowerPoint – this makes it easy to share slides with them. Pinterest also works well. However, if I am designing a mood board for a room at my home, I like to create a physical mood board with tear sheets, fabric samples, tiles, flooring and paint samples so I can see and also touch the colours and textures. This way I can watch the room materialise.
Play around with colours and looks – this is your board and an overall expression of the mood you want to create. Think about your options - even the most experienced stylists and interior designers can get it wrong – so don't be afraid to change your mind. If a colour is too strong – simply take it down a notch and use a paler tone. (N.B. Always use tester pots on your wall to see how the light falls onto the wall throughout the day before committing to a 5 litre tin of paint!)
Keep your mood board realistic to the space you want to design. Think about what will suit the room, can you adapt the style and will it work. Otherwise you may have an interior space that looks like a stage set and will raise a few eyebrows….but not in the right way. Decide whether you'll go for colour in your carpet or on the walls. If you have a small space to design – keep the carpets light or neutral and choose a mid-tone for the walls – unless you're after drama …then you can probably go with a moodier wall colour.
If there isn't a strong light source in the room (big windows or doors) then you may be better to stick to more neutral coloured furniture and add punchy coloured cushions, throws and artwork to add personality.
Don't forget to embellish your board with images or samples that actually project the look you're going for. So, for example if you're creating a seaside themed bathroom, add images of shells and other beach mementos, it will really help you create the mood and set you in the right direction!
Cormar Carpet Company are an award-winning British carpet manufacturer. All their carpets are manufactured at their Lancashire mills and distributed throughout Britain and Ireland via their own delivery fleet. www.cormarcarpets.co.uk
Are you looking to advertise your holiday home? Renowned for our classified advertising, The Lady provides the perfect platform to promote your property. For more information, contact Andrea today: andrea.taylor@lady.co.uk