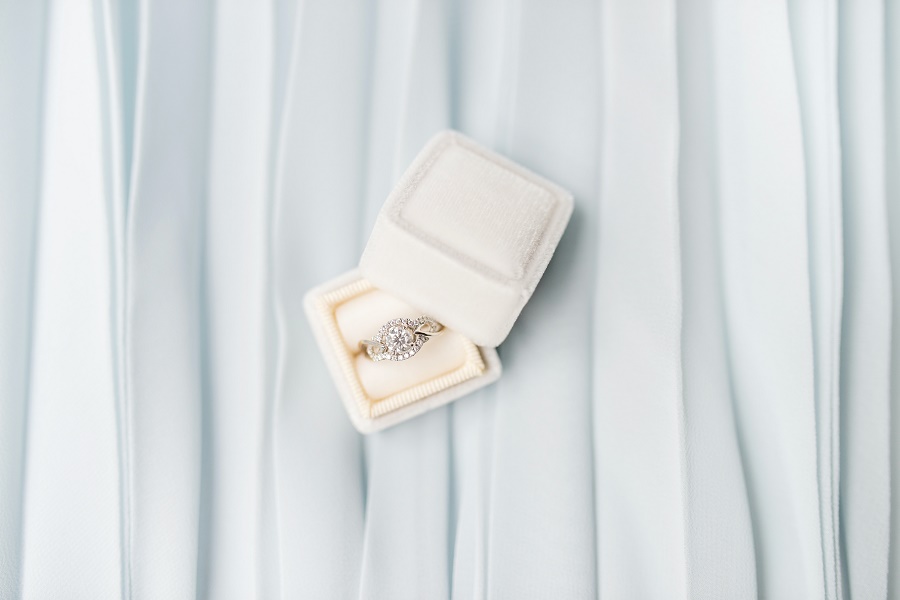 Jack Jahan from Ramsdens Jewellery explains how to declutter, clean, and store your jewellery to keep your pieces in the best possible condition.
If you've run out of things to do in lockdown, you may have begun to think about decluttering your home. You might have even started going through your kitchen cupboard and wardrobe, but have you considered giving your jewellery box a spring clean, too?
A lot of us are guilty of buying more and more jewellery without checking what we already have. Plus, it's so easy to hold on to old pieces of jewellery that are tarnished, broken, or unwearable for one reason or another. So, I'm going to take you through how to declutter, clean, and store your jewellery collection. This way, you'll know exactly what you have and will be able to keep all your pieces in the best possible condition.
Get rid of any pieces you won't wear
Have you spent years collecting different pieces of jewellery without ever really taking stock of what you have in your collection? We're all guilty of it, but it could mean that you have pieces you love but have forgotten about, and others that are taking up space but you'll never wear again. So, the first step in this process is decluttering your collection so you're only left with the accessories you like to wear.
The best way to do a thorough job of this is by lying all of your jewellery out in front of you. Start by removing anything you no longer want, whether these pieces are damaged beyond repair or they no longer suit your sense of style. It's also worth looking at your collection to see if you have any similar accessories — for example, you might have a handful of silver chain necklaces that are basically identical. If a lot of these don't get the attention they deserve, consider just keeping your favourite.
Anything in good condition could be donated, sold, or passed on to family or friends. But you don't necessarily have to throw out the broken pieces that you no longer want. A jeweller may be able to recycle the stones or metal to make something that's more to your taste, or you could sell the raw materials if your broken jewellery is made from a precious metal like gold.
Fix any broken jewellery you still love
If there are pieces of jewellery that you love but haven't worn in a while because they're broken, put them somewhere safe and leave yourself a reminder to take them to a jewellery repair shop once the lockdown has been lifted. This is one of the little jobs a lot of us never get around to, but you'll be so glad you did once all of your accessories have been given a new lease of life. This will be even more exciting if you have sentimental pieces that you miss wearing.
Common problems, such as snapped chains, missing stones, and broken watch straps can typically be fixed quite quickly, and repairs should be much more affordable than buying replacements.
Clean everything you plan to keep
Once you know what you want to keep, try cleaning your jewellery to bring back its shine. Just make sure you always follow the manufacturers' advice to avoid causing any damage. (Of course, if you aren't confident about this, your jewellery can always be sent for a professional clean once things are back to normal.)
First, check what materials your jewellery is made from, as this could affect how it should be cleaned. For example, dirty or tarnished silver jewellery should typically be treated with a high-quality silver polish, while solid gold pieces can be given a gentle bath in warm water with a drop of dish soap.
Cheaper costume jewellery shouldn't be completely submerged in a soapy solution, as it's typically more prone to damage or rust, but you can wipe it down with a clean cloth that's been dipped in warm water and dish soap. Just make sure you always dry your jewellery off as soon as possible and be particularly gentle with pieces adorned with pearls or gemstones, as these could come loose.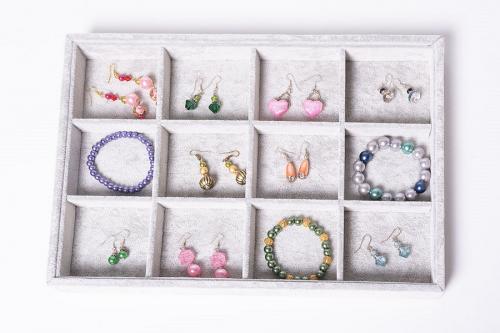 Store everything properly
Once you've whittled your collection down and your prized pieces are all looking good as new, it'll be time to store them.
It's best to keep all of your accessories in a clean, dry place, such as a fabric-lined jewellery box. It's also worth noting that, whenever you buy a luxury piece of jewellery, it will typically come with a storage box or pouch that has the most suitable finish to protect that particular accessory. If you've held on to any of these, I would highly recommend using them.
It's also a good idea to separate your pieces of jewellery as much as possible. So, try to stick to one piece per compartment in your jewellery box. This will help to prevent chains from getting tangled, stones from getting scratched, and metal from becoming tarnished. This will also make it much easier to find a specific accessory in the future.
If you're looking for a way to stay occupied during the UK-wide lockdown, you're sure to get a lot of satisfaction from decluttering, cleaning, and storing your jewellery collection properly. Take these tips on board for the best results!
Credit: Jack Jahan from Ramsdens Jewellery