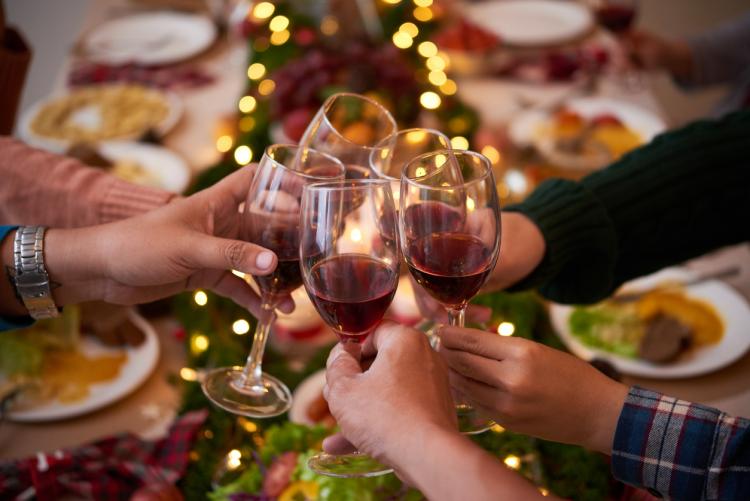 It's Christmas party season and lots of people up and down the country are getting ready to host a house party. If that's you, here's a chance to learn some expert tips from professional event organiser Hannah Sheppard at Clownfish Events.
10 insider tips for an amazing night
Themes are a must
Giving your party a theme is a perfect ice breaker as well as being great fun. This year digital detox is huge, especially for parties that mix different generations and friend or family groups, which many Christmas events do. Invest in a polaroid, set up your own photo booth instead and have a 'phone basket' handy for serial offenders who keep getting mobiles out.
Get creative with homemade decorations
Another big theme is upcycling, making bespoke and unique decorations by being creative with everyday materials. You can make beautiful doves using newspaper and brown string hung with beads from necklaces bought in charity shops and add some springs of white gyp or holly. Make rustic table decorations using cleaned baked bean cans wrapped with raffia, white lace and beads, then fill them with seasonal flowers.
Keep guests away from the kitchen
It all depends on your home layout as to whether guests come into the kitchen but by planning well ahead and having beautifully presented food ready as guests arrive, you can keep them at bay. Make sure nibbles are not placed near the kitchen because when they run low guests invariably look for the kitchen area and keep them well topped up. Make sure all the prep is organised before guests arrive, so that all you have to do is heat food and serve.
Vegan nibbles and sushi
People are very health conscious now so party menus need to reflect this. You can't go wrong with a vegetarian/vegan or fish based menu and opt for lighter food choices that are also a bit different. Home-made dips with crispy vegetables are light and easy to make in advance, try humus variations with beetroot or spinach, asparagus with mozzarella wrapped in a ribbon of smoked salmon, warm artichoke dip. Home-made sushi style canapes look beautiful and cover all the dietary requirements. Try to ensure food is wheat or gluten free and sushi covers off everything.
4 course canapes
When thinking about canapes it's fun to make them symbolise a 4 course dinner. Have starters like fish based crackers with salmon, tuna, satay prawns with dipping sauce. Follow with a main course - chicken chorizo skewers with olives, sauté potatoes with chicken and cherry tomatoes, chunky fish and chips, tapas style meatballs. Desert options could be profiteroles with dark and white chocolate, chocolate strawberries, pineapple and yoghurt, and then bite sized cheese and biscuits, or just lay out a giant cheese board.
Drinks trends for 2019
Warm drinks like mulled wine and punches are very popular now. Last year hot toffee apple cider was everywhere in Christmas markets and it's moving into the home this year. There's something about getting to a party on a cold night and being offered a warming drink, it instantly throws you into a Christmassy mood. You can also do accompanying nibbles, like little toffee apple bites to go with the drinks.
Major on having a larger range of non-alcoholic drinks options than ever, because a growing number of people do not drink alcohol at all. Very trendy seasonal mocktails for 2018 include spicy margaritas, pomegranate virgin negronis and cascara fizz (a delicious iced tea variation with cranberries).
Mix up the music
Music can make or break your party and is surprisingly difficult to really nail so think carefully about the style and range of music you want to play. Split playlists so you have some 'warm up' music when people are arriving and chatting before you switch to dance tracks. You could ask guests to send you their choices for dancing or a tune that reminds them of when you all first met, to make it really inclusive. From this you can gauge what people will dance to so there's something for everyone and it adds to the excitement beforehand.
Add twinkly lighting
In a home environment mood lighting is tricky to get right and can make an area appear very dark. You'll need to make it light enough to see but not so dark that your guests start to feel sleepy. A Christmas party has to have twinkly Christmas lights – adding mirrors into a room helps to bounce the light around. Uplighters are great and you can use fairy lights or tea lights to light up the bar and food area. A nicely lit entrance is essential because you want people to feel like they are walking into a welcoming area with nice warm lighting from the moment they arrive.
Hire in some help
There's nothing worse than having to run the whole show and you won't have any time to enjoy your party. Rope in the family to assist and get some older teens to serve drinks, make sure there are plenty of glasses and keep the kitchen area under control. It's a great way to embrace having a big house party and means you can also extend the invitation to your friends' children, adding a very personal touch to the whole evening.
Be prepared to network
If you have different friendship groups coming along, be prepared to introduce people and help guests to mix. Get the conversation going around common interests and nominate a few more extrovert guests to support you on the night. It will make everyone more at ease and likely to fill the dance floor later on. You could also give everyone a badge when they arrive explaining their connection to you, which helps as a conversation starter.