How to prepare for a garden tea party
Co-Founder of Betty Blythe Vintage Tea Room, the UK's no.1 expert on Street Parties and author of Style Me Vintage Tea Parties, Lulu Gwynne has given us her top tips on how to plan and throw the perfect summer garden tea party!
How should you prepare for a garden tea party (invitations/food preparation etc.)?
You don't need a reason to have a tea party because they are just the perfect way to spend time with your best friends. Send handwritten invitations for true vintage etiquette or an email to friends might be the best way of going about it!
Collect together your vintage crockery you may have some already but lovely things can be found at markets like Portobello or your nearest charity shop will always have something to purchase, no need to worry about it matching, as that is the real genuine appeal of the whole look! Small businesses on the internet have some real gems but don't spend a lot of money on the china but be careful of hairline cracks on the handles.
How should you lay out the table?
One must have a pretty tablecloth hanging a least a foot off the edge of the table, again markets and charity shops always have embroidered table clothes so go and rummage for a great bargain, or for modern table clothes Laura Ashley have pretty ones.
Your checklist for the table – tea cups and saucers, tea spoons for everyone a tea plate placed in front of each chair, napkins to the right side, a dainty knife for each person placed on the napkin, optional, a bowl of white sugar lumps with sugar tongs and a milk jug on the table.
If the weather is hot, make iced tea instead, you can use black tea make as usual in a pot and then cool it down and serve with lemon and ice, alternatively make a fruit tea, from tisanes like berry tea or Rooibos is a natural thirst quencher and drinking up to six cups a day – hot or cold – will provide a sustained health benefit. Making a simple rooibos iced tea is straightforward. Tea cake stands or pretty plates to pass around the food offerings.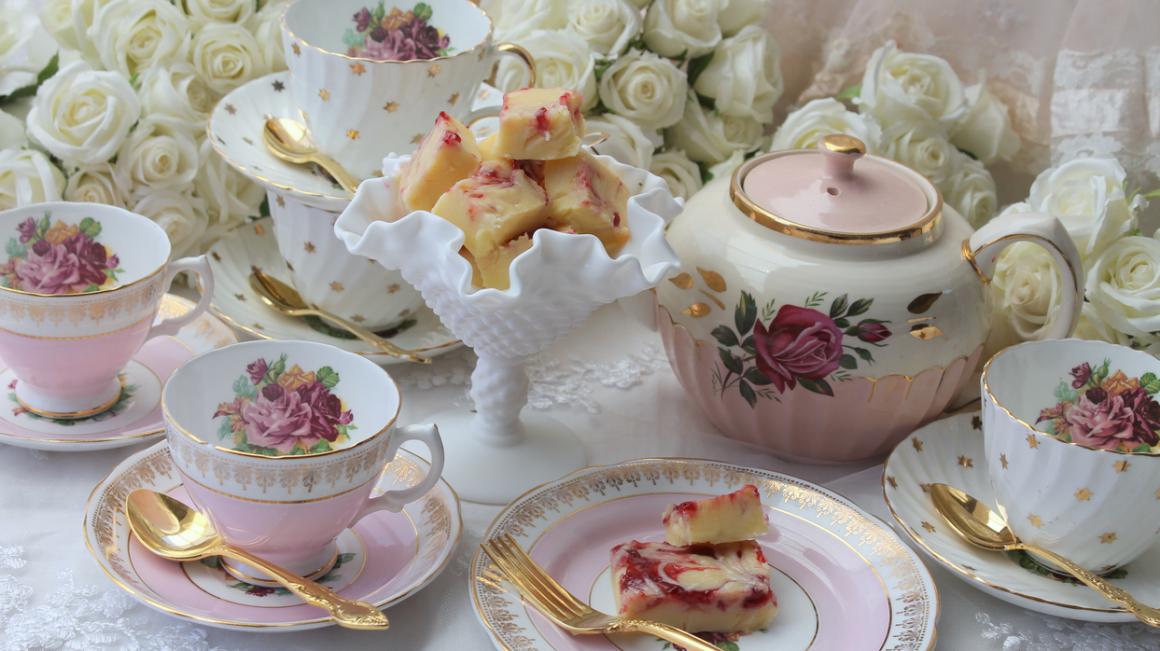 What kind of food should you serve?
Prior to the introduction of tea into Britain, the English had two main meals-breakfast and dinner. Breakfast was ale, bread and beef. Dinner was a long, massive meal at the end of the day. It was no wonder that Anna, the Duchess of Bedford experienced a "sinking feeling" in the late afternoon. Adopting the European tea service format, she invited friends to join her for an additional afternoon meal at five o'clock in her rooms at Belvoir Castle. The menu centered around small cakes, bread and butter sandwiches, assorted sweets, and, of course, tea. Tea was made in the kitchen and carried to the lady of the house who waited with her invited guests, surrounded by fine porcelain from China. Food and tea was then passed among the guests, the main purpose of the visiting being conversation.
Betty Blythe has her own menu for this afternoon tea experience. It is simple and will make your guests pleasantly replete and happy.
A selection of finger sandwiches on white crust less bread
Cool Cucumber, add a little mint for a new taste sensation!
Cream cheese and smoked salmon cracked pepper and a twist of lemon
Organic Egg mayonnaise sandwich with a sprinkling of cress
Homemade mini scones with little scarlet jam and Devon clotted cream
Truffle chocolate brownies with raspberries
Macaroons are widely available everywhere and such a small a delicate sweet treat
How should you and your guests dress for the party?
Take this as an opportunity to wear your best frocks and new shoes, there will be no dancing at this time so rest assured you can wear heels and look rather stylish. This is also a fabulous time to get out those vintage pieces, hats, and brooches and make a real event of it.
What about entertainment- what kind of music should you play?
Play music that's conducive to the party and keep it at an appropriate level, not something that will compete with the conversation. If you notice people leaning in to hear each other, the music is too loud.
Any tips or rules for table manners and etiquette?
Stay seated and wait for things to be done for you by the hostess.
Never reach for anything and ask to be passed something, all in the essence of doing things slowly.
During "full tea", three courses are served such as scones, tea sandwiches, and sweets. "Light tea" will have just scones and sweets. If all the courses are laid out on the table, eat them in this order: first the scones or muffins; then the tiny sandwiches, and last the sweets. Think of it like a meal where you can start with bread, then have the main course, but save the sweet part for last.
Since it is a tea party you can eat with your fingers. However, if an item is particularly messy (has a runny filling), then use a fork.
For scones or muffins, break off a bite-size piece, then put a small amount of jam or butter on it. If Devonshire or clotted cream is available, a small amount can be dabbed on after the jam. This thick cream is for scones, not for the tea.
If using sugar, be careful to not dip the sugar tong or sugar spoon into the tea. Stir sugar and/or milk with the teaspoon, then place the teaspoon on the saucer.
When drinking the tea, hold the cup and saucer near their chest, then take the teacup off the saucer and bring it up to their mouth to drink.