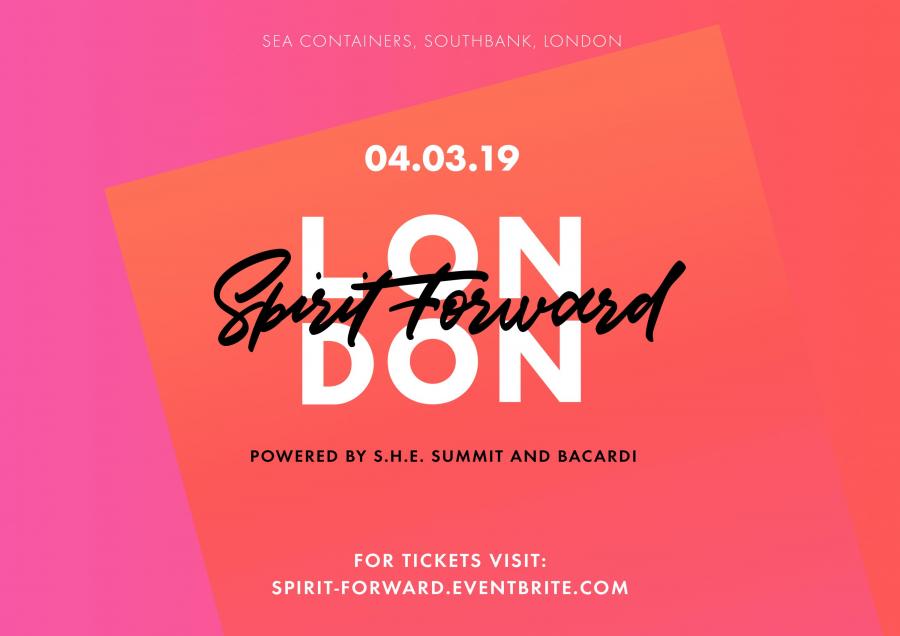 BACARDI LIMITED PARTNERS WITH S.H.E GLOBL TO BRING FIRST S.H.E SUMMIT TO EUROPE
Laura Haynes, Gina Martin, Patrick Harrison and Pip Jamieson lead a stellar line-up of change-makers to discuss the most relevant gender and diversity issues of our time
On 4th March in the lead up to International Women's Day, Bacardi Limited and S.H.E. SUMMIT, the flagship event of S.H.E. Globl, will host its first-ever European event in London, bringing together men and women, from across society, culture and business, to encourage them to take actions that plant seeds of change for a more diverse and inclusive community and workforce.
The one-day event entitled Spirit Forward, is anchored in the theme: You Don't Need to be in Charge to Lead, centering on the belief that the first step in being a change-maker is to acknowledge that you already are.
With an impressive speaker line-up which includes the faces of change including writer and social activist Gina Martin who recently had "upskirting" made a criminal offence to Laura Haynes, Chair of the UN Women National Committee, the event covers topics such as:
Six Degrees of Integration – the case for the social, moral and economic benefits of diversity
Faces of Change – the people making a difference, re-defining what it takes to lead and contributing to contemporary change
Representation of Women in TV and Film - In a society where media is the most persuasive force shaping cultural norms, we discuss how mainstream media and culture contribute to the under-representation of women in positions of power and influence
Five ways men can help end inequality – hear it from a male perspective
Female Founders – The challenges and opportunities facing female entrepreneurs
Re-set your Coordinates – A powerful session about finding your purpose
Powerful Women are not Bullies. Powerful Men have Emotions - Freeing people of all genders from the tired stereotypes that limit them.
Claudia Chan, CEO and Founder of S.H.E SUMMIT said, "We've partnered with Bacardi Limited for three years in North America and Spirit Forward LONDON will be the first event we have hosted in Europe. I created S.H.E. SUMMIT to celebrate and accelerate inclusive equality by connecting, educating and activating talent in the global workplace. Our goal is that this event in London will inspire individuals and organisations to lead change in the world regardless of their position."
Lisa Jedan, Chair, S.H.E. SUMMIT LONDON and Vice President, Global Brand Communications, Bacardi-Martini Ltd. added, "Most people are surprised to learn that Bacardi is a family-owned company. Our culture is built around three F's: Family, Founder and Fearless. What better way to reflect these values than to create a platform that celebrates the women and men who are re-defining what it takes to lead and contributing to contemporary change that will drive a more diverse and inclusive society and workplace."
Spirit Forward LONDON is a not for profit event and all ticket sales proceeds will go to charity partner, Dress for Success Greater London, a registered charity that empowers women into the workplace from positions of disadvantage. Dress for Success provides free professional clothing and styling, interview coaching and ongoing support. Those attending Spirit Forward LONDON are encouraged to bring any interview appropriate handbags, shoes and accessories for donation.
Spirit Forward LONDON takes place Monday 4th March 2019 at Sea Containers, Southbank, London SE1 9RQ.
For tickets pleqse follow this link spirit-forward.eventbrite.com