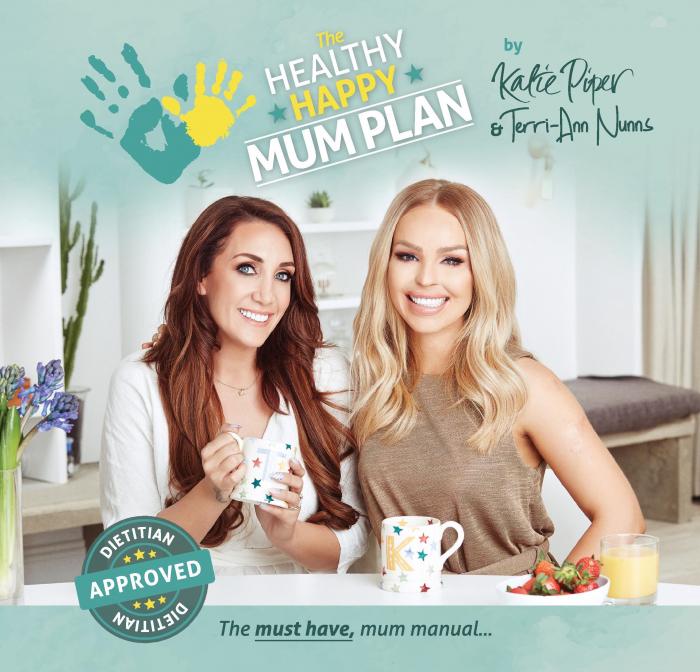 An extraordinary woman, with incredible resilience, positivity and determination. Lady.co.uk were lucky enough to interview philanthropist Katie Piper, star of Strictly, author of seven books and guide to thousands of people suffering from life changing circumstances. Katie talks about her experience on Strictly, staying fit and her incredible journey as an author and mentor to those who suffer with confidence issues. Katie's latest venture is her 'mum manual' collaboration with TerriAnn Nunns, 'The Healthy Happy Mum Plan' shares experiences, tips and advice on keeping a healthy diet as a busy mum.
Well done on your brilliant performance in Strictly! You must be busier than ever! What was your favourite part of doing the show?
It was such an amazing experience! It felt a bit like a case of imposter syndrome though! Strictly felt like being part of a West End musical, with all the training and the sequins. I promised myself at the start of last year I would challenge myself and Strictly was that challenge.
You must be so fit now with all that training!
'Well I've actually been running for a while, fundraising for my charity The Katie Piper Foundation. It was funny though – I'd booked myself into run a half marathon and it happened to fall on the morning after I was eliminated from Strictly! But I believe that challenges are there to be faced so I took it on in that way and went for it!'
Wow – what a great attitude! You have done so much to raise awareness and support for people who lack confidence. Your new book 'Confidence, the Journal' takes the reader on a practical and interactive journey to guide them in building self-confidence. With 830K followers on Instagram you obviously have a good platform to influence and support those with confidence issues
'I've always written a journal and in today's tech-obsessed smart phone world I thought how good it is just to take pen to paper and remind us how we can aim to achieve those goals by starting with little written affirmations and be guided by positive steps – this is what the new book, 'Confidence, the Journal' sets out to do.'
Your Podcasts 'Katie Piper's Extraordinary People' are a great way of connecting and comforting those many people who may be suffering now, through hearing the stories told by those who have experienced great tragedy or suffering themselves, but endeavour to overcome the hardship by being resilient and positive.
'The majority of my INSTA followers are female and I get so many questions from them on how to cope with their problems that it became impossible to help everyone individually. I wanted to create a platform where people could listen and subscribe to stories from those who have suffered extreme adversity and have turned it into powerful positivity. The Podcasts are an honest and natural way of normalising things for people.'
Congratulations on your 'mum manual' The Healthy Happy Mum Plan with TerriAnn Nunns. This sounds great – just what we busy mums need! Can you give our mum readers a few top tips from this?
Katie Piper
Don't expect to see changes overnight. This isn't a detox, it's a lifestyle choice. It's all about being mindful with what you eat. Keep up the good work and you will see results!
You don't have to go to the gym to exercise. Not everyone feels comfortable, or has the time to go to the gym. Home workouts are just as good and you can even get the kids involved!
Talk to other mums. Sharing your thoughts, feelings and experiences can really help to keep you on track. You can also gain advice and reassurance from other like-minded mums in doing so.
Allow yourself a treat day. There's no need to cut your favourite food out of your diet completely as it simply makes you crave it more. Select one day a week where you can really indulge!
Don't forget to make time for yourself – everyone needs a break once in a while! When the kids are asleep do something that helps you to relax. Meditation is fantastic for this.
TerriAnn Nunns
Take photos and measurements every two weeks to track your progress, and don't weight yourself more than once a week. You'll be amazed at the results when looking back at old photos!
Always try new recipes and rotate your eating choices. You'll look forward to meals more as it's something different.
Plan and prepare for at least 3 days in advance, and batch cook some meals so you always have something to grab even when you're busy
Exercise first thing in the morning – it's easier to make excuses as the day goes on and is often the last thing on your mind
Don't forget to switch up your workouts – changes them each week so you don't get bored
The Healthy Happy Mum Plan by Katie Piper and TerriAnn Nunns is available for £39.99 at www.thehealthyhappymumplan.co.uk.