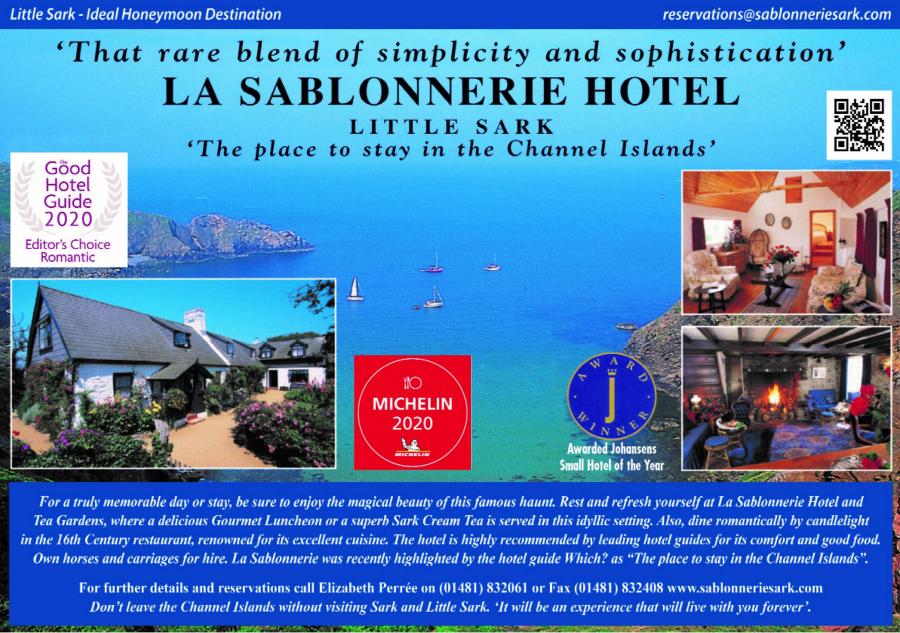 First established in 1948, La Sablonnerie is a stunning and luxury hotel situated on the island of Sark in the Channel Islands.
La Sablonnerie, built around 400 years ago, is owned and managed by Elizabeth Perree. Guests return year after year to recapture the beauty of the island and to enjoy the excellent cuisine, and welcoming atmosphere of the farmhouse.
Which? Hotel guide as the place to stay in the Channel Islands
Small Hotel of the year award from Conde Nast Johansen
Nominated Most Romantic Hotel & Les Routiers Hotel of The Year
Perfectly situated by the sea means freshly caught fish and famous Sark lobsters are natural specialities on the menu.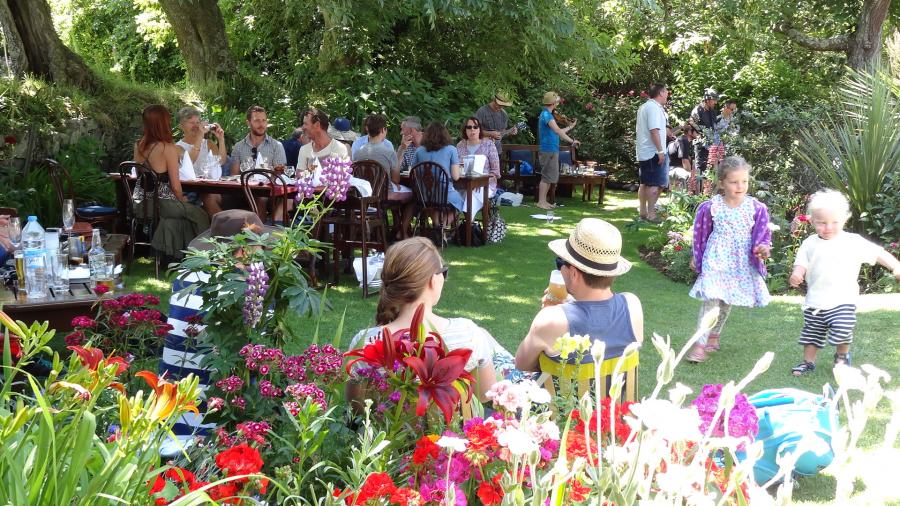 Arrive by ferry or private boat, or the more quirky horse & carriage to enjoy the romantic charm of La Sablonnerie.
Nestled in gorgeous gardens, a haven for lovers of peace and tranquillity: birds, butterflies and flowers are everywhere - a virtual paradise for any guest.
Why not simply stop by for one of the glorious cream teas or lobster salads in the garden, you don't have to stay if you're on route elsewhere!
Gather in the bar or the beautiful rose and lavender garden for cocktails or a glass of champagne before dining.
Mingle in the bar, with its roaring log fire - the perfect spot for a pre-dinner chat.
Many guests take full advantage of Little Sark as the perfect place for a moonlit walk, indeed Sark offers exceptional opportunities for star-gazing due to the lack of light pollution.
The hotel has a strong clientele who repeat their visits regularly. For the hotel staff, it is like having special friends to stay and of course, picking up a string of awards and accolades is a wonderful bonus!
The hotel has been extended and discreetly modernised to provide 22 rooms, each individual in style and décor, including a delightful Honeymoon Suite.
Immaculate comfort, lovely fresh linen, fresh flowers and fruit welcome every guest.
Excellent food and service, ample staff that are courteous and a joy to be served by, thus creating lots of fun and real joie de vivre for everyone.
The hotel motto is 'Nothing is impossible at La Sablonnerie – The show must go on and everything must be tickety-boo'.
Come and join the delightful rest and fun - book now!
Tel: 01481 832 061 www.sablonneriesark.com